Maybe it's not a bad thing that the St. Louis Blues were quiet today.
The NHL trade deadline came and went and Blues general manager Doug Armstrong was nowhere to be seen. This is quite unlike deadlines of the past.
In 2012-13, within the days leading up to the deadline, Armstrong acquired defensemen Jay Bouwmeester and Jordan Leopold in separate deals. The following season, he brought in veteran goaltender Ryan Miller and Steve Ott. And last season, the team GM made some minor tweaks, acquiring defensemen Zbynek Michalek and Robert Bortuzzo, along with forward Olli Jokinen. How did this pan out for the Blues?
Every postseason, the St. Louis franchise was trounced in six games after the first round.
Maybe things will be different. Maybe a roster shakeup isn't always necessary for a team to win the Stanley Cup. Although, as colleague Ben Lutz pointed out over the weekend, the Stanley Cup champions usually do make some sort of move, even if it's extremely minor.
Maybe, one day, that will be considered the Anders Nilsson trade?
The better way of looking at the Blues' decision to stand pat could fall on the not-too-distant future of the franchise, though.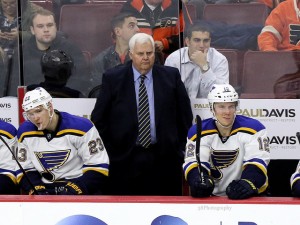 Hitchcock's and Armstrong's Final Ride?
After a slew of first-round disappointments following glorious regular season finishes, the Blues franchise has to be hoping for longer-lasting success in April and May. Otherwise, it may be Armstrong's and head coach Ken Hitchcock's curtain call in St. Louis.
If the Blues had been more active at the deadline, say by trading Dmitrij Jaskin as some suggested, we would never know how said player would fair in a non-Hitchcock system.
Source: Dmitrij Jaskin could be part of return in any potential Loui Eriksson deadline deal w/Blues https://t.co/0ROTd3Wr1o

— Joe Haggerty (@HackswithHaggs) February 27, 2016
No matter what side of the Fire-Hitchcock fence you find yourself on, one thing can be agreed upon by Blues fans and media alike: his structure does not give way to high-flying offense and electric in-zone play. His system is based purely off a defense-first mentality that has proven to be a smothering pillow over the face of the opposing team's offense (at least during the regular season).
While it has its extreme advantages, it also hinders offensive creativity. With the overwhelming talent that has found their names in trade rumors in recent weeks (Jaskin, Robby Fabbri and Kevin Shattenkirk to name a few), it makes one wonder how well these players would fair in a system that would stress O-zone cleverness rather than subtlety.
Although a player of Loui Eriksson's caliber could potentially thrive in a Hitchcock system, it would be ill-advised to acquire a player purely for the reason that he would fit in the current system.
Because that system may not be around for long.
It's unlikely this factored into Armstrong's plan, as it's in his best interest to plan for a Hitchcock-coached Blues team. However, this thought process hopefully brings peace to the Blues community, as fire and brimstone seem to be the mindset on trade deadline day.
Featured Image was provided by Amy Irvin / The Hockey Writers
I am a former NHL media member and reporter for the St. Louis Blues, working for various media outlets. Currently, I am an NHL News Writer and Editor for The Hockey Writers. I live in St. Louis and work as a freelance copywriter in numerous industries.