The St. Louis Blues have had a tumultuous offseason. After an early exit from the bubble playoffs in Edmonton, they realized that top scorer Vladimir Tarasenko would need yet another shoulder surgery, keeping him out into the 2020-21 season. Several weeks after that, team captain Alex Pietrangelo signed with the Vegas Golden Knights in free agency. Now, they'll enter the 2020-21 season seriously undermanned, and currently against the salary cap (though placing Tarasenko and veteran Alex Steen on Long Term Injured Reserve will provide relief when the season begins).
Even if general manager Doug Armstrong makes a last-minute move, it seems like the Blues will need to draw heavily on in-house solutions to compensate for the loss of scoring and leadership. We've already discussed three Blues players poised for a breakout, but one player did not make the list because he deserved an article of his own. If the Blues are going to take a step forward during the 2020-21 season, Robert Thomas will be a major reason why.
Thomas Growing Quickly
The Blues selected Robert Thomas with their first pick in the 2017 NHL Draft. The following season he helped Team Canada win gold at the World Junior Championship (WJC). Then, after a midseason trade to the Hamilton Bulldogs, he won an OHL Championship, along with OHL Playoffs MVP honors (the Wayne Gretzky 99 Award) for contributing 32 points in 21 games. In the process, he proved that he was ready to step up to the next level.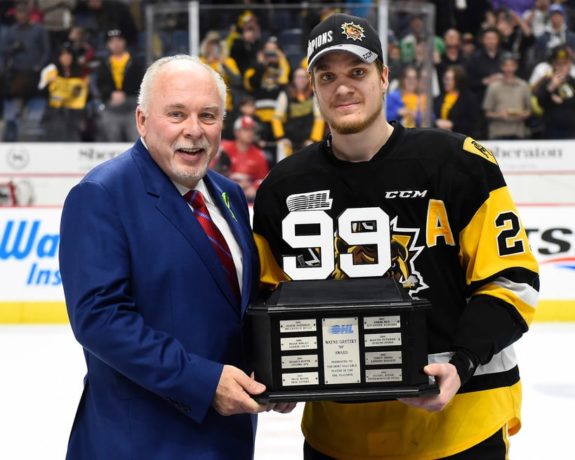 His first NHL season saw its share of ups and downs, including an extended benching by then-head coach Mike Yeo. He was relegated mostly to bottom-six duty and it took time for him to find chemistry with linemates Tyler Bozak and Patrick Maroon. But once he did, he and the team started to turn around, and he finished his rookie season with 33 points in 70 games. In the playoffs, he added six more points in 21 games, including the critical assist on Maroon's second-round series winner. He missed most of the Stanley Cup Final with injury, but his name still graces Lord Stanley's Trophy.
The 2019-20 season saw Thomas continue to improve and see more time on the top two lines. He finished with 42 points in 66 games, more points in fewer games than in his rookie season. Like many of his teammates, he looked a little sluggish in the bubble playoffs. But he is poised to take the next step in the 2020-21 season.
Moving to the Top Line
With Tarasenko heading to LTIR, the Blues will be in desperate need of more scoring and creativity at the top of the lineup. Speaking with The Athletic's Jeremy Rutherford, Armstrong was direct in his thoughts on his top line: "I'm not the coach, but if you put your lineup (together), you have (Jaden) Schwartz and (Brayden) Schenn and potentially Robert Thomas… (Thomas) needs to earn that, but I'd love to see him play a more prominent role in our offense" (from 'Blues depth chart: What it looks like after Torey Krug, Kyle Clifford signings,' The Athletic NHL, Oct. 15, 2020).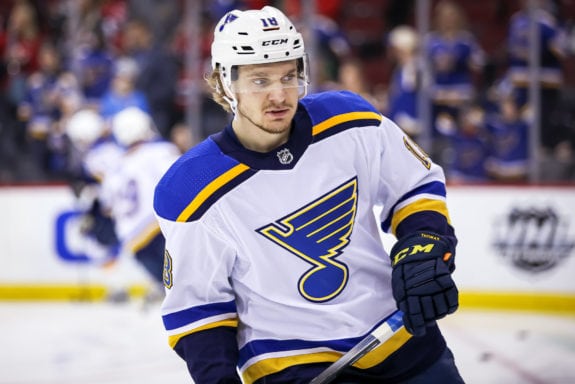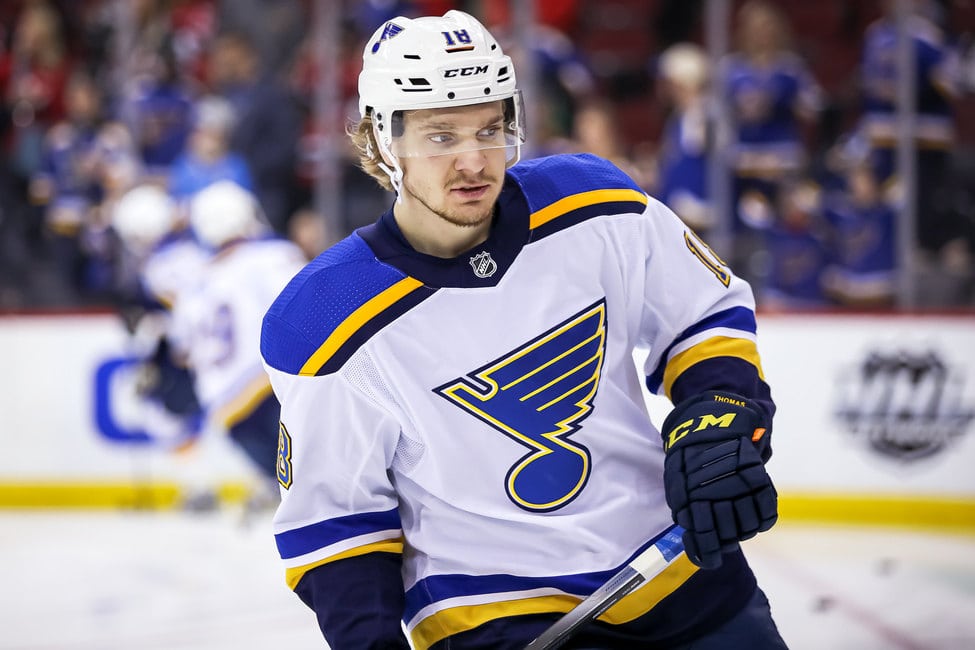 But that wasn't the only time Armstrong has praised Thomas this offseason. In another interview, he was even more direct: "If (Thomas) is the player that we believe he is, he needs to have the opportunity to have a bigger role… He's played in the NHL now for two years and has been an impact at different blocks of time. Now he needs to be an impact player on a consistent basis, so that's a different challenge for him" (from 'Blues GM Doug Armstrong won't rule out another signing, but cost may be too high,' The Athletic NHL, Oct. 30, 2020).
Is Thomas up to that challenge? Every bit of evidence suggests that he is. He has improved and eventually thrived at every level of hockey he's played. He's shown an elite ability to handle significant pressure, in his incredible postseason with Hamilton. He'll be playing for a contract, as he'll be a restricted free agent (RFA) after the season. And he has a chance to become one of the true stars of the team. Thomas has every reason to seize this opportunity, and all the talent in the world. And the Blues will struggle to succeed in 2020-21 if he does not.
Thomas' Ceiling
How high can Thomas climb? Playing center or on the wing for Schwartz and Schenn, he could potentially grow into a 60-plus point player. But the point totals alone won't define his season. Thomas needs to continue to grow as a leader, and a power play contributor, to develop into a true number one center. But he has all the tools. 2020-21 will be a critical season for him.
---
---