It is difficult to predict the long-term status of Paul Byron with the Montreal Canadiens. The 31-year-old veteran winger has been a versatile and effective player during his tenure with the Habs, bringing speed, leadership and defensive and offensive consistency, including two 20-goal seasons. 
However, after being plagued by injuries for the last two seasons (knee and concussion for example), there could be some consternation about what to expect from Byron in 2020-21, along with dismay surrounding his status in the face of an expansion draft.
When the next season begins Byron will technically be entering the second year of a four-year deal worth $3.4 million annually. The deal was fair considering Byron's previous performances but circumstances have changed slightly since.
The consensus here at The Hockey Writers is that Byron, if he remains with the Canadiens throughout the year, will most likely be playing more of a depth role on the fourth line wing due to the recent additions of Josh Anderson and Tyler Toffoli. His contract may be difficult to justify considering the possibility of his on-ice role diminishing, along with the 'need' to re-sign important future free agents (possibly Phillip Danault, Nick Suzuki, Jesperi Kotkaniemi, Tomas Tatar, Joel Armia, and Artturi Lehkonen).
Regardless of the speculation surrounding Byron's position in the lineup, he still has time to make a difference on the Canadiens. In fact, if the Canadiens intend to cast aside doubt and show they truly have improved, they will need Byron to return to form as an impact player in 2020-21. By reviewing Byron's strengths and leadership abilities, I hope to express how his presence on the penalty kill and on a Canadiens 'fourth line' can still benefit the team and make the Canadiens more formidable.
Byron and the Penalty Kill
One of the more obvious strengths of Byron's is how he uses his speed to obstruct and disrupt opposing players all over the ice. He is a strong positional player, meaning he is often exactly where he needs to be. However, his speed allows him to make up for the inevitable positional mishaps that may occur during a game.
This skating ability serves Byron particularly well on the penalty kill allowing him to kill opposition breakouts and zone entries while simultaneously making him an offensive shorthanded threat.
In their most recent playoff run, the Canadiens penalty kill percentage rose to 84.4 percent from a lowly 19th-ranked 78.7 percent during the regular season. It was clear that the team's penalty-killing unit had greatly benefitted from having Byron in the lineup. During the season he only played 29 games and penalty kill suffered. If Byron and the Habs' penalty kill can remain consistent next season, it will do wonders for their playoff chances.
In addition, having an experienced and reliable penalty killer like Byron will allow for Julien to spread out the ice time among his forwards, keeping the team fresh to pursue their aggressive speed game for the length of an entire game. The benefits of being able to tap into the forward depth of a team will wear out opponents on a nightly basis. There should be some emphasis, then, on Byron's expected role on a strong forechecking fourth line.
The Importance of Leadership and a Strong 'Fourth Line'
Claude Julien has spoken many times about the need to have four effective lines rolling at all times as a means of keeping up an attack on the opposition. Paul Byron will be vital to ensuring that this philosophy comes to fruition.
His talent and ability accompanied by his leadership and ambition suggest Byron will lead by example and perform in whatever role he is given. My belief is that there will be total buy-in from Byron in a fourth-line energy role. His adherence to the system should benefit his projected linemates and he should be the glue on that unit.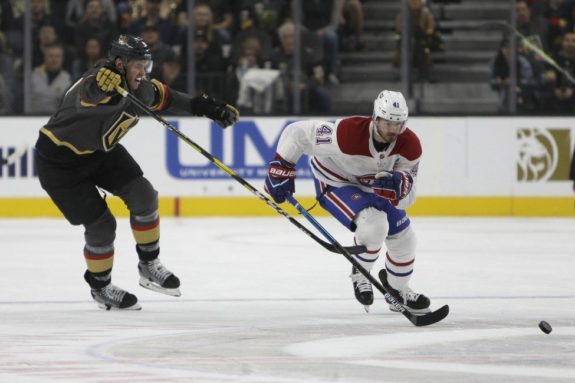 The projected fourth line with Jake Evans, Lehkonen and Byron is one with tremendous speed and superior scoring ability compared to most fourth lines. They are solid defenders and do not pose any real threat of being defensively liable. This line would create momentum with energy and speed and would give slower teams and other fourth lines fits all over the ice.
That said, if Byron is able to remain a sound defensive player in more of a checking role and still pitch in 10 goals and 25-30 points, this should be considered a success. And, if he does manage to perform at a high level and avoid injury, I believe that the Canadiens will keep him for a playoff run if they are in a playoff position come the end of the 2020-21 season. After that, it is anyone's guess.
---
---