Prior to the opening day of free agency, general manager Don Sweeney knew what areas of his team needed to be improved for the upcoming season. In a flurry of activity on July 1, he managed to address some of that as well as nab one of the most highly coveted free agents on the market in David Backes.
Backes signed a five-year contract worth a reported $30 million, making his annual income $6 million. Many people believed that Backes would reach a long-term deal with the St. Louis Blues, but as it turned out, it never came to fruition. Sweeney came in and picked up one of the most exciting names in the free-agent pool this summer.
Besides defense and consistency, the Bruins suffered in three critical areas last season: leadership, toughness and versatility. What Sweeney accomplished with this signing was acquire a player who illustrates leadership, plays a rough style of game and can be utilized anywhere in the lineup. Let's take a look at how he can provide these qualities over his tenure in Boston.
Leadership
In the 10 years he has played as a member of the Blues, Backes has worn a letter on his jersey for seven of them, including the past five seasons as captain. Backes leads by example and it clearly shows in how successful the Blues have been in the years he has been a leader on this club.
The Blues made the playoffs all five years he was captain, finishing first in the Central Division twice and second place on three occasions. Even though they only made it out of the first round two times, Backes played a huge part in their run to the Western Conference Final this past postseason, putting up 14 points in 20 games. His most memorable goal came in the first overtime against division rival Chicago during their first round matchup.
Backes also helped steer the Blues in the right direction following years of turmoil after the locked-out season of 2004-05. Although the team has been mocked for their lack of success in the playoffs, there's no doubt that the Blues are one of the top teams in the NHL and also one of the most competitive. A major factor in their competitive streak starts with Backes, whose aggressive style led the way.
The Bruins desperately need help in the leadership category with Zdeno Chara becoming a free agent in two years. The untimely collapse at the end of the season showed that the veteran guard weren't stepping up enough other than Patrice Bergeron and Brad Marchand.
Toughness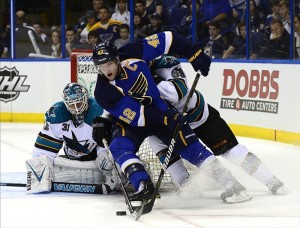 When asked about the style of play that Backes utilizes, the term toughness comes to mind. The 6-foot-3, 221 pound forward from Minneapolis, Minnesota, has been described as a tremendous body checker and a gritty and determined player who leaves it all on the ice.
His rugged style has been revered by many of his teammates and it's easy to see why. His tenaciousness, nose for the net and overall physical being have established his credibility as one of the hardest working players in the game. He uses his size and strength to overpower opponents, especially in the offensive zone. There's a reason why he's recorded double digits in goals in nine of his 10 seasons.
Backes isn't afraid to drop the gloves, either. According to hockeyfights.com, he has participated in 24 donnybrooks during the regular season. Whether it is sticking up for a teammate or trying to spark the team, Backes doesn't mind getting involved in the rough stuff.
Who could forget his "tour of Canada" in 2010 when he fought three members of the upcoming Canadian Olympic team leading up to the ceremonies in Vancouver? He took on Jonathan Toews, Rick Nash and Corey Perry in a 10-day span, which intensified the rivalry between the U.S. and Canada in the Olympics that year.
He can bring a physical edge to a Bruins team that got pushed around way too much last season and can help younger players like David Pastrnak, Ryan Spooner and Frank Vatrano get more scoring opportunities by doing the hard work.
Versatility
Although the 32 year old has mostly played center during his career, the Blues started experimenting with him on the wing to free up space for other players to stick to the center position. It's unclear where he will fit in the Bruins lineup for now but having the ability to shift him to a wing if the center position is locked up is a luxury. Can you imagine a line with him playing alongside Bergeron and Marchand? Talk about scary.
Backes has shown over the years that he can play in every situation, logging over 19 minutes of ice time per game this season while playing on the first, second or third line along with both power-play and penalty-kill units. His pedigree as a strong two-way player earned him a Selke Trophy nomination in 2012 for best defensive forward.
The Blues' second round draft pick from 2003 has shown that he can generate offense at a consistent rate as well. He has twice had 31-goal seasons along with four 20-goal seasons. Backes has scored five or more power-play goals seven times, including two seasons of 10. He registered career highs in goals and points during the 2010-11 campaign with 31 and 62 respectively. He has scored 45 or more points in seven of his 10 seasons with the Blues while putting up a positive plus/minus rating in all but three seasons.
Bringing in a player like Backes can spark a team that might have some of the pieces in place for a bright future. The Bruins hope this is the perfect fit for what lies ahead.