With the NHL Trade Deadline roughly six weeks away, the Boston Bruins' approach to the cutoff will be dictated by their answer to one simple question:
How important is this season?
For all intents and purposes, they've "arrived" a bit earlier than most expected. That's not to say that being firmly entrenched in playoff position at the season's halfway mark is a shocking development, but rather that being lauded as legitimate Stanley Cup contenders  was completely unforeseen as recently as six weeks ago.
That, in and of itself, is proof-positive that a lot can change in six weeks. The Bruins could cool off significantly between Saturday night and the February 26 deadline. One or more players could once again fall prey to the injury bug, necessitating an external replacement. Or, from a more positive outlook, the B's could simply continue to run teams out of the barn, further proving themselves to be a team worth supplementing; the latter posing its own set of questions for general manager Don Sweeney.
Sweeney's painstaking and occasionally maligned efforts to retool the organization and restock the pipeline have begun to bear fruit. As such, how willing would he be to mortgage part of that future and young, organizational depth for immediate help?
The Jacobs Factor
Jeremy Jacobs has owned the Boston Bruins since 1975. Though six different Bruins teams have reached the Finals under his watch only one has captured Lord Stanley's Cup.
That being said, the man expects his team to compete on a yearly basis, regardless of how things look on paper. It was just last season that Jacobs said he expected a "deep playoff run" in spite of the fact that, on paper, Boston's roster gave little cause to expect such a run.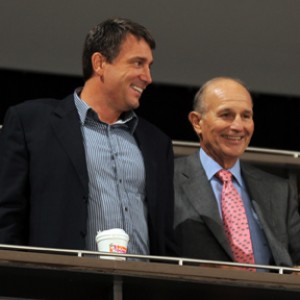 So, if that was his expectation last season following two-straight years without playoff hockey, one can only assume that his desire for such a thing has only intensified having watched this year's team run roughshod over the competition.
From a pure dollars and cents perspective, the difference between a deep playoff run and a brief one is millions upon millions of dollars. The fact that Delaware North (Jacobs' company) also owns TD Garden means that ticket revenue, merchandising and food and beverage sales all make their way back to Jacobs. Not to mention Jacob's minority ownership of NESN, which still broadcasts the first round of any Bruins trip to the postseason.
What this all means is that Sweeney and Neely may wind up receiving more than a nudge from above to make a move or two, solidifying this team's chances to play multiple playoff rounds, regardless of whether or not it's their preference to do so.
We all have bosses.
The Elephants in the Room (Division)
Every year, one or more excellent NHL clubs are the recipients of an especially-tough first round matchup, leading to their ouster. Last year it was the Columbus Blue Jackets getting the short end of the stick. Despite having 108 points and the third-best record in the Eastern Conference they had to play the East's second-best team in the first round, thanks to the NHL's current playoff format/alignment.
In the previous year it was the Chicago Blackhawks, who similarly finished with the third-best record out of eight Western Conference playoff teams and yet had to play the team with the second-best record.
Though the Bruins may not encounter quite the same dubious and unfortunate seeding/matchup, they will certainly have their work cut out for them if they have designs for a deep playoff run.
The Tampa Bay Lightning are currently the cream of the NHL crop, on pace for 121 points. They possess the two top scorers in the league, nine players currently on pace for 50-plus points and the early favorite to win the Vezina Trophy. They could easily finish the year with the Vezina, Norris, Art Ross and Maurice Richard Trophy winners all in the fold.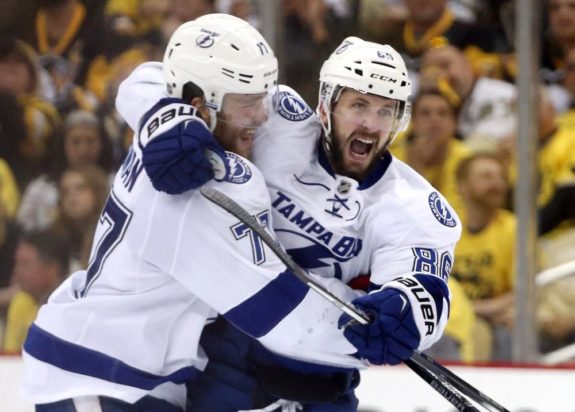 With a healthy David Krejci, few teams in the NHL can adequately match-up with Boston's depth down the middle. Unfortunately for the Bruins, Toronto is one of those teams.
With Auston Matthews, Nazem Kadri, Tyler Bozak and old-friend Dominic Moore down the middle, Toronto can match-up with anyone. Furthermore, their overall depth at forward will likely go a long way toward neutralizing Boston's own considerable depth.
The Bruins are 0-1-1 this season versus Toronto and 0-5-1 against the Leafs since the Matthews-era began. They haven't beaten Toronto since March of 2016. Yikes.
Keeping Up with the Joneses
Both Tampa Bay and Toronto figure to be tough-outs come playoff time as currently constructed. Complicating matters even further for the Bruins is that they both figure to add pieces leading up to the deadline.
Both clubs would love to add an impact defender and have both been linked to Canucks rearguard Erik Gudbranson. Tampa Bay could possibly look to add even more offensive firepower in the form of an Evander Kane or Mike Hoffman.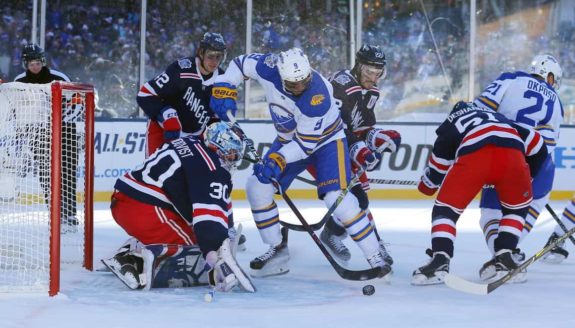 This poses a big problem for the Bruins. Do they look to make additions as a means to keep up with their two most likely opponents in the first and second round of the playoffs? Do they hold fast and protect their future while all but ensuring they don't make it beyond the second round (at best)? Is there a way for Sweeney to solidify this year's team while only giving up organizational redundancies?
Again, how important is this season to ownership and the front office?
Methodology
With a 17-3-3 record over their last 23 games, there is currently zero need whatsoever to force a trade. Being on such an incredible run while simultaneously possessing a deep stable of prospects and a bright future is the literal definition of having your cake and eating it too.
However, should injury, a precipitous drop-off in play or pressure from ownership send Don Sweeney into the trade market there's really only one route he'll likely travel at the deadline deadline — a cheap, cosmetic depth rental, a la Drew Stafford last season.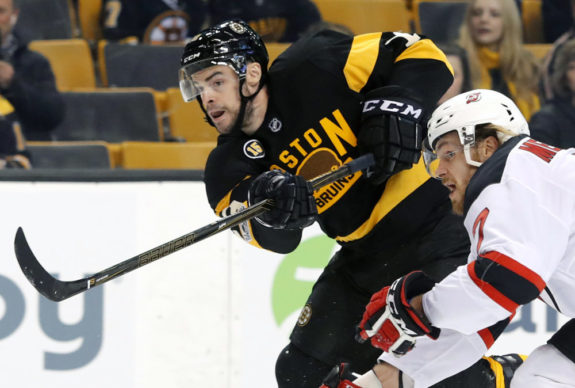 As tantalizing a thought as it is for Boston to make a big splash for a player with term remaining on his contract (Oliver Ekman-Larsson, Mike Hoffman, etc), the odds of Sweeney not only wishing to travel that route but also outbidding the competition are slim to none. Moreover, there will be no high-cost rentals for Boston at this deadline, so your Black and Gold Evander Kane jersey will have to wait…
Ian Cole's reported availability on the back end has some seeing a fit in Boston. The guy eats minutes and pucks, he's left-handed…it makes sense. Plus, a team can never have too many defensemen. But, with Adam McQuaid already unable to crack the lineup, does Don Sweeney feel like parting with futures (or Ryan Spooner, given Pittsburgh's need at center) to plunk another defenseman who isn't playing poorly next to McQuaid? Is Pittsburgh so entrenched in "win now" mode that any package not including immediate roster help is brushed aside? Moreover, does anyone feel like helping the two-time defending champs fix their roster?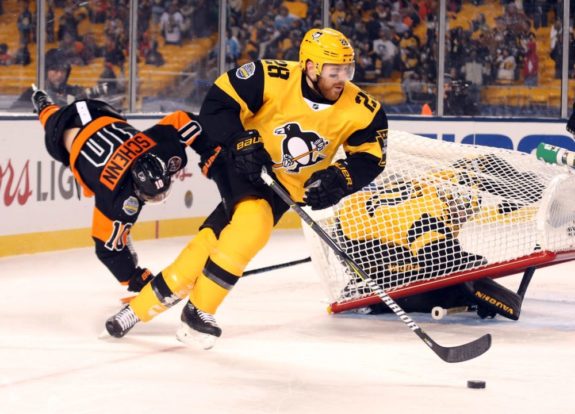 If the Penguins were looking to roll the dice on a guy like AHL all-star Austin Czarnik (whose path in Boston is quite blocked) plus a mid/late-round pick it may be difficult to pass up; Cole is the kind of guy teams win championships with. But if the cost is even moderately prohibitive Boston can calmly walk away, knowing its blue line is hardly in shambles.
Rent-A-Center (Winger)
For the 51st consecutive season, Thomas Vanek is an unrestricted free agent on a dumpy team. He's probably the only player in the NHL to spend more time in the rumor mill than Ryan Spooner. And every year, the "Vanek to Boston" rumors start swirling, yet it never comes to fruition.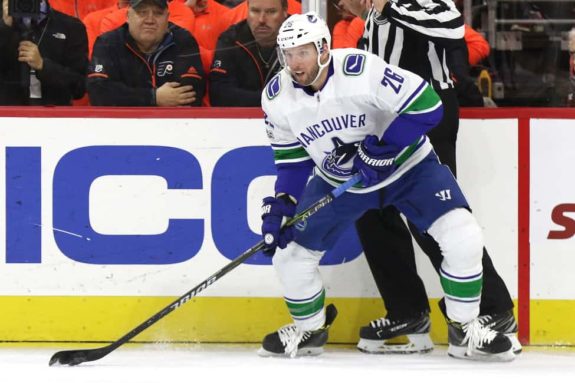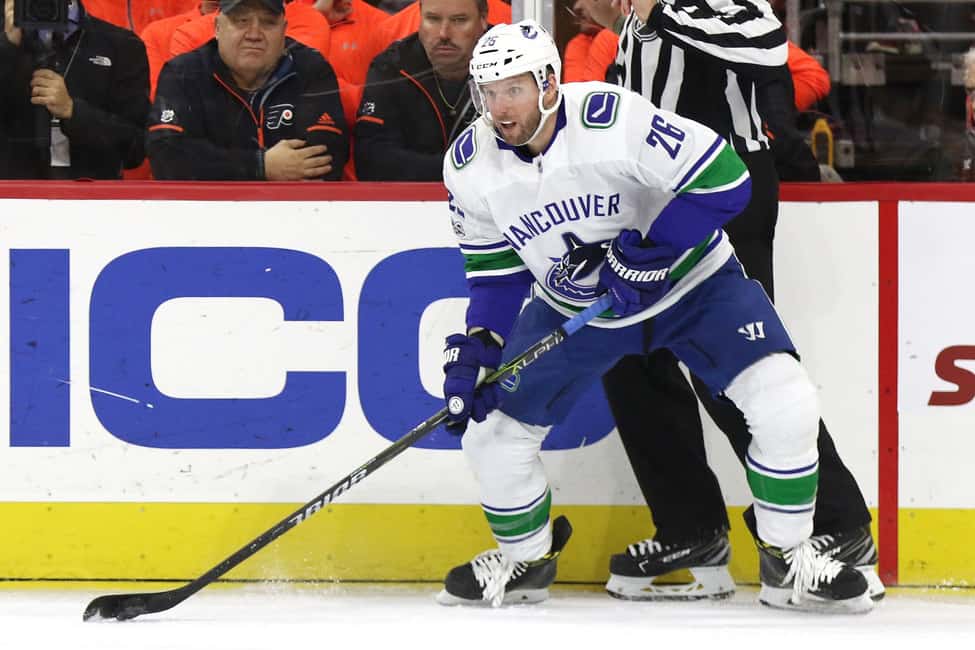 On the surface, it makes enough sense: Talented scorer, particularly with the man-advantage. The Bruins currently have an unnatural fit on David Krejci's right wing and last season Vanek was acquired for just a third-round pick and Dylan McIlrath; hardly a hefty haul.
Frankly, I don't see Vanek as being such an upgrade to Spooner (who has been excellent of late) that Boston should surrender future assets to make what's essentially a lateral move. There's a part of me that can see Vanek channeling Miroslav Satan circa 2010, but I bury those feelings deep inside.
Should injury befall someone in Boston's middle six then they could do worse than Vanek for a third-rounder. As simply an addition to the existing lineup? No, thank you.
The Bruins have Anders Bjork and Peter Cehlarik waiting in the wings should a middle six spot open up for one reason or another. But what if one of Sean Kuraly, Tim Schaller or Noel Acciari goes down with an injury? Does Bruce Cassidy go back to Frank Vatrano or Matt Beleskey, two guys who couldn't seize any of the myriad opportunities they received this year or last? Does Cassidy put Nash back on the fourth line, breaking up the three-headed monster that is Nash-Backes-Heinen?
Related: Bruins Success Makes Cassidy a Jack Adams Candidate
The Fix
Edmonton's Mark Letestu is a guy who catches my eye. With Edmonton going nowhere fast and Letestu's contract ($1.8 million salary) set to expire, he will be on the move before February 26.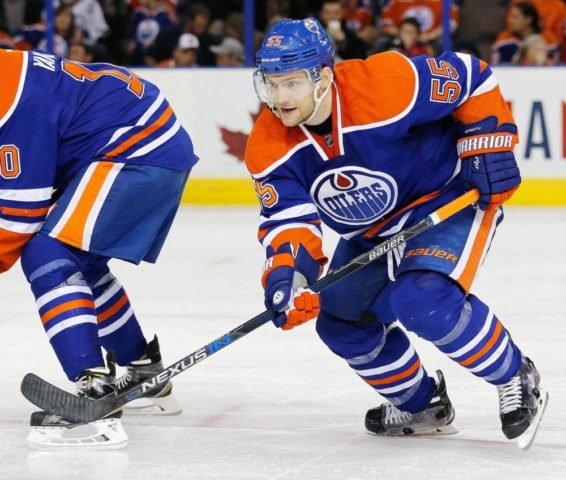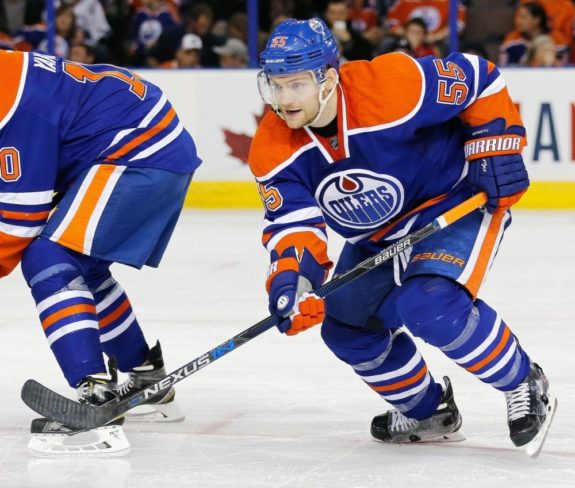 The 32-year-old veteran of 500-plus NHL games has won 55% of his face-offs over the last three seasons, can play all three forward positions and is the kind of responsible, two-way player needed to solidify a fourth line. The cost of acquisition would be marginal — most likely a conditional late-round pick, same as Stafford last season. That's a small price to pay to bolster the fourth line, whose rugged style figures to result in nicks, bruises and a game or two on the shelf come playoff time.
David Perron is another player I would personally love to see in Boston, but with Vegas rewriting the record books it's unlikely they part with him in-season for anything less than a considerable overpayment — which, as we've already established, Boston has no interest in at this juncture, especially considering his expiring contract.
Six-Week Window
The Boston Bruins have six weeks to assess their roster, the rosters of their competition and to gauge the acquisition costs for various players around the league.
I would personally be surprised if some move is not made, though its magnitude is unlikely to measure on the Richter scale. With an uber-competitive team on the ice and a prodigious prospect pipeline in tow, the team currently has the luxury of simply waiting to see how things shake out. Should opportunities present themselves at the deadline for Don Sweeney to merely augment the club's depth at minimal cost it's likely he (and his boss) will welcome the chance to do so. Anything more will likely be a little too rich for their blood.
How important is this season? Important enough to see how far the current team can go with minimal (if any) supplements. But not important enough to sprinkle precious draft capital and young talent around the league for a short-term boost.