With the Boston Bruins' swift exit from the 2017 NHL Playoffs, some changes can be expected. After missing the playoffs two years in a row, qualifying for the postseason wasn't a bad outcome for this 2016-17 season. The goal the for the 2017-18 campaign, however, should be to make a run for the Cup. With that comes a number of changes to the Bruins over the offseason.
Bruins' Needs
The Bruins need a top-six winger. This past season, David Pastrnak saw most of his playing time alongside Brad Marchand and Patrice Bergeron – a solid first line, especially when you consider that Pastrnak will only improve over the years.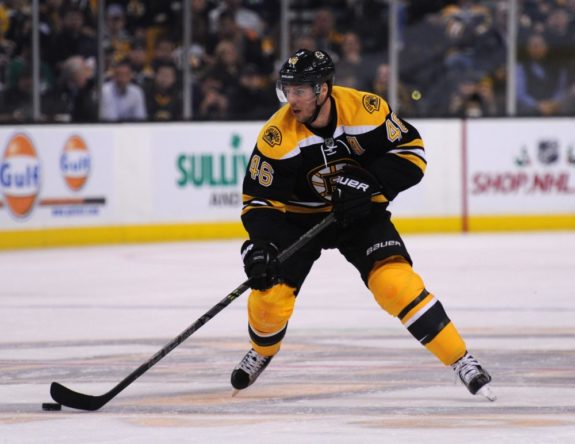 For a second line, the Bruins are left with David Backes and David Krejci. If a sniper was acquired on either wing, the Bruins could fully capitalize on Krejci's playmaking abilities; something they have failed to do in past years. Backes' physical play and presence in front of the net would give the line another way of scoring.
A player fitting that description would likely cost a combination of picks and players. Luckily, there seems to be a number of Bruins that management is willing to part with.
Trade Block: Ryan Spooner
While Spooner played in 78 games for the Bruins during the 2016-17 season, he was scratched during Games 5 and 6 of the series against Ottawa. The 25-year-old center ended the season with 39 points, which, considering his role on the Bruins power play, could have been better. On a Boston roster that is significantly heavy at the center position, Ryan Spooner is the odd man out entering this offseason.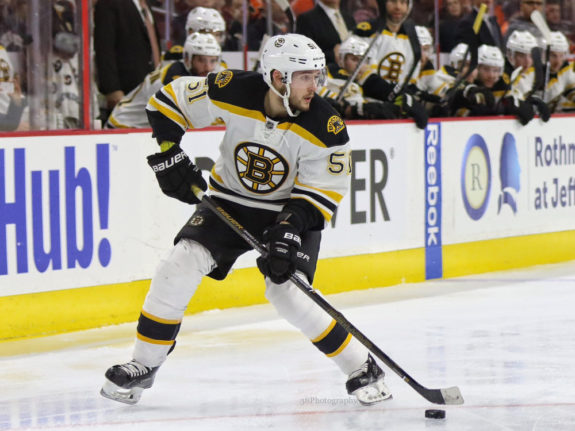 As the 45th overall selection in the 2010 NHL Entry Draft, Spooner has proven to be an average skater at best. While he is fast and able to move the puck, his lack of defensive skills hurts him. His role on the Bruins has remained that of a third line center, a position the Bruins can fill within the system or resorting to Free Agency.
Riley Nash will likely return as the Bruins' fourth-line center with his affordable cap hit of just $900,000 while coming up the pike is Jakob Forsbacka Karlsson. Forsbacka Karlsson, age 20, scored 33 points in 39 games with Boston University this past season, while scoring 30 points in 29 games the season before. He will see some playing time at the NHL level next season, though most likely not in a permanent role unless he catches fire.
Spooner is a Restricted Free Agent. The Bruins have the option of signing him, taking the compensation of someone else signing him, or trading his rights to another team. The latter may be the best option on the table, considering Spooner's potential worth to a team lacking young centers with playmaking abilities.
Trade Block: Adam McQuaid
Adam McQuaid, like Spooner, may be the odd man out this offseason. The Bruins could see a top-four of Zdeno Chara, Torey Krug, Brandon Carlo, and Charlie McAvoy on the back end next season. The remaining defensive pairing remains in question with Colin Miller, Joe Morrow, Kevan Miller, and McQuaid all jostling for playing time.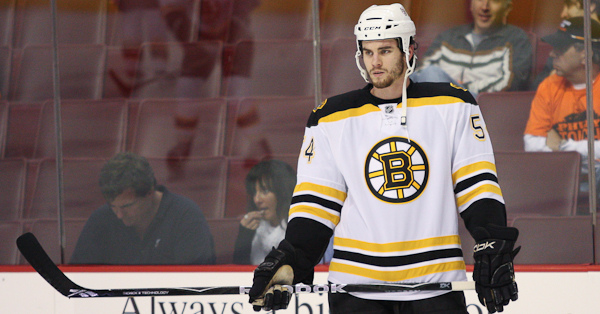 Colin Miller proved to be a great addition to the club during the 2016-17 season, and will likely be a daily starter. Joe Morrow has yet to play a full season in the NHL, and if re-signed, will likely fill the role of a depth defenseman as he has in years past. If not, the Bruins could potentially trade his rights to another team.
That leaves Kevan Miller and McQuaid as candidates to fill out the roster, and this writer would lean toward Miller. While both play a similar game – tough, rugged, and defense-first – Miller seems to be the most consistent, while being a year younger and under a longer contract.
While McQuaid played in 77 games this season, he only scored 10 points while averaging 18:05 per game. With a cap hit of $2.7 million, the 30-year-old is a moveable piece.
Matt Beleskey & Jimmy Hayes
Two of Boston's most recent acquisitions have not played up to snuff. While Beleskey produced just eight points in 49 games, Hayes scored only five points in 58 games this season.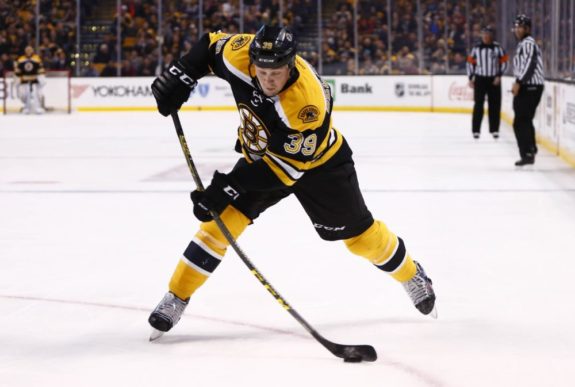 Their cap hits of $3.8 million and $2.3 million respectively would be hard to move according to their stats. One resolution is using them to fill out Boston's bottom-six forwards.
If Boston was keen on trading the two players, however, Beleskey and Hayes could be piled on to a deal with Spooner for a top-six winger.
With Chara's cap hit dropping by almost $3 million next season, the Bruins could make a big splash in Free Agency to fill their needs. That would be a likely route for the Bruins to fill out their bottom-six forwards if Hayes and Beleskey were sent packing. If the Free Agency pool is thick this year, Boston could potentially land a top-six forward in that fashion as well.
Boston Bruins General Manager Don Sweeney has a number of directions he could take the team this offseason. Whichever way he leads the team moves need to be made, and the Bruins will likely look a little different next season.
I cover the Boston Bruins and NCAA Hockey here at The Hockey Writers. Born and raised 10 miles north of Boston, I developed a love for the game of ice hockey at a very young age. There's really nothing better than this sport, though steak is a close second.