What a wild weekend of hockey it was. Though none of the excitement took place on the ice, general managers from all 31 NHL teams had their fans riled up before rosters froze on Saturday afternoon.
Plenty of rumors indicated that Boston was actively pursuing trades prior to the roster freeze and the submission of their protected list. Reports linked the Bruins to Jonas Brodin of the Minnesota Wild and even the Colorado Avalanche's Matt Duchene.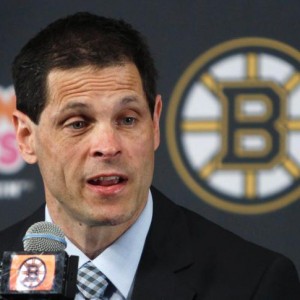 It is ultimately okay that the Bruins did not close a deal prior to the 2017 Las Vegas Expansion Draft. A number of teams are set to lose a top-four defenseman, a third line forward, or even a quality goaltender. The Bruins could lose a bottom pairing defenseman, an overpaid forward, or a disgruntled goaltending prospect. In other words, it could be much worse for the boys in black and gold.
Heading into the 2017 NHL Entry Draft, the Bruins have a number of moves they could make. 30 teams will be looking to fill holes in wake of Vegas' plundering, and the Bruins can use that to their advantage.
Needs: Top-6 Forward, Top-4 Defenseman
The Bruins are in a great position heading into next season. If the team loses Colin Miller to the Golden Knights, they find themselves with a solid defensive core of Zdeno Chara, Brandon Carlo, Torey Krug, Charlie McAvoy, Kevan Miller, and Adam McQuaid.
With Chara's contract – and possibly career – ending after the 2017-18 season, the Bruins should continue looking for a top-four defenseman. Snagging a quality guy like Brodin during or after the draft would push Krug to the bottom pairing. He can even come up and play in the top-four if it appears McAvoy still needs more time to develop.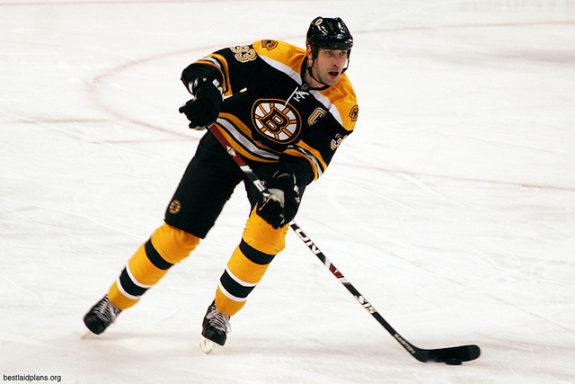 This would also push Adam McQuaid out of the starting lineup, exposing himself or Joe Morrow to the trade block.
Boston is also in need of a top-six forward to accompany Patrice Bergeron, Brad Marchand, David Pastrnak, David Backes, and David Krejci. With so many prospects coming up from Providence this season, Sweeney only needs a one or two-year rental before the role is filled naturally.
Sweeney can hold off on this move until after the draft. He should see what the free agency market looks like before determining if the Bruins need to give up anything but some dough for a top-six rental.
The Bruins also need to figure out who will be covering for Tuukka Rask's vacation days. Anton Kuhdobin was underwhelming this past season with a record of 7-6-1 and a goals against average of 2.64. Sweeney will need to address the position through a transaction unless 24-year-old Zane McIntyre is ready for the challenge. Selected in the sixth round of the 2010 NHL Entry Draft, McIntyre has appeared in just eight NHL games. His 0-4-1 record is discouraging along with his goals against average of 3.96 and save percentage of .858.
Trade Block: 1st Round Pick & Spooner
The Bruins have a number of assets at their disposal when it comes to trade talks. The 18th overall pick of the draft is the first item on the docket. With Providence so rich in quality skaters, Boston does not need their first round pick. This year's draft class is expected to be slightly weaker than past years, so that gives Sweeney even more incentive to trade the pick.
The good news is that a number of teams are expected to be without a first round pick entering the draft on June 23rd. The Golden Knights are expected to receive a number of first round picks in exchange for not stealing particular players in the expansion draft. This makes that 18th overall pick's value skyrocket depending on the teams Sweeney engages in talks with.
Sounds like Vegas is dealing ahead of the expansion draft. Have heard there are at least seven teams with side deals.

— Scott Cullen (@ByScottCullen) June 19, 2017
Even if the Bruins are unable to move this year's first rounder, future first rounders are just as tradeable.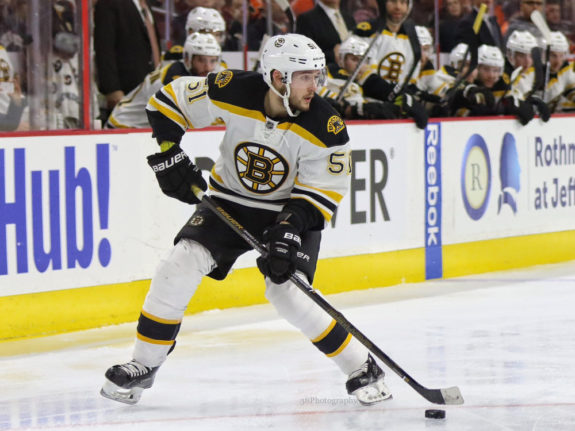 Ryan Spooner is the second item on Boston's trade block. The 25-year-old is a restricted free agent this offseason, and it is clear his club is not happy with his recent performances. Spooner's value on the market will certainly rise after the expansion draft. Teams that lose a bottom six center can fill that need with Spooner who scored 11 goals and 39 points in 78 games last season.
Matt Beleskey and Jimmy Hayes should also be items shopped by Sweeney for whatever he can get. Even a seventh-round pick in return for Beleskey is a win, seeing as though he soaks up $3.8 million worth of Boston's salary cap and that he was acquired via free agency. Hayes hits the cap for $2.4 million and will be an unrestricted free agent next year.
Trade Surplus: Kuraly & McQuaid
The Bruins also have a number of players that may not be on the block but could be included in some sort of package deal. The Providence Bruins' deep run in the AHL Playoffs this season indicates a healthy selection of prospects. Though Sweeney will put most of these players to use in Boston next season, a number could be shipped off due to the simple fact that there are so many of them.
Providence's season comes to an end with a 3-1 loss to the Crunch in Game 5.

Congratulations to the @AHLBruins on a tremendous season.

— Boston Bruins (@NHLBruins) May 28, 2017
As a 24-year-old center who made headlines during the 2017 NHL Playoffs, Sean Kuraly could seem attractive to a number of teams. He is also the oldest out of Boston's top prospects at the center position, making him somewhat of an odd man out.
Assuming Colin Miller is taken by Vegas, McQuaid and Morrow would not be in the Bruins' starting lineup.If the Bruins are to pick up a top-four defenseman as they have been attempting to do, then McQuaid or Morrow could get the boot. The team would only require one of these players to take on the role of Boston's seventh defenseman.
While Joe Morrow is a restricted free agent this offseason, Adam McQuaid's contract has him hitting the cap for $2.75 million through the 2018-19 season.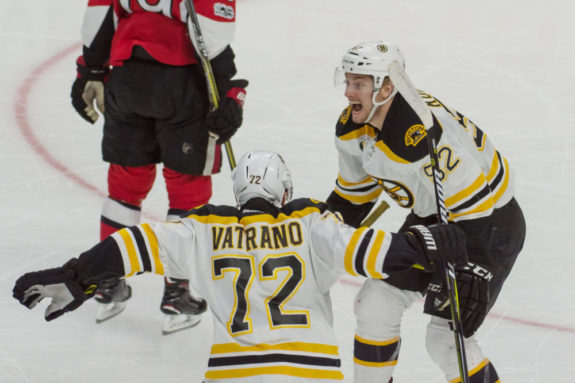 I would rather see McQuaid moved over Morrow, personally. Not only would it free up cap space, but Morrow is younger which would be beneficial upon Chara's exit in a few short years. Not to mention that I can't remember the last time McQuaid played a full season without getting injured.
The Bruins are heading into this offseason in a great position. All they need is for management to capitalize on a crazy market for Boston to be Cup contenders once more.