Sean Kuraly, Noel Acciari and David Backes. All three players are or have been capable of playing center in their career and have been reliable in the spot when called upon. Despite this, there's a clear distinction between a player who can play center and a player who can play center in a top-nine role.
That's unfortunate for the Bruins given the fact that, after Monday's matinee contest against the Ottawa Senators, the Bruins will have experimented with all three players in that role in their first three games of the season. A far cry from where the team thought they would be during the preseason with Jack Studnicka, Trent Frederic and Jakob Forsbacka Karlsson were all competing for the role.
Things didn't go quite as planned, however, and while they all flashed signs of brilliance, none ran away with the job. For Studnicka, the numbers game ultimately got him as he still had CHL eligibility. His counterparts in Frederic and Forsbacka Karlsson, on the other hand, both provided the luxury of NHL and AHL call-ups. For that reason, Studnicka being sent back to the Oshawa Generals of the OHL just made sense for his development given what the Bruins already had at the AHL level.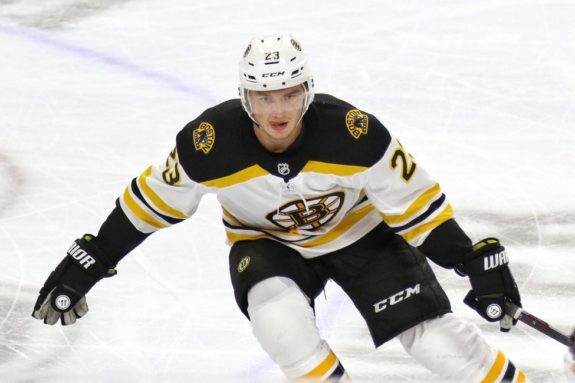 While Forsbacka Karlsson seemed like the favorite for the third-line center job heading into training camp, he never did anything to separate from the pack and was ultimately sent back to Providence once again with Frederic appearing to be the man for the job. Things aren't always what they seem though and while Frederic looked very comfortable offensively, his giveaways were an issue in the preseason and some extra time in the AHL was deemed the correct move for him early on.
From three young prospects competing to Kuraly, Acciari and Backes. To put it lightly, it hasn't been ideal.
Before breaking down what the Bruins could do to rectify this issue, it seems appropriate to explain why the options that the team has run with won't contribute to a long-term winning formula.
Poor Usage at Center Hindering the Bruins Potential
When considering Kuraly as a player, it's clear that he's a key cog in the Bruins' lineup each and every night. Fortunately for him and the team, his impact on the team comes outside of point production.
Though he's only scored six goals and 15 points in 85 games in his career, his ability to generate energy, provide versatility and end shifts in the attacking zone shouldn't be overlooked. Even more impressive is how effective Kuraly is as a player despite that fact that he is typically starting the vast majority of his shifts in the defensive zone (61.9% in his career and 69.2% through two games this season).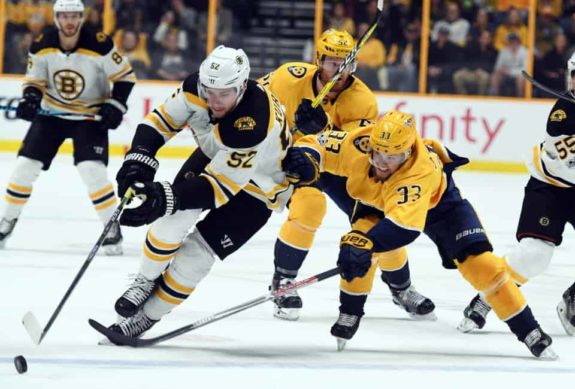 Outside of his five-on-five play, Kuraly's contributions on the penalty kill are more important this season than ever before. Not only do the Bruins appear keen on using Patrice Bergeron and Brad Marchand more sparingly down a player to keep them fresh for five-on-five play but they are also making up for the loss of key penalty killers from a season ago.
In the offseason, the Bruins lost Adam McQuaid (traded, 2:06 short-handed time per game), Riley Nash (free agent, 1:54 short-handed time per game) and Tim Schaller (free agent, 1:53 short-handed time per game). How important were those three players to the Bruins penalty kill? Well, McQuaid, Nash and Schaller were fourth, fifth and sixth on the Bruins in 2017-18 in average short-handed time on ice in 2017-18.
Related: Bruins Trade McQuaid to Rangers
Kuraly ranked 10th on the team last season with 1:11 of short-handed ice-time per game and that number should be on the rise in 2018-19.
For everything he does well, however, Kuraly's skill set is very clearly best-suited for a fourth-line role. That much was clear in the Bruins first game of the season when the team couldn't find their rhythm in a 7-0 loss at the hands of the Washington Capitals.  Kuraly centering the team's third-line appeared to be destined to fail from the get-go.
In the Bruins second game of the season – a significantly better effort that saw the team come away with a 4-0 victory against the Buffalo Sabres, the Bruins ran with a third-line that looked suspiciously like a fourth line. Highlighting that line was Acciari who took on the third-line center role for the night.
While the results were better, the long-term plan was never to keep Acciari at the position as the team already made a change with Backes, Anders Bjork and Danton Heinen making up the third-line for Monday's game.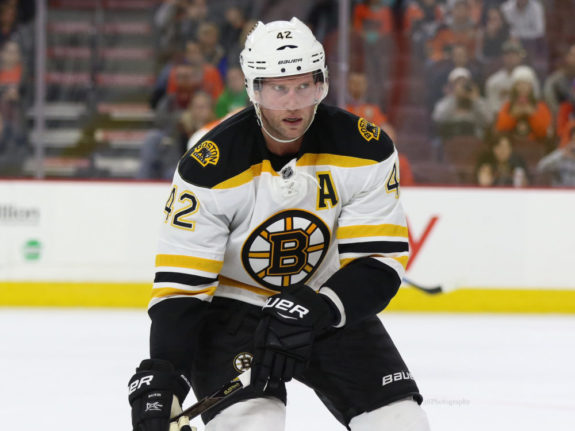 Backes may have been an effective two-way center at one point in his career but those days are unfortunately in the past. The Bruins had intentions of using Backes as their third-line center for the duration of his contract when he signed his five-year deal in 2016. With the pace of play in the modern day NHL though, using Backes down the middle isn't an ideal scenario.
He's certainly capable of playing the position but the Bruins are immediately handicapped to an extent due to the speed issues. Using Backes on the wing allows him to at least do things that he still excels in well – specifically work along the boards with a physical element that he brings to the Bruins that's unmatched by other forwards on the team.
He could surprise everybody and have a resurgence down the middle, but the holding your breath for that to happen doesn't seem wise without any concrete proof that it'll happen.
So if none of those options are looking like long-term answers at third-line center and Frederic and Forsbacka Karlsson are still an undetermined time away from making the jump to the NHL, then who could possibly play the position and make a positive impact?
The answer is actually pretty simple.
Ryan Donato's Time to Shine
When Ryan Donato was drafted in the second round in 2014, the expectations were that he would one day play center for the Bruins. His shoot-first mentality, connection to Boston (and specifically the Bruins) and commitment to play at Harvard made him the logical option to draft for future center plans.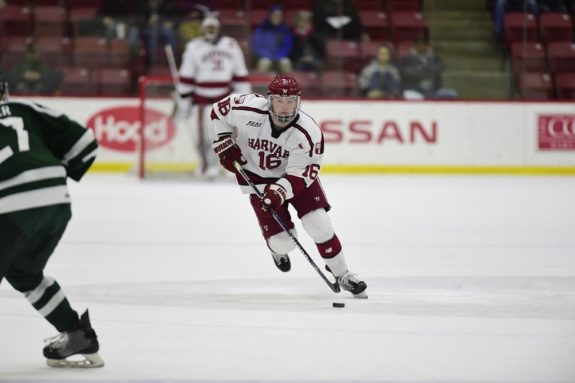 Donato proved to be one of the best players in the nation during his time at Harvard as well, scoring 13 goals and 21 points in his rookie season before breaking out in his final two seasons with 47 goals and 83 points in only 65 games from 2016 to 2018. His excellence in college and the NHL's unwillingness to participate in the 2018 Olympic Games in PyeongChang, South Korea opened the door for Donato to breakout on the Olympic stage as well.
When Donato would finally sign with the Bruins and get a shot in the lineup, his offensive mindset was brilliant. He scored five goals and nine points in 12 games, including a goal and three points in his debut. His usage to start his career, however, was almost exclusively as a left and right winger. The Bruins have been intent on using Donato purely as a winger despite his experience at all levels as a center, and that plan has extended to the 2018-19 season.
Related: Bruins Sign Donato
This may not be the best way to use Donato in the short-term.
Though Donato has spent the majority of his time in the NHL (a small sample size of only 14 regular season and three postseason games) at the winger position, he did play one of those games as a center. In that game, Donato would win all seven faceoffs he took, would skate in 12:15 of ice time in 19 shifts. Interestingly enough, though, Donato failed to record a shot in that contest – the only game of his career for that to happen thus far.
In his first game at center at the highest level in the world, it's to be expected that Donato has things to learn – from simple nuances, positioning and even playmaking to everything in between. With that said, Donato can only learn the position if he's given a chance to play at the position. With the Bruins grasping at straws with their current options, there's no reason to keep Donato away from the position for long.
A possible lineup with Donato at center could look something like this:
Marchand – Bergeron – Pastrnak/Bjork
DeBrusk – Krejci – Bjork/Pastrnak
Heinen – Donato – Backes
Wagner – Kuraly – Acciari
With this combination, Bjork receives top-six minutes and gets a chance to show off his dynamic ability as a puck mover and scorer while playing with the Bruins best offensive options. Pastrnak would be playing comfortably alongside either Bergeron and Marchand or with Krejci – a player he's shown chemistry with at the international stage. Kuraly and Acciari would be united on the fourth line with Wagner helping to fill in for Schaller at five-on-five and on the penalty kill.
Most importantly, Donato gets a shot at center while playing with Heinen and Backes, two defensively responsible players who have chemistry and have proven to work well together in all situations. It would be a soft introduction to the position for Donato too as he wouldn't be tasked with too much behind the Bruins top brass and he would have two safeguards on his line with the winger selection.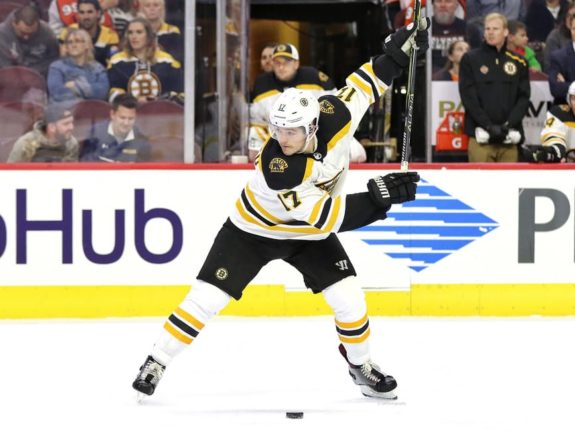 Nobody is saying that Donato has to remain in the position if things don't go well after a few games, or even a few shifts if there's some catastrophe. Using Donato seems like the far more logical solution than using either Kuraly or Acciari, though, and Backes' best days at center are behind him.
Brandon Share-Cohen has covered the NHL and various professional sports for seven years. Working with The Hockey Writers, Brandon works extensively on covering the Boston Bruins in addition to his role as the News Team Lead.