From May 1-31, NWHL teams can re-sign players from their 2016-17 roster and their draft picks during the restricted free agency period, and beginning on June 1 any unsigned players left will be free to sign with any team.
The third season of the NWHL will begin in October as the Buffalo Beauts defend their Isobel Cup championship, and with up to 12 players unable to participate in the league this season due to their selection for Team USA's 2018 Olympic team, this will be the most competitive season yet.
My colleague Dan Rice will keep THW readers up-to-date on New York and Connecticut's signings throughout the summer, while I post updates on Buffalo and Boston.
Badgers Reunite, Mock Goes From Yale to Whale
Signing 4 More Bolsters Beauts' Depth
Boston Pride Trivigno Signing Strengthens All Facets
The Boston Pride are carving out a nice balance of talented new faces combined with savvy veterans. Now in the last full week of July, the "Pack" have brought back two of their original defenders. The returning two third-year players will now give Boston five players on the blue line.
Marissa Gedman
Harvard University alum Marissa Gedman is one of the returning pair. The former ECAC All-Rookie has played in 21 regular-season games for the Pride over the past two years. In that stretch she has compiled six assists. At 5 feet 9-inches and around 180 pounds, Gedman gives Boston some halting size on the back end when going up against opposing shooters.
During her four years at Harvard she played in 134 games. In her final two seasons she served as team captain. Across her collegiate career with the Crimson she recorded 19 goals and 56 assists.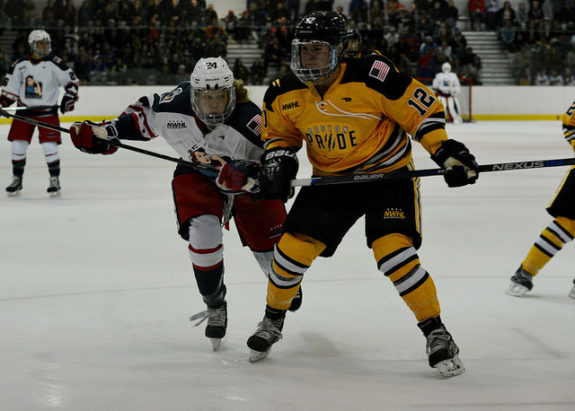 Gedman played in just three games for Boston last year. The year prior, though, she played in each regular-season and playoff game as the team captured the first Isobel Cup. As the Pride became the NWHL's first time champions, Gedman notched two assists in the four postseason games.
Shared via NWHL press release, Gedman expressed ,"I am so thrilled to be back for a third season with the Pride. I have nothing but good things to say about the NWHL and the Boston Pride franchise – not to mention the amazing experience of playing pro hockey in the city of Boston. I hope for more success for the Pride this season as well as the continued growth of the game for the generations after us."
Gedman was also a member of the 2010 silver-medal-winning U18 team for the United States. Hosted in Chicago, she picked up a goal and three assists in five games.
Alyssa Gagliardi
Along with Gedman, original Boston Pride defender Alyssa Gagliardi returns for a third year too. Gagliardi is one of the select few players to have won the Isobel Cup and the CWHL's Clarkson Cup. In the process she has continued to be a rock for the Pride.
Having appeared in all six NWHL playoff games in Boston's history, she has also played in all but one regular-season game. Her totals include 11 assists in 34 regular-season games. More importantly for Boston, she led the entire "Pack" in blocked shots with 19. The amount of times she put herself in front of vulcanized rubber was close to tops. She tied with New York's Kaileigh Fratkin for third overall in the entire league last year.
Gagliardi is stoked to be in the black and gold for another year. She stated via the same press release as Gedman:
"It's been an honor being part of the team since the league's inception, and I am grateful for the opportunity to wear the Boston Pride jersey again. The team will obviously have a different look than in years past, but we have a lot of highly-skilled and dedicated players. It's an exciting opportunity to continue growing our fan base, the league, and the women's game."
During her college career, Gagliardi played 138 games for Cornell University. From 2010 to 2014, she scored 20 goals and 67 assists. Gagliardi would serve as team captain her senior year.
Pride Getting Reliable Players Back
With Gagliardi and Gedman, the Pride know what they are getting. Dependability, experience, and solid performance. When either defender is on the ice their teammates need not worry. The reassurances that both players are able to instill on the Boston bench are most calming.
Gagliardi and Gedman are anchors for their club. Combining them with Lexi Bender, Paige Harrington and Kaliya Johnson on defense, Boston has little—if anything—to worry about.