From May 1-31 NWHL teams can re-sign players from their 2016-17 roster and their draft picks during the restricted free agency period, and beginning on June 1 any unsigned players left will be free to sign with any team. The third season of the NWHL will begin in October as the Buffalo Beauts begin defense of their Isobel Cup championship, and with up to 12 players unable to participate in the league this season due to their selection for Team USA's 2018 Olympic team, this will be the most competitive season yet.
My colleague Nathaniel Oliver will keep THW readers up to date on Buffalo and Boston's signings throughout the summer, while I post updates on Connecticut and New York. 
Pride Ink Daniels and Harrington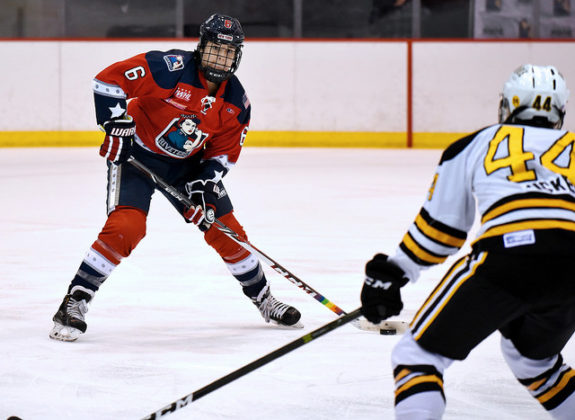 Rivs Recap
On July 19 the Riveters re-signed their leading scorer on the blue line, Courtney Burke, increasing their total of defenders on the 2017-18 roster to three (Ashley Johnston, Kiira Dosdall). Despite missing five games due to injury Burke put up 11 points (3g-8a) in 13 regular season games — and two of her three goals were of the game-winning variety. Her presence on the blue line was crucial to the Rivs late season surge that saw them finish second in the standings.
"I'm really excited to be back with the Rivs," said the 22-year-old in a press release. "A huge part of our core is coming back this year, so being accustomed to each other's style of play should make things easier at the start of the season. We had a great year last year, and I'm looking forward to another fun year with this group."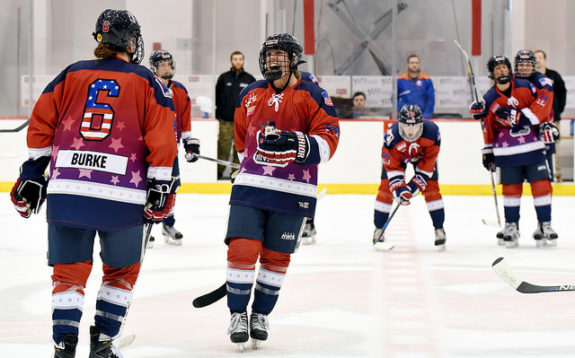 As Burke mentioned a large majority of the players on the Rivs next season played together last season; at press time that would be 12 of the 14 players under contract. On July 20 New York signed Jenny Ryan, who was the Riveters 3rd round pick at the 2016 NWHL Draft (ninth overall) and played alongside Burke at the University of Wisconsin.
"Courtney is an unbelievable player, even better friend and an amazing role model," said Ryan in a press release. "It was a huge honor to be drafted by the Riveters, and I'm very excited to continue my hockey career as a professional. I've heard great things about the team and the coaching staff, so I couldn't be happier."
Our new roommate …yet she doesn't mention me. Guess she's gonna be sleeping outside for the entire year. JK! Welcome to the rivs @j_flow5! https://t.co/HQuRy8MDmp

— Rebecca Russo (@russooo18) July 20, 2017
Here is the Riveters roster as of July 23:
Goalie: Katie Fitzgerald, Sarah Bryant
Defense: Ashley Johnston, Kiira Dosdall, Courtney Burke, Jenny Ryan
Forward: Tatiana Rafter, Rebecca Russo, Miye D'Oench, Lauren Wash, Cheeky Herr, Alexa Gruschow, Lindsey Hylwa, Bray Ketchum
Whale Watch
On July 19 Connecticut increased their forwards under contract to three when they signed Stephanie Mock who was a standout, two-way forward at Yale from 2011-15. During her senior season with Yale, she was named the winner of the Mandi Schwartz Award (courage, grit, determination) and was named to the ECAC Hockey All-Academic Team.
"I am very excited to join the Whale next season and play in the great city of Stamford while living in New Haven. I couldn't be more excited about being part of the NWHL and competing at the highest level," said Mock in a press release. "I have been wanting to play in the NWHL since its inaugural season. It is a great league and I have enjoyed watching it grow. My acceptance into the Physician Assistant program at Yale has brought me back to New Haven and also given me the chance to pursue my dream of playing pro hockey."
Here is the Whale Roster as of July 23:
Goalie: Sydney Rossman
Defense: Cydney Roesler, Shannon Doyle, Anya Battaglino, Rachel Ade
Forward: Kelly Babstock, Juana Baribeau, Stephanie Mock