Philadelphia Flyers forward Brayden Schenn has signed a four-year, $20.5 million deal the team reported on Monday. Flyers general manager Ron Hextall made the announcement just hours before the restricted free agent forward was set to go to arbitration with the club.
On Saturday, Tim Wharnsby of CBS Sports reported that the Flyers had offered Schenn a two-year contract that would pay him $4.25 million in the 2016-17 season followed by $4.37 million in 2017-18. Wharnsby reported that Schenn sought a one-year deal worth $5.5 million.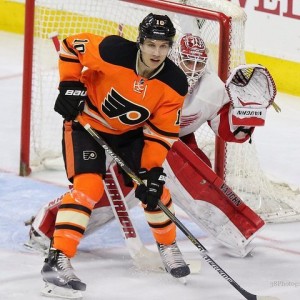 Schenn, 24, played in 80 games with the Flyers during the 2015-16 regular season, setting career highs in goals (26), assists (33) and points (59). Schenn's 59-point campaign was third on the team and his five game-winning goals were tied for the team lead.
The 6'1″, 190-pound center was originally drafted by the Los Angeles Kings 5th overall in the 2009 NHL Entry Draft. He arrived in Philadelphia on June 23, 2011, when he, Wayne Simmonds and a 2012 second round pick were exchanged for center Mike Richards and the rights to Rob Bordson. Schenn and Simmonds have gone on to play increasingly bigger roles with the Flyers the last five seasons.
The Flyers are now just over $1 million from reaching the 2016-17 NHL salary cap with RFA Brandon Manning set for arbitration on Aug. 2.
Steven is a lawyer and writer with a passion for the game of hockey. He's the Lead Writer covering the Tampa Bay Lightning with THW. He's also been press credentialed through the Lightning since 2016. His work has been published at The Fourth Period, LightningInsider.com, Bolt Prospects, The Sports Daily Network, U.S. College Hockey Online and College Hockey News. He's had radio appearances on TSN 690 in Montreal, Lightning Power Play Live and multiple podcasts to give insight and analysis on the team. He can be reached on Twitter @StevenDiOssi and by email at sdiossi@gmail.com.