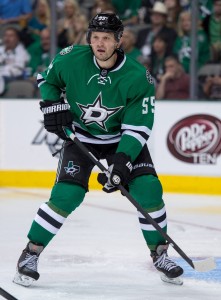 The Dallas Stars have traded veteran defenseman Sergei Gonchar to the Montreal Canadiens in exchange for forward Travis Moen.
Gonchar, now 40 years old, has appeared in only three games so far this season for the Stars, registering one assist.
A veteran of 21 NHL seasons, Gonchar is under contract for five million dollars this season, however the Dallas Stars will retain 8% of his contract, with the Montreal Canadiens paying the remainder of his contract. In Gonchar, the Canadiens receive a veteran, puck moving defenseman with historically proven offensive upside.
In Moen, 32, the Stars receive a depth forward who is strong on both sides of the puck. Although Moen is not a huge offensive threat, his strong and reliable defensive game will be of value to the slumping Stars who are looking to improve defensively.
Moen, who has yet to score a point this season, carries a 1.85 million dollar cap hit and is under contract through the 2015-16 season.
Brett Slawson is a four-year veteran of The Hockey Writers who covers the Toronto Maple Leafs, NHL prospects, and the OHL's Mississauga Steelheads.
Contact Brett on Twitter @brettslawson92, or by email at brett_slawson@hotmail.com.