A trend has recently been growing amongst the 90's-born players in the NHL, where contract disputes result in holdouts, to become plastered headlines on front pages featuring the game's current young stars — Jacob Trouba is no stranger to this trend.
The young Winnipeg Jets defenseman finally signed a new two-year, $6 million contract with his club on Monday afternoon. Trouba missed the first 13 games of the season after not only choosing to not re-sign with his team as a restricted free agent this summer, but also making a trade request.
The ability to play in the defensive corps top four on the right side is a role Trouba craves beyond reasonable doubt. At this moment that spot is not 100% his and that's where his frustration comes from. He knows how good he is — and although the numbers involved don't necessarily suggest it — so does the organization that made the decision to pick him ninth overall in the 2012 NHL Entry Draft.
The Numbers Don't Lie
Ah, numbers. They tend to trick the mind and lead it astray but don't be fooled, the money spent in this specific deal doesn't represent Trouba's value at this stage of his career. To say the least, he's a stud. While the money can lie, the statistics do not. He's obviously not getting paid what he's worth, but it's a bridge deal and at the end of the day, this is a business.
Bursting onto the scene in 2013-14, Trouba immediately made an impact and began to establish himself in the league through his first two seasons. Although there were some signs of regression (that's expected with many players) in his third year, he's never strayed far from what makes him consistently effective. Boasting a 6'3″, 202-pound frame, he's a smart, hard hitting defensive stalwart with dynamic offensive abilities that can make him a game breaker. To some fans he's already there, and I can definitely understand why — he's created a very exciting brand for himself in such a short time, and has made some clutch plays during key moments — but I firmly believe we've only seen a fraction of what he can do at this level of competition.
A Contract of Patience and Perserverance
Kevin Cheveldayoff deserves several rounds of applause for his handling of the situation up until this point. He dealt with the pressure as well as anyone I've seen in recent memory (cue Steve Yzerman). Sticking to your instincts shows great confidence and maturity in a general manager.
The right call was made by Jets management: To not panic and make a hasty, unnecessary trade that could've resulted in severe long-term repercussions. The contract's average annual value on Trouba's contract ($2.5M this season, $3.5M in 2017-18) is hilariously cap-friendly. Hilarious, because as soon as those figures spread around the league, I could just imagine several general managers simultaneously opening their wallets and scouting reports in a dog fight to make the best trade offer to acquire him.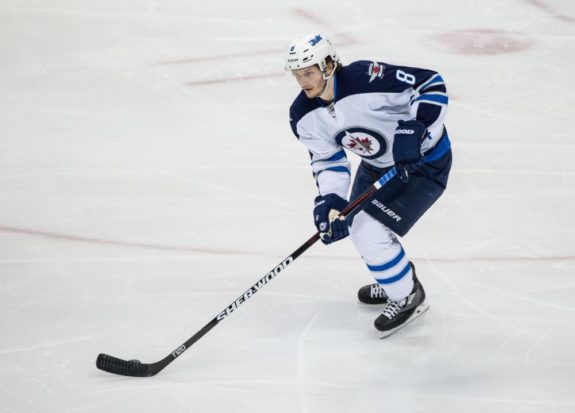 The Big Boom Theory
A big "boom" is what comes to mind when Trouba is active, due to the monstrous hits he often delivers from anywhere on the ice. If you're one of his big fans or have seen him play live, you know exactly what I'm talking about. He's shown us enough in his career so far, to a point where those who follow him enough can't contain their pre-game excitement for even just one high octane play. More often than not, he delivers exactly what you want to see from him – and it begs the question of whether or not he can read minds of his fans, but I won't reach.
The Jets crop of talented young forwards are scoring to keep them in games, but it's evident the team needs more help from its blueliners on both ends of the ice. Trouba can now get back into a lineup that certainly misses him on the back end. His presence in both 5-v-5 and special teams will serve as a massive boost for a team in need of stability following a series of injuries to some key veteran players throughout the lineup. He must play big minutes and throw his heavy body around on every shift the way he has since entering the league. Players are always on the lookout whenever he steps on the ice, sparking comparisons in his style of defensive play to that of Scott Stevens.
Jets fans everywhere are ecstatic to see him finally put the jersey back on, with hopes that he'll help turn around the dry power play which is currently scoring at a 10.4% clip — good for 28th in the NHL. It'll be interesting to see what kind of chemistry he can develop there on that unit when he steps on the ice with Patrik Laine for the first time, but the more pressing concern is the amount of goals allowed. Winnipeg has allowed the fourth most goals league wide, and there's no doubt Trouba will help with shot suppression, blocking lanes and limiting both time and space for his opponents. He's never been an easy man to play against.
There's no doubt this team can only improve with him in the lineup on a nightly basis. His emotion and compete level will add another layer to the teams infrastructure, and Paul Maurice's decisions on how he employs the defender could potentially correlate directly with the teams consistency and success. I use the word 'potential' quite often when it comes to this player, because he could be the one cog that gets the Jets flying at great speeds rather than just hovering.
The Jets Are Fuelled and Ready to Soar
All in all, the signing benefits both parties. Trouba now avoids skipping an entire NHL season and, let's be honest, there's no player whose ego is big enough to want that. He can regain his intensity level and do what he's passionate about, and that's playing hockey to help his team win no matter what the cost. Expect to see all that adrenaline flowing through him when he makes his season debut.
On the other hand, this gives Cheveldayoff necessary time to gauge the market and get a sense of what Trouba's value is now that he has a contract, especially with that favorable cap hit which will be crucial to any possible trade. A 1-for-1 hockey trade isn't a likely scenario in comparison to a package, unless the price is just right.
One thing we've learned is that Cheveldayoff will move Trouba if/when it works for the Jets, and only then.

— PATRICK WILLIAMS (@pwilliamsNHL) November 8, 2016
That being said, we should remain focused on the present and take it day by day because there's also the possibility of nothing happening at all. The Winnipeg Jets are hoping to make the playoffs and Jacob Trouba is a key component to that objective. The signing shows us his level of maturity, and that he certainly wants to play and make a difference. Maybe this experience will enable him to see the situation in a different perspective and find more comfort with it. Who knows? Adversity really helps a man discover strong traits he possibly never knew he even had, especially at a young age.