The Boston Bruins are a measly 6-6-4 through their first 14 games this season after back-to-back losses to the Toronto Maple Leafs this weekend.
But don't let that record fool you into thinking this team is resting at .500. Three of those four overtime losses came in games where the Bruins either had a lead or a tie going into the third period — the outlier was Boston's late-game rally against the Columbus Blue Jackets on Oct. 30.
One of those four overtime losses came on Friday night against the Leafs, who rode the back of James van Riemsdyk to a last-minute goal to tie it up. Patrick Marleau eventually netted the overtime winner, assisted by Jake Gardiner and Mitch Marner, who broke out of his shell against the B's this weekend.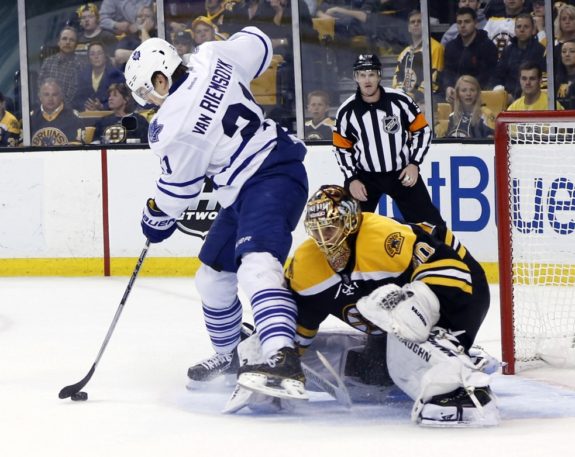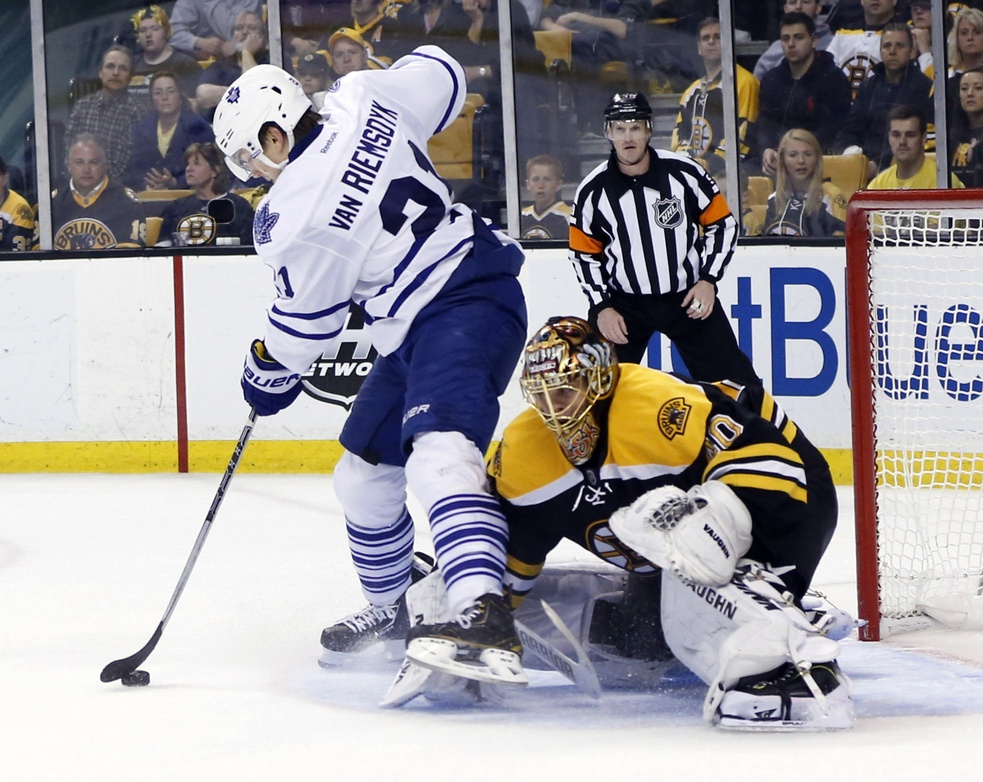 The two losses against Toronto make it three in a row for the Bruins, who have yet to string two wins together this season. Injuries should receive their fair share of the blame, but fans in Boston are looking to see some major changes. While the usual Chara and Rask chirpers are always out in full swing, many are calling for guys like David Krejci, David Backes, and Brandon Carlo to be traded.
Boston's fanbase is clearly upset with the team's current level of competitiveness, and, for that, no one can blame them. But wanting to make earth-shattering trades, tank for a high draft pick, and completely rebuild is not only unrealistic but requires a very narrow-minded approach to this team. That's not to say a trade is out of the question, however, but there are only a handful of feasible scenarios in that regard.
Matt Beleskey & Frank Vatrano
Out of every member of the Bruins' roster this season, Matt Beleskey and Frank Vatrano have received the most criticism – and rightly so. While Vatrano has netted just two goals in 12 appearances, Beleskey has yet to tally a point in 12 games himself.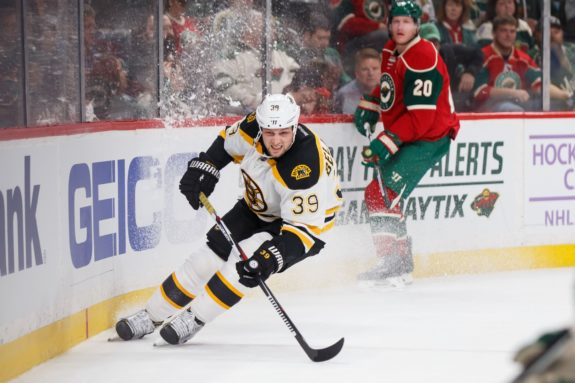 It's obvious that both players are on their last legs in the city of Boston, but how exactly are the Bruins supposed to trade them? What team wants to pay $3.8 million to a 29-year-old grinder who has scored three goals and managed five assists in his last 61 games? Would an undersized 23-year-old with 20 goals and 22 assists in 95 NHL games be of interest to anyone?
Boston's best bet at getting rid of Beleskey is by sending him through the waiver wire. Sure, his physical abilities may warrant his time on the fourth line, but not for the amount of money he is currently making. While something certainly needs to be figured out in regards to Boston's overpaid grinder, trading him is simply not feasible.
Vatrano may have more value than Beleskey considering his age, but both players have not proven themselves worthy of the high hopes coaches and management have had for them. Considering this, they are virtually untradeable, especially No. 39 with his ridiculous cap hit.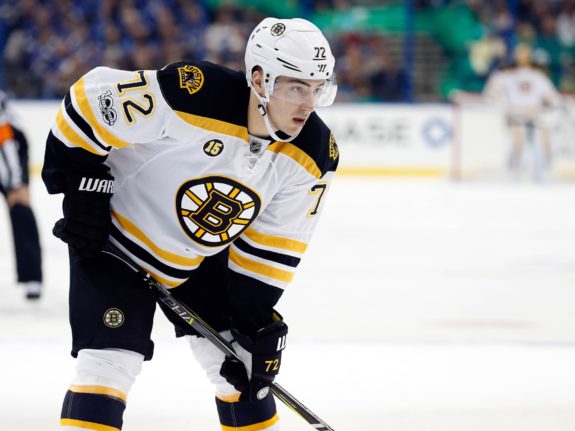 In the end, Vatrano is best left on the Bruins roster for now, even if that renders him a healthy scratch and season tickets high above the ice level. The 23-year-old may pan out some day, and could maybe learn a thing or two by watching some games. Either way, Boston needs to accept that a younger, more qualified player is going to take on his role at this juncture.
Draft Picks & Ryan Spooner
General manager Don Sweeney was willing to part with the Bruins' first-round picks in past years, so 2018's pick is not off the table. It is likely smart for Boston to hold that first-round pick close to their vests for now, but why not dish it if the deal is right?
The B's have a plethora of young players just breaking into the NHL, as well as a number coming up the pike from Providence and junior leagues. While maintaining a healthy prospects pool is important, stacking up year-after-year is not the only way to do that. Sweeney can afford to sacrifice a pick or two in order to patch up the present team.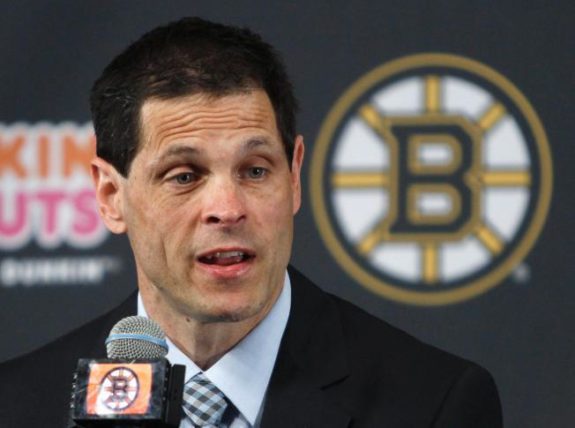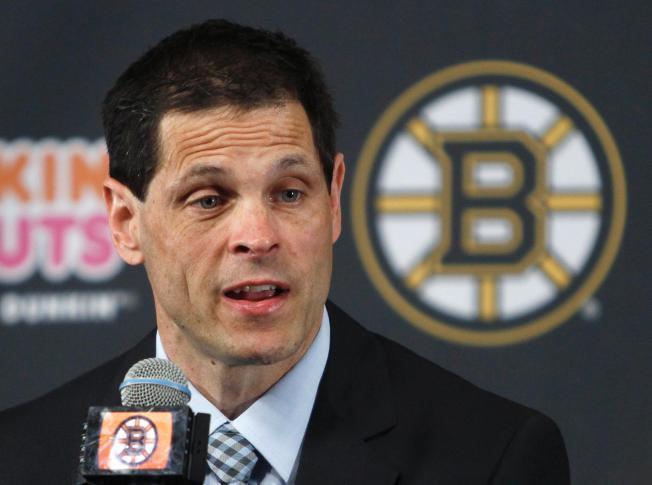 The only problem with trading any draft pick is the team's salary cap. Boston has roughly $2 million in cap space, and that is only because of Adam McQuaid being placed on the long-term injured reserve list. That means if they want to make room for a player, the B's will have to give up an asset.
That asset could very well be Ryan Spooner. The 25-year-old center has received criticism from both his former and current head coaches and was on the bubble entering the 2017-18 season. He is currently injured but could return by the end of November given the fact that he has begun skating again.
Once Spooner returns, an evaluation can truly take place. He will likely be untradeable until the deadline as teams will want ample time to scout him following his recovery. There is also the possible scenario of Spooner's value dropping following lackluster play.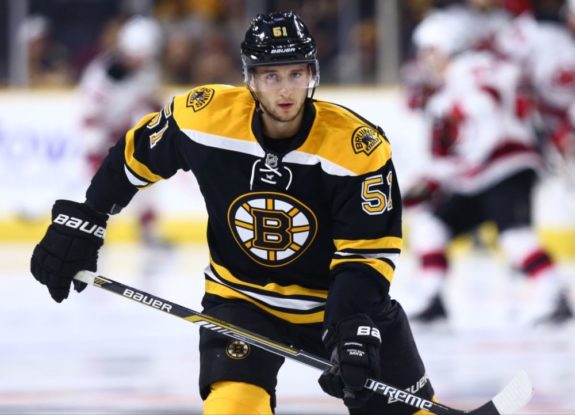 Even if that is the case, pairing Spooner with a pick is likely best bet at getting a solid return. Trading a rookie would not rid enough cap space for Boston to bring in anyone of value, and trading a key component to the team would do more damage than good.
Bruins Trade Targets
So, what can the Bruins reel in for Spooner and a pick? That really depends on the quality of the pick and the quality of Spooner's play up until the deadline.
Either way, Sweeney should be targeting a forward. Though Boston was rumored to be looking for a defenseman this offseason, that ship has sailed. Due to the salary cap, the Bruins would not be able to bring in anybody who would truly shake up the team on the backend. Their best option is to weather the storm with what they have.
A forward, particularly a two-way forward, would fit the Bruins' needs perfectly well and could see a similar cap hit to Spooner's $2.85 million. Boston's main problem seems to be a lack of composure in their own zone. The offense has been promising, and with the return of Krejci and Backes, their ability to finish will only be enhanced.
In any case, fans should not expect a trade anytime soon. More will be clear when the trade deadline approaches, but one thing is for sure — in one form or another, changes are necessary.
I cover the Boston Bruins and NCAA Hockey here at The Hockey Writers. Born and raised 10 miles north of Boston, I developed a love for the game of ice hockey at a very young age. There's really nothing better than this sport, though steak is a close second.