Lee Stempniak is a key part of the Carolina Hurricanes roster but he has yet to play a game this season. Having sustained a hip injury on October 3, Stempniak was placed on injured reserve at the beginning if the season. He has been missed, and the sooner he can get on the ice with the Hurricanes, the better.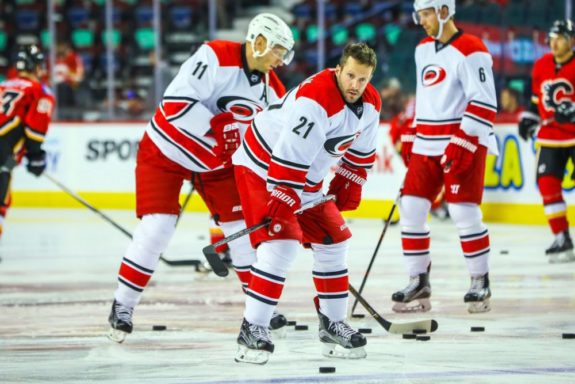 The team announced Thursday that they have activated him and assigned him to their AHL affiliate, the Charlotte Checkers, for a reconditioning assignment. It is not likely he will play Saturday night against the visiting Chicago Blackhawks, but it was thought he could possibly be available to play Monday night in the 'Canes home game against the Dallas Stars. However, he left Friday night's game with the Checkers after a couple of shifts and did not return.
Stempniak went to the room after 2 shifts and per @Jason_Shaya will not return to the game

— Nick Niedzielski (@nickski15) November 11, 2017
Whether it is on Monday or on Thursday on the road against the New York Islanders, the return of Stempniak can only be looked forward to as a positive.
Related: Hawks Turned Hurricanes: How Are They Doing?
Stempniak's Stability Needed
Stempniak came to the Hurricanes in the 2016 offseason, via a trade deadline move with the Boston Bruins. According to Timothy Rapp at Bleacher Report, it was the third season in a row that he had been dealt at the trade deadline. In fact, while stability can be used to characterize what Stempniak brings to a team, his career has been anything but stable. NHL.com reported upon his signing with the Hurricanes that this was the 10th team that Stempniak has been with since being drafted in 2003 by the St. Louis Blues. 'Journeyman extraordinaire' would be an appropriate way to describe him.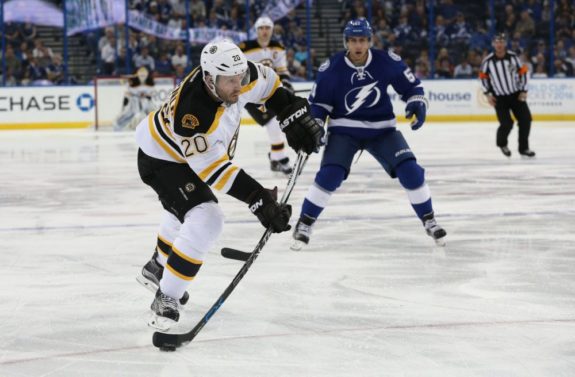 While his career has changed locations over his tenure in the league, stability in his play has been a constant. In the above-referenced NHL article, Kurt Dusterberg quoted former Hurricane Jay McClement as having said, "He's a good player, he's been healthy and he's a pretty steady performer. But there have always been playoff teams looking for a guy like him. People are always looking for scoring wingers, so it's a testament to him. How many teams have looked to add him for playoff drives?" While reliability and dependable scoring have caused Stempniak to stand out in the past when teams have needed it, one team needs it now more than ever — the Hurricanes.
Stempniak 2016-17
Last season, Stempniak proved to be stable and reliable for the Hurricanes. He played in all 82 games and notched 16 goals and 24 assists. While his 40 points overall might not garner a lot of attention at first glance, Stempniak filled the role for which Hurricanes' GM Ron Francis signed him. The two-year, $2.5 million contract Francis inked was for a reliable presence on the top lines, and he got it in Stempniak.
[HIGHLIGHT] Lee Stempniak taps in his 200th career goal in the first period. #Redvolution #CARvsMIN pic.twitter.com/mv8mA7kIpC

— Carolina Hurricanes (@Canes) April 5, 2017
In 2016-17, Stempniak was often on the top line or a part of the second line. A look at frozenpool.dobbersports.com shows that nearly 34 percent of the time, Stempniak was lined up with Sebastian Aho and Teuvo Teravainen. As a line, they accounted for a third of Stempniak's total even-strength production. Frankly, I can't wait to see those three together again, completely healthy. In my opinion, it will do Aho good to get the stability of Stempniak back, and hopefully will help Aho break out of the scoring slump he has been in all season.
Related: Hurricanes Too Talented for This Start
Going Forward
The Hurricanes need Stempniak. Is he a household name to the casual hockey fan? No, and likely never will become a name on a billboard. Is he going to compete for scoring titles year in and year out? Again, not likely. But, the 'Canes are struggling to be consistent, and desperately need his leadership and consistency.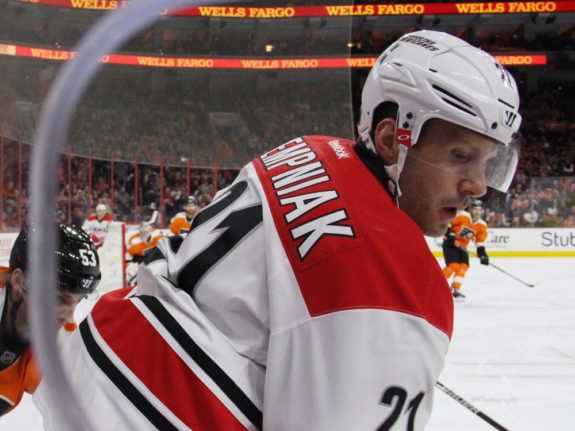 Bringing in Justin Williams has been an enormous help to a team that needed a successful veteran presence. Already, Williams has made a difference in bringing the emotional level and intensity up on the ice several times. In like manner, Stempniak brings something that this team needs in his own way, a stability that will hopefully help them not blow 3-1 leads like they did Saturday night against the Chicago Blackhawks.
Is Stempniak alone going to take the Hurricanes to the playoffs? No. But, he is missed a great deal, and I firmly believe will be a positive presence for this team when he returns.
Mark lives in the Raleigh, NC area and covers the Carolina Hurricanes.