With great anticipation, the Carolina Hurricanes welcomed the start of the 2017-18 season. A month later, it is painfully obvious that something is dreadfully wrong with the team. They are not winning games at home, and they are seriously offensively challenged.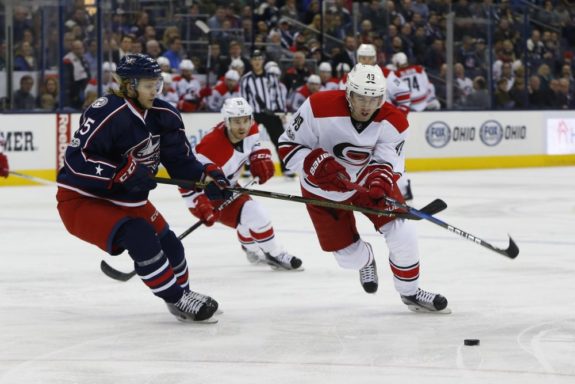 Unless something changes quickly, the hole that the Hurricanes are digging for themselves will be too deep to escape from. Yes, it's early November, but, if this team does not find itself in the next few games, the season will wind up like so many others: an effort in failed expectations.
No Hurricanes Home-Cooking
Playing at home is supposed to give a team an advantage. Nicer facilities, (have you ever seen a visitors' locker room?), familiarity with the arena and the ice, as well as the vigorous roars of the large, excited, and supportive crowd are supposed to help the home team. Unfortunately for the Hurricanes, there is rarely a large crowd, and sometimes the visiting team can seem more enthusiastic.
Nevertheless, the team has completed a lackluster home-game journey thus far. As of this writing, the 'Canes are 1-2-2 at home, with the Florida Panthers coming in on Tuesday night. Only four of the Hurricanes' 11 total points earned this season have been awarded for home games. The results could barely be worse. The fans that have attended have been treated to a couple of good games, with the rest being very tough to watch. Unfortunately, poor attendance is not new.
I feel bad for the Carolina Hurricanes. They've actually got a good team and yet there are still so many empty seats.

— JAЯED (@JaredCDXX) March 27, 2017
Of course, with an overall record of 4-5-3, the Hurricanes find themselves last in the Metropolitan Division. Last year, on October 23 I wrote this in a piece called, Hurricanes Sliding into their October Groove:
At 1-2-2, the "Caniacs" are already restless in Raleigh. They see too much potential on this team to be reliving October's past.
Maybe it's just an October thing, even though most everyone thought it might be different this season. And one difference that I think is worth concern is that the fans seem to have entered a state of apathy. Restless is good, whereas apathy means they just don't care anymore. That's the precipice this team is facing if it does not start winning, especially at home.
Hurricanes Offensively Challenged
At this time, the Hurricanes are next-to-last in goals scored this season. Their 32 is just above the total of the Edmonton Oilers, who have scored 30. In contrast, the top teams in the Metropolitan Division such as the first-place New Jersey Devils have scored 49 goals thus far, and the Columbus Blue Jackets have scored 51. The Hurricanes cannot expect to make the playoffs if they cannot mount a serious offensive surge going forward. Even the lowly Arizona Coyotes (who the 'Canes just lost to), with their two wins and six points, have scored 41 goals.
"But, look at the goals-for and goals-allowed differential," you might say. That is a valid point. The Hurricanes have only given up 37 goals for a minus-five differential, and the aforementioned Coyotes have given up 65 for a minus-24 differential. I will admit that the Hurricanes' defense is keeping them in games. But, they are still not winning and not accumulating points.
At some point, this team is going to have to catch some offensive power. Perhaps when Sebastian Aho finally scores it will spark everyone else. It took him a while last season, so maybe he will break the ice and go on another tear. Victor Rask and Elias Lindholm would also help the team a great deal if they can figure out what is keeping them from putting the puck in the net more consistently.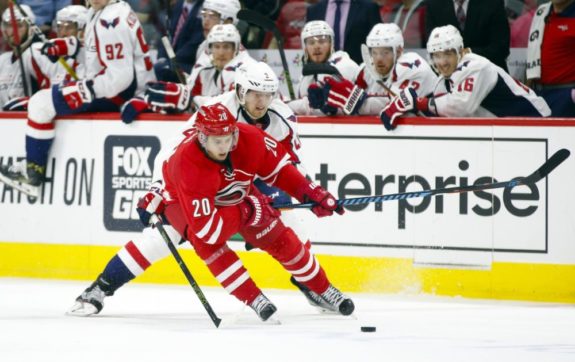 Whatever is wrong with this team surely can be fixed. There is way too much talent on the roster for these kinds of results. But, if they do not turn it around in the next game or so, the season may be lost.