The Boston Bruins have been surging throughout the 2017-18 season, taking the NHL and the Eastern Conference by storm. Head coach Bruce Cassidy has played a large part in this stellar season for Boston, but he's not the only reason this team is poised to make a run in the upcoming playoffs this spring. One of the biggest factors in this successful Bruins season has been the savvy play of a handful of youngsters on this roster.
Goaltending in the Boston net hasn't exactly been stellar this season — for a quick and recent example, Tuukka Rask surrendered three goals in the first period against the Pittsburgh Penguins on Thursday night. It's been another roller coaster season for Rask, as fans have gotten accustomed to in recent years. Fortunately for the Bruins, they use an aggressive offensive attack to make up for a lack of consistent goaltending.
The result? Despite Rask allowing three first period goals, and four overall, the Bruins still came away with an 8-4 victory at the TD Garden. David Krejci stole the show with a hat trick, but Bruins youngster David Pastrnak also netted two goals in the game. In addition to that, rookies Charlie McAvoy and Jake DeBrusk combined for three assists in the game (two for McAvoy, one for DeBrusk).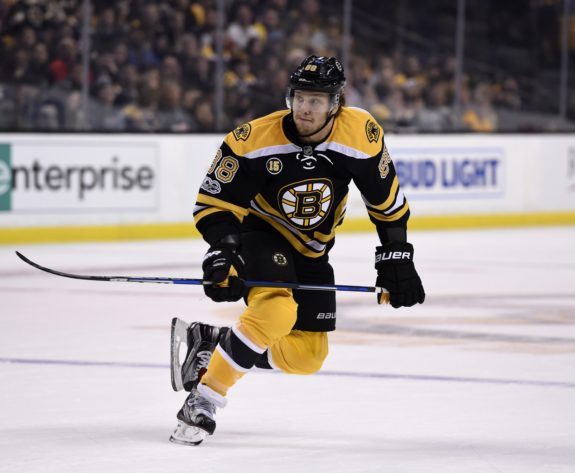 The youth on this Bruins team has helped put a spark in their offensive attack, and as the playoffs draw closer, don't expect that to change any time soon.
Pastrnak Leads Youthful Surge
While Boston has a number of young players to watch, Pastrnak has been at the forefront of them all. He plays with the poise of an NHL superstar — the kind of player you can build a championship hockey team around. At the ripe age of 21, Pastrnak is already playing in his fourth season with the Bruins, and has already proven to be one of the best players on their roster. He has become a rising star in the league.
Following his contributions in Boston's win over the Pens on Thursday, Pastrnak's 24 goals on the season ties him with Brad Marchand for second most on the team (behind only Patrice Bergeron's 27 goals). He's also second on the team in both assists (34) and points (58), behind only Marchand in both categories.
Watching Pastrnak on the ice never gets old because, even though he's only 21, he plays like a savvy NHL veteran. He's not afraid to take chances in games, going after pucks and ramping up the aggressiveness on offense. When a young stud like Pastrnak gets on a roll, the other young players on the team tend to follow his example.
Which brings us to…
The Rookie Tandem
Rookies Jake DeBrusk and Charlie McAvoy have splashed onto the radar of Boston fans this year as well. DeBrusk has scored 12 goals on the season, tied with another youngster, 22-year-old Danton Heinen, for third most on the team. He is speedy and gritty, and every time he takes the ice, he plays with a tenacity like he is always looking to prove that he belongs.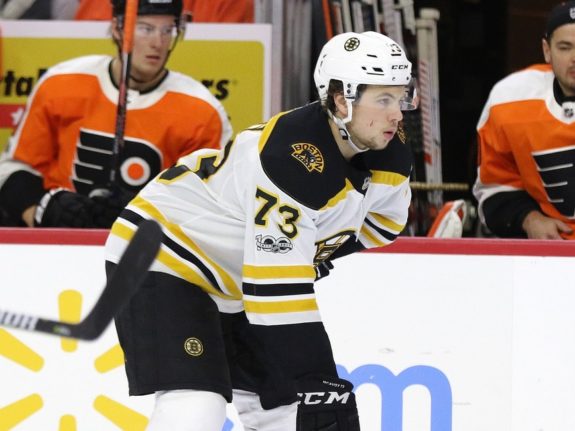 Meanwhile, although he has only scored seven goals on the year (still not bad for a rookie), McAvoy has left his mark on this team by helping to set up his teammates for success. He has 25 assists to this point in the season, and he appears as if he's on his way to being one Boston's best defensemen for years to come. And the best part? He's only 20 years old. And for a 20-year-old, he's been getting lots of minutes on the ice (having earned every one of them), getting thrown into the fire against the best competition in the NHL and embracing the challenge like he's 10 years older than he actually is.
Pastrnak is on his way to becoming the star of this team, but DeBrusk and McAvoy will continue to be nice assets as this team remains a Stanley Cup contender in the coming years.
Pushing For The Cup
With 20 games remaining in the regular season, there's no doubt Pastrnak's energy and ability will be a key part of Boston's upcoming playoff run. His stellar play this season is one of the reasons they have made it to this point; a top three team in the Eastern Conference with a legitimate chance to win it all.
If Pastrnak stays hot — and you know he will, because he's just having that kind of season — the other young players on this team will keep making big contributions too. When you have a group of hungry youngsters looking to make their mark on the league, combined with seasoned veterans like Marchand, Krejci, Zdeno Chara and hopefully Patrice Bergeron (assuming he recovers from injury without any problems) still playing at a high level, then you have all the makings of a team that is capable of playing deep into the summer months.
The only thing that might hold the Bruins back from claiming their seventh Stanley Cup in franchise history is their ever-so-shaky goaltending, but that's a discussion for a different day.
Cody Rivera is a sports writer covering the Boston Bruins for The Hockey Writers, as well as a contributor to SB Nation's PatsPulpit.com. In addition to the Bruins, Cody is also a devoted fan of the Boston Celtics, Boston Red Sox and New England Patriots. Send Cody an email at crivera0012@yahoo.com