The clock is ticking for Jason Botterill.
Over the next few weeks, the new general manager of the Buffalo Sabres needs to hire an entire coaching staff, figure out who to select with the eighth-overall pick in the upcoming draft and, just as important, determine which member of the team will be sent packing to the Las Vegas Golden Knights.
As Botterill attempts to change the blueprint of the Sabres' roster, he is aided by the League's first expansion draft since 2000 when the Columbus Blue Jackets and Minnesota Wild filled out their new rosters. This year's version will commence on June 21 and it provides several teams around the league the chance to send under-performing and/or over-paid players to the Golden Knights.
According to the NHL, the Golden Knights need to draft one player from each franchise and a total of 30 players: 14 forwards, nine defensemen, and three goalies. Of those players, at least 20 of them must be under contract for the 2017-18 season.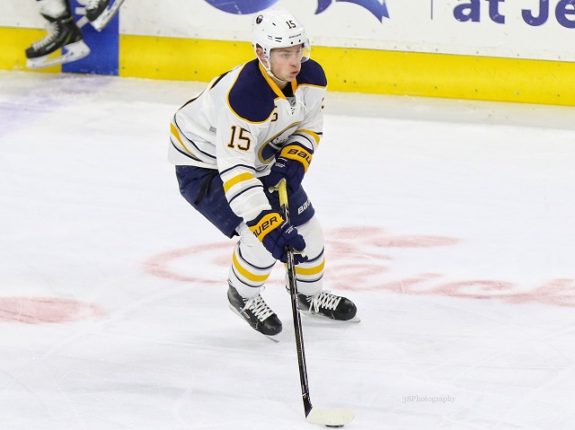 As The Hockey Writers' Rich Spalding pointed out, the Sabres are in a great spot. Jack Eichel, Sam Reinhart and the top prospects in the system are automatically exempt based on the NHL's expansion draft rules.
Meanwhile, the team's best players (Kyle Okposo, Ryan O'Reilly, Evander Kane, Rasmus Ristolainen and Jake McCabe) can all be protected. The team also can fit roster cogs such Marcus Foligno, Johan Larsson, Zegmus Girgensons and Brian Gionta under the protection umbrella.
But as you drill down into the salary and roster implications of the draft, it leaves several high-profile Sabres on the table. Which begs the question: Who would Botterill most like to ship to the desert?
Available Defensemen
Josh Gorges
It could be argued that Gorges, despite his leadership qualities and strong locker room presence, is the player Buffalo would most like to lose. If his poor skating, awful decision-making and lack of offensive ability don't convince you, maybe his $3.9 million salary does.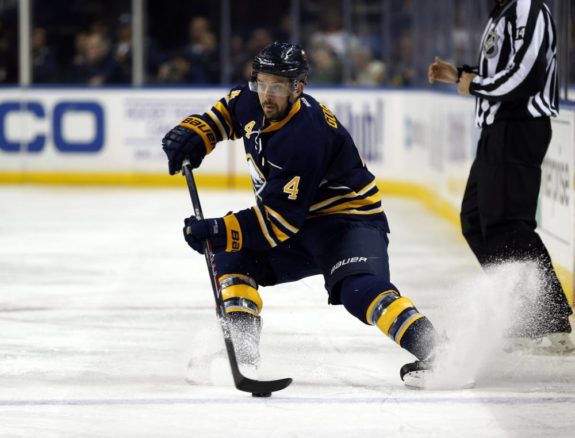 On the off-chance Vegas selects Gorges, it would only be to help the team hit the minimum salary requirements imposed by the NHL. Shedding the final year of Gorges' contract for free rather than having to use the team's buy-out option would be music to Botterill's ears. But it's doubtful this option comes to fruition.
Zach Bogosian
Bogosian is another player where his salary is not commensurate with on-ice performance. While he has the pedigree as a former third-overall draft pick, his career has been plagued by injuries and inconsistency. But he has enough ability to crack the top-six for an expansion team and his paycheck (three years remaining at $5.1 million per season) would help Vegas in their quest to hit the salary floor. Botterill, meanwhile, can use the savings to sign an unrestricted free agent to take Bogosian's spot on the roster and possibly help pay for a Gorges buy-out. This is a best-case scenario.
Available Forwards
Matt Moulson
Moulson is the Zach Bogosian of Buffalo's forwards. Over-paid and under-performing, Moulson still shows enough signs of life that Vegas could use him to fill the same two criteria as mentioned above. His departure would provide salary relief for Buffalo (two years remaining at $5 million per season) and give Botterill and his new coach healthy competition for a top-six forward spot next season.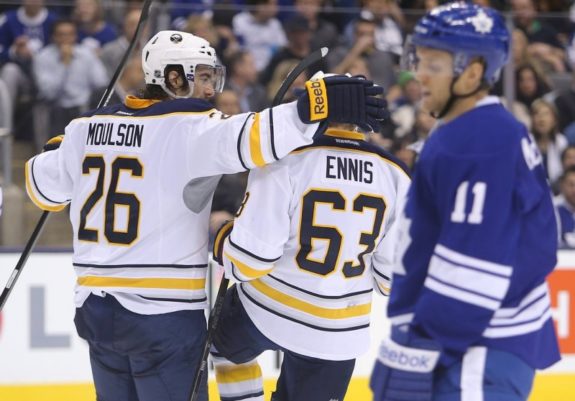 Tyler Ennis
Although his once-promising career has been derailed by concussions and other injuries, Ennis' potential may make him the most attractive option for Vegas. His $4.6 million-per-year salary is not a huge disincentive to select him when considering the offensive upside and above-average skating. Buffalo, on the other hand, would be happy to no longer pay for an oft-injured third-line winger. Ennis is likely the most logical choice to end up in Vegas.
Available Goalie
Robin Lehner
Despite the fact that the team traded a first-round pick to obtain the Swedish netminder, Botterill must decide whether or not to move forward with former GM Tim Murray's guy.
With each team forced to expose a goalie in the expansion draft, Lehner could be a cheaper option worth considering rather than the likely collection of high-priced goaltenders other teams will be making available. As a restricted free agent, however, the Sabres would need to submit Lehner a qualifying offer prior to submission of their protected list.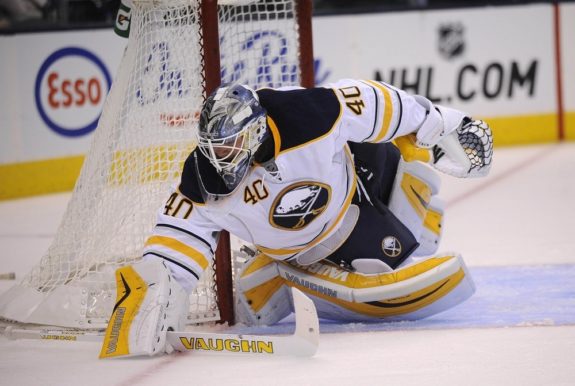 Another reason for exposing Lehner could be Botterill employing a smart tactic to lure Vegas – who may be targeting other goalies – into taking one of the aforementioned players. With Lehner not really an option, Botterill can protect young goalie Linus Ullmark and leave Gorges, Bogosian, Moulson and Ennis as the only real options.
Going the Trade Route
The possibility of a trade also makes sense on two fronts.
First, Buffalo can hand over draft picks and/or players to Vegas in exchange for the Golden Knights selecting a specific player in the expansion draft. Could Botterill entice his counterpart George McPhee in Vegas to take on Bogosian's salary by sending along a draft pick and one of Buffalo's crop of AHL forwards?
And second, let's say Botterill wants to keep both Lehner and Ullmark. Does he make a deal with Vegas to protect certain players similar to what Buffalo did back in 2000 when they traded multiple prospects and draft picks to Columbus in order to protect Dominic Hasek and Martin Biron in that year's expansion draft?
As Vegas' McPhee learned during the NHL Draft Combine in Buffalo, he's one of the most popular men in hockey right now. Botterill, as he attempts to shape the Sabres roster, may not be far behind. Teams know that he is attempting to retool Buffalo's roster and could be in a position to help keep other organizations from losing players for nothing in the expansion draft.
With NHL clubs required to submit their protected lists on June 17, there is no doubt that the wheels are already in motion for GMs around the league looking to deal with Vegas. And, hopefully, Buffalo.
Brian has more than 15-years experience in journalism and communications. In addition to writing about the Buffalo Sabres, he is the co-host of one of the top-rated fantasy hockey podcasts available today — The Roto Hockey Show. You can follow him on Twitter @NHLRoto.