Two weeks ago, I detailed how the New Jersey Devils could improve their defense, as it was a major problem last season. The offense was not much better, some could even argue that it was worse. New Jersey finished with 180 goals in 2016-17, good for third-worst in the NHL. Only the rebuilding Vancouver Canucks and dreadful Colorado Avalanche had fewer.
The offense needs more talent. It is as simple as that. Taylor Hall and Kyle Palmieri are capable of doing a good amount of heavy-lifting, but they need help. Some of that help will come through the NHL draft and potentially through some clever moves by Ray Shero in the expansion draft. The third outlet is free agency. There are a few players becoming free agents this year that the Devils should take a run at.
Brett Connolly
Brett Connolly was a perennial third/fourth-liner on the powerhouse Washington Capitals but produced nonetheless. Appearing in only 66 regular season games, Connolly recorded 15 goals and eight assists for 23 points. Only seven players on the Devils had more points. Connolly could be inserted into the bottom-six right away and provide much-needed depth. The Caps' winger has proven he can succeed in a secondary role if surrounded by good linemates.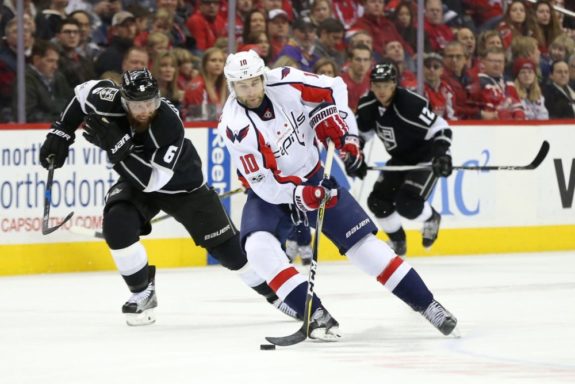 The Devils' lack of production from their bottom-six has plagued them since their 2012 Stanley Cup run ended. One of the primary reasons the Devils were able to make that run was due to their offensive depth. Since 2011-12 though, that group has been devoid of skilled players and has struggled to produce on a yearly basis. It is finally time for that group to become a plus for the team again. Signing Connolly would be a good start in trying to do just that.
Sam Gagner
Sam Gagner had a resurgent year in 2016-17 for the Columbus Blue Jackets. The talented center had 18 goals, 32 assists, and was a big reason why the Jackets finished with 108 points. Unfortunately, the Blue Jackets have a surplus of young, talented players that will need big contracts in the near future and they may not be able to keep Gagner. Players such as Cam Atkinson, Boone Jenner, William Karlsson and Zach Werenski will all fetch hefty bonuses. This may allow Gagner to slip into free agency.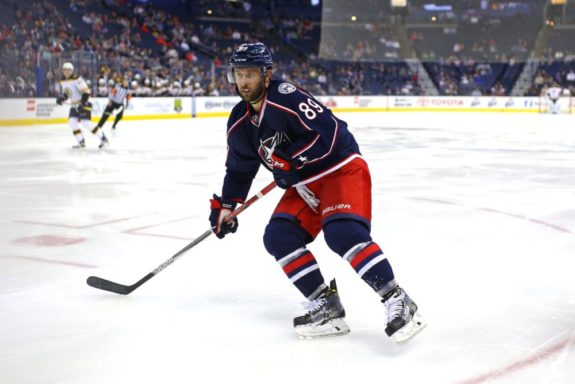 Shero should not hesitate to approach the former Philadelphia Flyer and see if he would be interested in joining the Devils' young nucleus. At 27 years old, Gagner would fit right into the rebuilding strategy that Shero has implemented over the past two years and would slide into the top-six due to his versatility. Gagner can play at center or on the wing, which would allow John Hynes to mix and match him wherever he sees fit. If he becomes a free agent, it would be worth the risk to see if Gagner's year was not just a fluke.
Nick Bonino
Nick Bonino, a potential two-time Stanley Cup winner with the Pittsburgh Penguins, has thrived with third-line duties behind Sidney Crosby and Evgeni Malkin for the past two seasons. As everyone knows, the Devils do not have two dominant centers like those two. However, Travis Zajac and Adam Henrique could be slotted above him in the depth chart. This would give Bonino the third-line center position while filling a transitional role that the Devils may need.
With Nico Hischier/Nolan Patrick coming soon, and Pavel Zacha and Mike McLeod continuing to develop, the third-line center role will soon be one of theirs. Bonino can slide into that position and give the Devils production until one of their prospects can nab that role.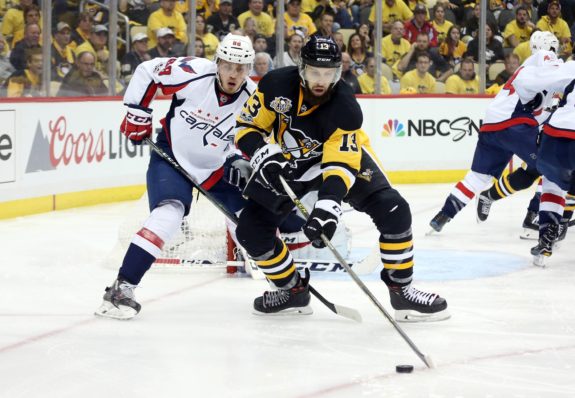 Bonino would also bring a veteran presence to a roster that is getting younger very quickly. Players such as John Quenneville, Joe Blandisi, Miles Wood, Zacha, and possibly McLeod should have more prominent roles next season. Having a veteran that has won it all could be an invaluable asset to the Devils' young locker room. Couple his experience with his three seasons of 15+ goals and 37+ points and he seems like the perfect fit for the what the Devils need right now.
T.J. Oshie
Prying T.J. Oshie away from the Washington Capitals will not be easy. The Hockey Writers' Sammi Silber has talked about just how important he is to the Caps, and why they will be heavily engaged in trying to re-sign "Captain America". There have even been reports that Caps' GM Brian MacLellan and Oshie are close to a contract extension.
REPORT: T.J. Oshie close to new deal with #Capitals https://t.co/YQULzaQug4 pic.twitter.com/ND5jVwHj9x

— Stars and Sticks (@Stars_AndSticks) May 27, 2017
However, if that fails and Oshie reaches free agency, the Devils should definitely be in the mix for his services. The Capitals winger recorded a career high in goals, with 33, and had 58 points in 68 games this season. Those numbers have been a bit inflated due to Oshie playing alongside playmaking guru Nicklas Backstrom and the best goalscorer of the past decade and change in Alexander Ovechkin. Playing with these two elite players allows Oshie more space and better chances than he would receive with the Devils.
Still, he has sweet hands, a good shot, and would add some grit to John Hynes' roster. It would not be the same level of production, but Oshie would still represent a big upgrade for the Devils. If the asking price is too high, or the term too long, Shero should back out. It would not be worth giving a ton of money to a player who will regress next season. If the asking price is suitable, then Shero should move forward and try to make it happen because Oshie still has a few good seasons left in him.