The Washington Capitals have a lot of pending free agents to address, but one of them should be handled with the utmost importance.
T.J. Oshie is set to hit the free-agent market on July 1 and is bound to be one of the hottest names on the market. Acquired in a 2015 offseason trade for Troy Brouwer, Oshie has brought a lot to the Capitals' roster. Because of his impact on and off the ice, the team must make it a top priority to keep the 30-year-old in D.C.
Oshie's Impact
Over his last two seasons with the team, Oshie has scored 59 goals and 107 points and has been a huge asset in the top six. Not only is he a sharp-shooting forward, but he has helped the team ignite its offense. Not to mention, he is a secret weapon on special teams and comes up clutch with his outstanding ability in shootouts. An all-around player, Oshie's presence has greatly benefitted the team over the past two years.
Off the ice, Oshie brings dedication to the group and is a joyful presence in the locker room. As witnessed, he is a positive player that plays with enthusiasm and adds something special to the team. According to head coach Barry Trotz, he is among the team's model players.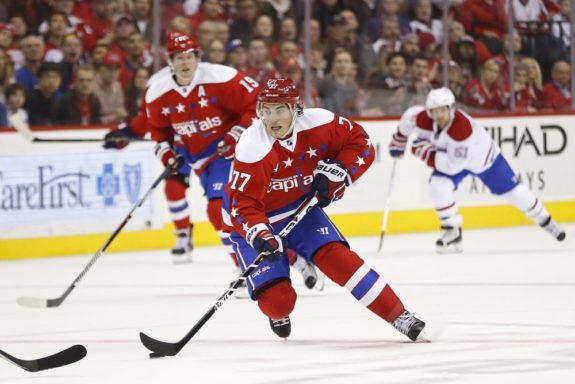 "He's what you look for in a Washington Capital," Trotz told NHL.com. "You talk about someone who's passionate, T.J.'s passionate. Someone who plays with joy, he plays with joy. Someone who's got creativity in his game, T.J. has that. Someone who's got a lot of competitive spirit in his game, T.J. has that. Can he play and be a productive player for us? T.J. can do that."
Statistically speaking, Oshie is also someone the team thrives off of. He was tied with Alex Ovechkin for the team lead with 33 goals this season and also led the team with an outstanding 23.1 shooting percentage. That in itself is outstanding and shows just how accurate and lethal Oshie is when he is on the ice.
Considering Alex Ovechkin's play has been somewhat inconsistent and lacking drive at times, and the fact that a lot of his success comes off the man-advantage, Oshie provides extra scoring depth and insurance – especially at even strength. About 71 percent of his points come at even strength, showing his all-around potential and ability considering he can excel even playing five-on-five hockey.
In addition to his offensive acumen, Oshie also plays an incredibly physical and solid two-way game. He had 95 hits through 68 games this past season and did a great job of putting up a tough front and winning battles for the puck. Oshie also blocked 50 shots and had 48 takeaways compared to just 33 giveaways this past year. He has proven himself to be a solid player who can look after the puck and maintain possession, which in turn allows him more time with the puck and leads to many scoring opportunities.
Re-Signing Scenario
As previously mentioned, Oshie is one of many free agents the Capitals have to handle. Out of their pending UFAs, the Capitals have to consider keeping names like Justin Williams, Karl Alzner, Daniel Winnik, Jay Beagle and Kevin Shattenkirk. Oshie takes up about $4.5 million in cap space and does deserve that or even a higher salary. Washington also has to decide on the fate of plenty of restricted free agents, including Evgeny Kuznetsov, who is due for a big pay raise.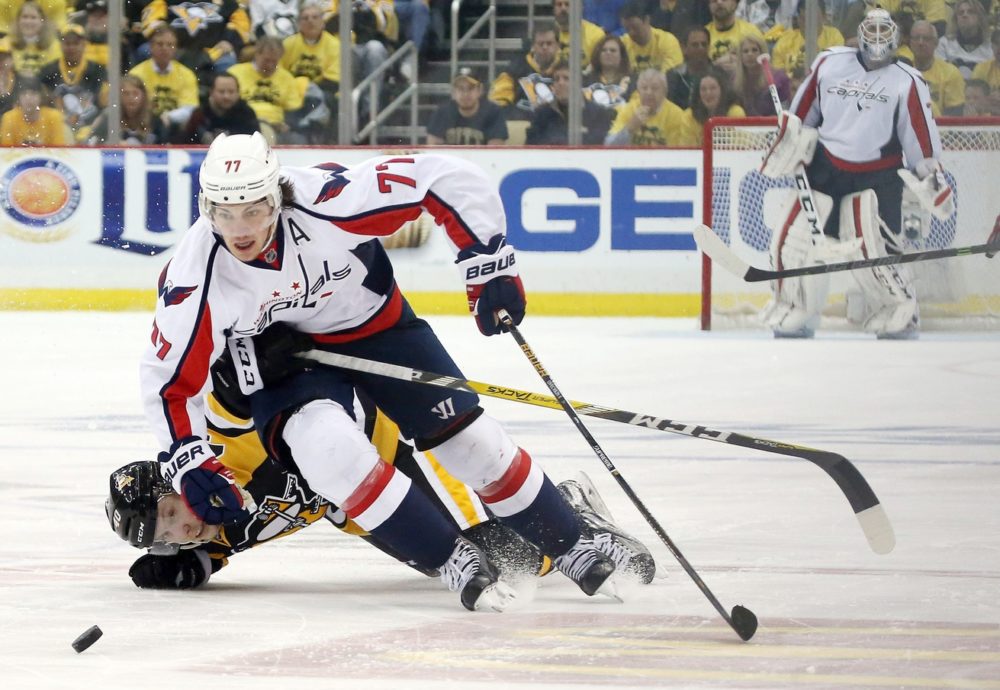 If the Capitals want to hang onto Oshie, they will have to consider giving up some of their assets. Shattenkirk could return to the team, but it seems likely that he will go and explore other options. Williams is an important asset and character-man within the organization but does carry a hefty $3.25 million AAV right now. Considering his role with the team, he will also be looking at a high-paying contract, and the Capitals will have to evaluate a lot if they want to hang onto him.
Clearly, keeping Oshie requires Washington losing players. Whether it's Shattenkirk and one or two of their bottom-six forwards, or even Alzner and other names, the Capitals will have to make major changes if they want to hang on to Oshie. There is always the option of letting him walk, which would clear up a lot of their cap space, but this would be a mistake.
There are not many elite players like Oshie. He is a huge part of the team's offensive prowess and is one of the leading point scorers within the organization. Considering everything he does for the team, keeping him around wouldn't hurt the team's chances, especially if they ever hope to overcome the playoff woes they experience on an annual basis.
Sammi Silber covers the Capitals beat for The Hockey Writers and is an NHL contributor with Sporting News. She has also contributed to USA TODAY College, Huffington Post, FanSided and the Nation Network. Silber has written four books and recently worked on graphics for the film, The California Golden Seals Movie.