After making a 27-point turnaround last season and bolstering the roster with the signing of Kyle Okposo, the Buffalo Sabres enter the 2016-17 NHL season with high hopes. Although the lineup is taking shape and there is a high level of optimism surrounding Hockey Heaven, there is still a cloud of uncertainty hanging over the organization. Specifically, the left wing position is surrounded with questions. Let's take a player-by-player look at the top of the depth chart.
Evander Kane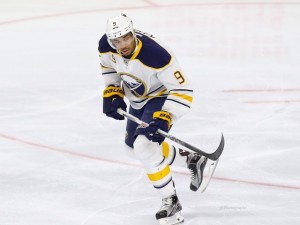 Before the offseason began, Kane was a shoe in for the number-one left wing position. During his first season with the Sabres, Kane had his fair share of ups and downs, but he also showed his potential. Despite overcoming injuries throughout the season, Kane was able to reach the 20-goal mark in just 65 games. At times, he looked to be the scoring power forward the team has been coveting for years.
However, controversy has continued to follow the enigmatic forward. Kane is facing legal trouble for the second time in less than a year. Because of these off-ice escapades, it appears the patience of some within the Sabres organization is running thin. This was first brought up by former NHLer George Laraque during an appearance on WGR 550.
Georges Laraque told WGR that he's been told the Sabres are considering trading Evander Kane

— WGR 550 (@WGR550) June 30, 2016

Trading Kane now obviously wouldn't fetch much of a return, as his value has to be at an all-time low. However, GM Tim Murray has never been afraid to find a dancing partner. It only takes one offer or opportunity to put the wheels in motion. It's most likely the Sabres will wait the situation out, but Kane's future in Buffalo is anything but certain.
Jimmy Vesey
Another left winger making headlines in Buffalo this summer is college free agent Jimmy Vesey. After failing to reach an agreement with his draft team the Nashville Predators, the Sabres acquired Vesey's rights for a third-round draft pick.
After the acquisition, the Sabres management headed to meet with Vesey in his hometown Boston. The overall reaction coming out of the discussions seemed to be positive, but Vesey is set on testing free agency on August 15 when he becomes an unrestricted free agent.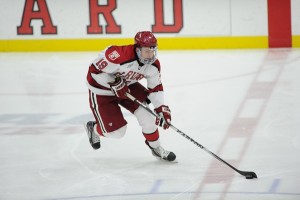 "I think we have a small number of teams that I think we'll really be focusing on," Vesey told NHL.com . "So, Aug. 15 we'll start talking to them and see what they say. "Free agency's done and I think most of the bigger names are off the board. Now you've got to start sifting through teams and rosters and prospect pools and stuff like that. So I think I'm starting to get more and more excited as the days go on because I'm really looking forward to finding out where I'm going to be."
With how the offseason has developed, the Sabres need Vesey even more than ever. He'd be given a shot at being a top-six forward right from the start of his NHL career; something not many NHL clubs can offer. However, everyone in hockey will have to until next week to see a clearer picture surrounding Vesey.
Tyler Ennis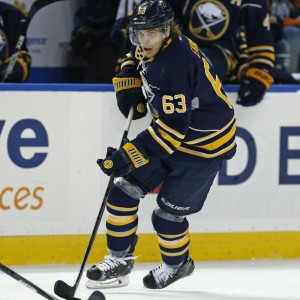 Not to be forgotten is Tyler Ennis. He's coming off of a very disappointing injury-riddled season. Ennis only managed to suit up for 23 games, while enduring a difficult bout with a concussion.
While reflecting on his injury, Ennis said, "It's really a difficult thing. A lot of different emotions, a lot of ups and downs, "To say I wasn't scared at some point would be probably a lie."
At least Ennis was able to rejoin his teammates in practice at the end of last season and he's eager to get back in game action.
"It gave me time to kind of reflect, appreciate what I have and give me that much more motivation and excitement for whenever I get back," said Ennis in April.
Ennis certainly has the wherewithal to be a top-six forward. Before last season, he posted back-to-back 20-goal seasons, while showing flashes of playmaking ability. If Ennis can return to form, it'd go a long way in improving the Sabres sometimes stagnant offense. However, it's hard to know what to expect after such a significant injury.
With Jack Eichel, Ryan O'Reilly, Sam Reinhart and Okposo forming a strong forward core, if the Sabres can find stability at the left wing position, they'll have two formidable scoring lines. As for now, only time will tell.
As an American based in Amsterdam, Joe provides a unique hockey insight, bringing a global perspective to the game. Joe has several years of experience covering the game on both a domestic and international level, including being credentialed for multiple World and World Junior Championships.