Winter in Calgary has been tough. December featured giant snowfalls, frigid temperatures, and just all-around misery. Life hasn't been great for the Calgary Flames, either, as the team struggled to score goals, hold leads, and even stay healthy. One silver lining in the bumpy month is that some players who haven't found a place on the club in the past have managed to get a second chance.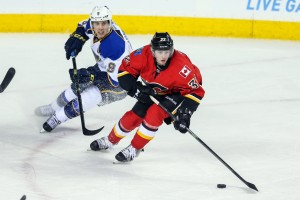 At the 2011 NHL Draft, the Flames made a pretty important trade. They sent defenseman Robyn Regehr, forward Ales Kotalik and a second round pick to the Buffalo Sabres for defenseman Chris Butler and forward Paul Byron. At the time of the trade, the only person who had more games in a Flames jersey than Regehr was Jarome Iginla. Butler immediately jumped into the Flames defensive rotation, but Byron yo-yoed between the Flames and their AHL affiliate in Abbotsford for the last three seasons. While Byron was previously a terror to the opposition in junior due to his great speed, on-ice agility, and puck-handling skills, his size (and some hesitancy to go to the hard areas) limited his effectiveness at the pro level.
Some were surprised when Byron was re-signed by the Flames to a one-year contract in the off-season. Along with Greg Nemisz, who was traded by the organization this week, Byron was thought to probably have been retained as a veteran option for the farm team who could mentor players like Corban Knight and Markus Granlund as they became pros. But after yo-yoing between the NHL and the American League – with just 34 NHL dates to go with over 200 AHL appearances – the clock was definitely ticking on Byron's NHL aspirations.
But all of a sudden, Paul Byron has not only found himself in the National Hockey League, but he's also emerged as arguably Calgary's best player in the last few weeks.
This week after practice, Calgary Flames captain Mark Giordano explained what's made Byron so effective since he was recalled from the AHL on November 28.
"Obviously he's not the biggest guy, but he plays with so much energy and speed," said Giordano. "I know personally playing against those type of players is really hard, you can't contain them. When he's moving his feet, when he's skating, there's really no way to go at him and hit him. You can't hit him, he's too quick. I like the way he's played all around the ice. He's been hitting guys. For a little guy, he's been hitting guys the last couple games, it's just a treat. The way he moves the puck and the way he's playing, he's been playing great."
Byron explained that last season didn't quite go his way. He never really found a ton of momentum in Abbotsford, amassing just 15 points in 38 games. On top of that, while he was recalled to Calgary twice – as the Flames attempted to evaluate their farm team players for the impending rebuild – he broke his hand just four shifts into his season debut, shelving him for several weeks. This season has been the opposite, with Byron already exceeding his AHL point total from last year with 18, and momentum seemingly on his side.
"Last year was a really hard year," shared Byron. "Started off with a concussion at the beginning of the year, never really got things going in Abbotsford. Had an opportunity here, broke my hand. The summer was big for me, just pressed the reset button. Get back to work down in Abbotsford. Got there early, got settled, had a great camp, started off the year pretty well and things have just been going really well here."
Flames head coach Bob Hartley echoed Giordano's complements towards Byron. In particular, Hartley praised Byron – listed by the NHL as 5'7″ and 153 pounds – for his compete level as a smaller player. When Brian Burke ousted Jay Feaster as GM in early December, many worried that Byron was in danger. Byron responded by seemingly upping the physical element of his game.
"His speed is definitely his biggest asset," said Hartley. "And he's a great competitor for a player of small size, he plays much bigger than his height or his weight, and that's a complement to Paul. He's buzzing, he's a worker, he's proud and obviously he wants to stay here. Every game, it's a big game for him and he's been great for us."
"I think he's playing like a guy, he's got nothing to lose," added Giordano. "He knows he's up there and he has to earn everything he's gonna get, all his ice-time, and he's playing with, you can see it, that energy and that desire. He's earned everything he's got. He's been one of our better players for awhile."
While Byron denies that he's doing anything differently during this year's call-up – ascribing some of his point increase to puck luck – he did admit that his confidence level is higher than in previous years due to the success he had this season with the Abbotsford Heat. He also noted that the key to being successful as a younger player is sometimes not worrying too much and just playing your game, whatever that happens to be.
"I think a lot of young guys worry too much about making mistakes, and the coach not having faith in you," said Byron. "Fortunately for me, I came in here my first few games, Bob had a lot of trust in me, put me out in penalty kill situations and right away that gives you the confidence to go out there and make plays and not worry about mistakes. The minute you start thinking too much, obviously, it's going to effect your game. You just keep it simple, stick to your skill-set, do what works for you, and that's how you have success."
However it happened, Paul Byron has transformed from a player on the roster bubble to one that Calgary's coach and captain describe as one of the team's best.