Cam Ward was one of the topics of conversation when Carolina Hurricanes Executive VP and General Manager Ron Francis met with the media last Thursday, June 9. Francis, along with Tony MacDonald, the Hurricanes' Director of Amateur Scouting, fielded questions about the draft and other pending 'Canes issues. (Read my article from that meeting, "Ron Francis Won't be Distracted")
More Ward?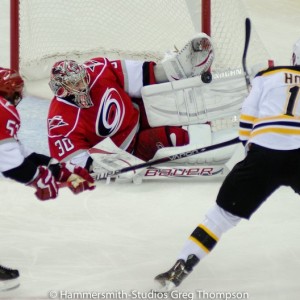 Francis was asked if he had made any progress in re-signing Ward or if it may be July 1st before anything is resolved. Francis was extremely candid and said,
"I think we'll make a decision fairly soon in that regard. Part of my job is making sure I go through the meetings with my pro guys and assessing what's out there in the free agent market and then talking to all the other GMs and seeing which goaltenders may or may not be available, and the ones that are what the price is. As I sit here today do I want to give up a first-round pick for a goaltender that may have a year or two left on his deal and then we lose him, you know an older guy, that's not really the plan that I'm looking for."
But the most telling part of Francis' response was when he said,
You know, Cam takes a lot of criticism but, you know Cam from December to the end of the year was one of the top five goaltenders in the league in goals against and save percentage. So I think there's some merit to revisiting that as we move forward here. We'll make a decision fairly soon
Correct me if I'm wrong, but that sounds like a guy who has made his decision and that decision is to keep Ward in goal for the 'Canes. The question is at what price and for what length of time? My media colleague Chip Alexander heard the same thing, and posted as much on Twitter:
Ron Francis says decision on Cam Ward should come soon. Reading between lines, sounds like Ward may be re-signed.

— Chip Alexander (@ice_chip) June 9, 2016
Given what Francis said about not wanting to get an older goalie for a short period of time, Ward is the likely choice. He is a known commodity in Raleigh and the fans don't scream for his ouster nearly as loudly as they did for former team captain Eric Staal. Ward provides a veteran presence in the Hurricanes locker room, and the credibility of having won a Stanley Cup. All in all I can think of worse things than having Ward back in a 'Canes sweater for a while longer. Like Eddie Lack suddenly becoming the full-time starting goalie.
Cat Silverman of Today's Slapshot wrote that the well is not deep for 'Canes goalies. In Report: Cam Ward Could Receive Extension in Raleigh Silverman wrote,
The team has top-ranked prospect Alex Nedeljkovic in their system for next year, but the 20-year-old American-born netminder likely still has some development needed in his game before he can shoulder the load at the NHL level. Beyond him, the Hurricanes only offer 25-year-old Rasmus Tirronen (who posted a .888 save percentage with the AHL's Charlotte Checkers this season and is a pending RFA) and Daniel Altshuller as options.
I was hoping to see more of Altshuller last season when he was briefly called up to the NHL. Perhaps we will get a glimpse during the upcoming exhibition games.
Jared Clinton of The Hockey News takes issue with Francis' assertions of Ward's play since December of last season. On June 10 Clinton wrote a piece entitled The Hurricanes seem to be seriously considering re-signing Cam Ward wherein he stated,
The problem is that Francis' claims about Ward's play aren't quite accurate, and it could mean Carolina is overvaluing Ward as free agency approaches. There were 42 goaltenders who played at least 20 games from the start of December onward, and of those netminders Ward 14th best GAA (2.34) and tied for 20th in wins. Those two stats look great, but those are as much team-based as they are goaltender-centric. So, what about Ward's SP? Well, therein lies the issue. Ward posted the 30th-best SP (.915) of the 42 20-plus game goaltenders, and his 5-on-5 numbers weren't sparkling. Ward was one of 38 goaltenders to play 1,000-plus minutes at five-a-side from Dec. 1 to the end of the campaign, and his .920 5-on-5 SP ranked 29th.
Clinton goes on to acknowledge that the 'Canes are weak in goalie depth, and that if they can get Ward on Francis' terms it will make sense. He still shows signs of greatness at times:
All in all, Ward staying in Raleigh is not a bad idea. Will he sign for a lower price and term than he can command elsewhere? If he does, the Hurricanes' playoff hopes will need serious help. Francis may have no choice to get that older guy with a couple of years left on his deal.
Mark lives in the Raleigh, NC area and covers the Carolina Hurricanes.