Ron Francis, Executive Vice-President and General Manager of the Carolina Hurricanes, sat down with the media on Thursday, May 9 and fielded questions about the upcoming NHL Entry Draft, to be held on June 24-25 in Buffalo, New York. Joined by Tony MacDonald, the Hurricanes' Director of Amateur Scouting, Francis was surprisingly candid about some things, and was his normal, "close to the vest" self on others.
Playoffs Pressure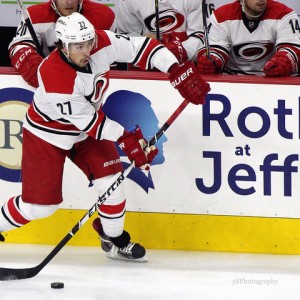 I asked Francis if there is any tension that he is feeling as the draft approaches regarding making decisions that might maximize the team's chances at getting into the playoffs now, versus his having a rebuilding plan and sticking to it. Francis was very clear in his response, saying, "For me personally? No. We came in with a plan and we're sticking with that plan. We think we're moving in the right direction. We have accumulated 10 picks in this draft and 10 picks in the next draft. If there's an opportunity to parlay that into something that makes our team better, absolutely we're going to do that."
Francis added,
"Our goal each and every year is to get into the playoffs. I know it's been tough and a struggle, but we certainly think we're making strides towards that." "The toughest part when you have nine picks or 10 picks and you draft these kids and think you have a good draft, is staying patient and letting them develop into where you want to get to so you're there for a long time, not just in and out." Francis summed it up by saying, "I don't feel that [tension]. I think we're headed in the right direction."
Hurricanes fans have been patient. They have been hoping for a playoffs return since 2009. They have tolerated seasons wherein players like Alexander Semin put forth little effort to win. They have been bewildered at the play of Eric Staal, team captain since 2010, who was not able to lead the team consistently. There have been coaching changes, exorbitant contracts and injuries that seem to have kept the 'Canes from gaining real momentum. And lately the rumor mill keeps grinding with the "certainty" that the team is on the verge of relocating. Some might say that the fans' patience has a right to be wearing thin.
Light in the Tunnel
As a fan I would definitely love to be watching the Hurricanes in May and June. But, I also understand that making the playoffs is not the easiest of tasks to complete. That being said, I have confidence in Francis to build a team that wins, and does so consistently. No small part of that confidence is in his steadfast approach to sticking to his plan. He is building with young players, and that's not an altogether bad thing. Just imagine where Noah Hanifin, Brett Pesce, Victor Rask and Elias Lindholm could be in another 2-3 years. Not to mention the likes of Justin Faulk and Jeff Skinner, two guys who are still young by NHL standards, but veterans on the young 'Canes squad.
Certainly a team needs some guys who have been around. Jordan Staal can be that guy for the Hurricanes. Francis did say he was open to opportunities that might present themselves to add a player that could make the team better. But, unlike his predecessor Jim Rutherford, Francis is not prone to breaking the bank with contracts that don't make sense. He's prudent, and I think that will pay off in the long run for the team.
Another reason I have confidence in Francis is his head coach, Bill Peters. In two years he has installed his system and the players are buying in. I asked Francis if being able to adapt to Peters' system is a factor that he will be looking at when considering prospects. Francis said,
"Yes, I think from day one when we talk to a guy we want to know if he can fit into how we want to play the game. I think guys are pretty comfortable at this point with what we're doing. Certainly we would factor that in as to why we would draft a guy or why we would trade for a guy."
I've been saying for quite a while that Peters is the real deal. He has won wherever he's been, most recently as the head coach for Team Canada, winning the gold medal in the IIHF World Championship. He didn't flinch when it came to sitting Semin down, and he commands the respect of his players. Francis knows he has a good coach at the helm, and I am looking for a contract extension in the not too distant future for Peters.
Francis Focus
I came away from the time with Francis more impressed than ever that he is the right person to be leading the 'Canes. Sure I wish he'd bring in a big name guy who can score and get the team over the playoffs hump. And like most fans, I don't like being patient. But, I think sooner rather than later Francis will see his own patience and focus rewarded, and we'll be watching the 'Canes again in May and maybe even June.
Mark lives in the Raleigh, NC area and covers the Carolina Hurricanes.