The Carolina Hurricanes have won three straight games in November. In all three of those games Cam Ward has stepped up his play. Things are clicking for the 'Canes offensively this month, but Cam Ward is making the saves that the team needs to win. The importance of Cam Ward's play has always been discussed in depth. It took the 'Canes a month to finally get a win, and with a hot goalie the team will need Cam Ward to continue his solid play to climb back from the early season hole.
 Cam Ward's October.
Ward played in 4 games of the 'Canes in October and he was 0-3-1. In those four games he had a .840 save percentage and gave up a total of 16 goals. He was giving up about 4 goals a game (his goals-against-average was 3.95 to be exact) for a team struggling to score goals. Ward just looked off in those early games. He was getting left out to dry, and giving up soft goals. He faced 100 shots in 4-games in October, compared to the 76 that he faced so far in his three wins in November. He is seeing almost the same amount of shots but his numbers are drastically better in the three straight wins.
Three Straight Wins
His numbers have been drastically different in the last three games. He shutout the Arizona Coyotes and held the defending Stanley Cup champions to two goals on 32 shots in the teams second win of the season. Cam Ward's last shutout before this season was March 27, 2012 against the Toronto Maple Leafs. Ward has a .940 save percentage and a 1.34 goals-against-average in the 'Canes only wins this season. . Behind the good goal-tending the offense has clicked, and Ward has made the saves that he needs to make to keep this team in games. The 'Canes have been blocking more shots in front of their goalie, which allows him to make the important saves to keep the teams in games. Ward looks more comfortable in net, and is pushing rebounds out of the danger area. The 'Canes need Cam Ward to outplay than the opposing goalie each night, and now he is.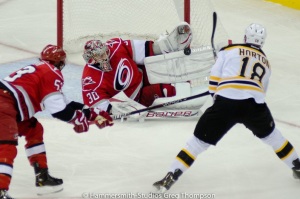 What Does It All Mean?
Cam Ward has not been perfect, but he is playing good hockey for a team that needed wins bad. He still doesn't handle the puck perfectly, but he has made big saves that have preserved wins for his team. He does not need to be the best goalie in the league, but he needs to be good enough to allow the Hurricanes to win games. The team is finally healthy, and the play on the ice is finally clicking for the team from Raleigh. Ward will need to keep up this play to give the 'Canes a chance to pull themselves out from the bottom of the league. Time will tell, but last season Ward played well in October and November posting a save percentage of .912 and .904 in those months, but dropped to .865, and .833 in December and January. Ward didn't have to make many saves against Columbus, but the save below was an important late game save. Do fans think Cam Ward can keep up this play? Does this three game winning streak remove the 'Canes from the bottom of the power rankings?