Goaltenders often take the long path to the NHL — their development generally takes more time than skaters and it's extremely rare for one to jump right into the league after being drafted. That story is no different for 24-year-old rookie goalie Jake Allen of the St. Louis Blues who was drafted in the second round (34th overall) in the 2008 NHL Draft.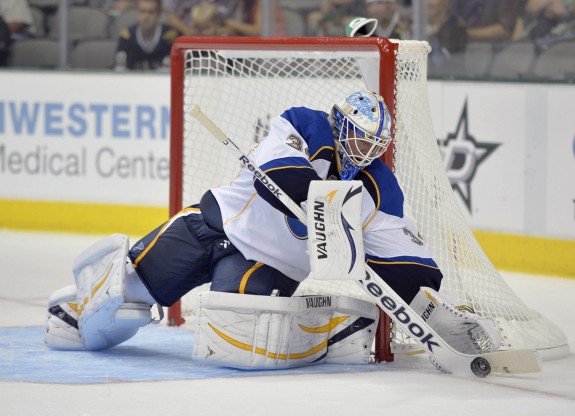 After being drafted Allen played three years of Junior hockey (QMJHL) and then three seasons in the AHL with the Peoria Rivermen before finally making his NHL debut with the Blues in 2013 (a 4-3 road overtime win). So far so good for St, Louis and Allen as he has a 12-5-0 record in 19 career games at press time; with three shutouts, a 2.13 GAA and a .913 save %.
The Hockey Writers caught up with Jake Allen after his second shutout of the 2014-15 season (in four games), a hard-fought 1-0 win against the New Jersey Devils. THW found out his favorite goalie growing up, which of his teammates he's glad he doesn't have to face in a game and why staying in the AHL was a good thing last season.
The Hockey Writers: You're off to a pretty good start this season, pitching your second shutout and third win in four games now after tonight's victory…
Jake Allen: Yeah, this was a greasy road win; it completes this road trip for us. We head home and play them again on Thursday; I'm sure it will be another battle. Shutouts are just a bonus, wins are the most important part.
THW: Have you been a part of a home-and-home series in the NHL yet?
JA: Not here, but it happens. Not all the time, it's especially a little different when it's an Eastern (Conference) team, but they have a real solid squad over there and we're going to have our hands full.
THW: In that situation, with an Eastern team, does that mean a lot of film work because you don't see them that often?
JA: Yeah definitely. For me, it's the first time I'm ever playing against them; I think for a lot of other guys here too. We did a lot of film study this morning, just to get an idea of little things that they do; not too much, you sort of see what they are like on the film. But everything is different once you get out there on the ice; it just depends on what's going on in the play or where the guys are. You just have to use your instincts as much as possible. We don't want to change our game a lot, but we just try to be prepared (for what they want to do).
THW: Did you have a favorite goalie when you were growing up?
JA: (smiles) I was a big fan of Marty Brodeur growing up to be honest. I wish I could have played against him, but it was pretty fun to play against (Cory) Schneider tonight, he's a great goalie.
Martin Brodeur makes a vintage save on a Phil Kessel breakaway:
THW: Do you remember the save you made in the first period (on Michael Ryder)?
JA: I sort of got my feet caught out a little too far on (Patrik) Elias there, and he made a nice pass. I'm not sure who the guy was but I just (laughs) tried to get something over there and I got my glove on it.
Jake Allen makes a Brodeur-like save on in New Jersey:
THW: Are you happy that Vladimir Tarasenko is on your team and not someone you have to oppose?
JA: Yeah (laughs), he's got one of the best shots I've ever seen; fortunately he's on our side.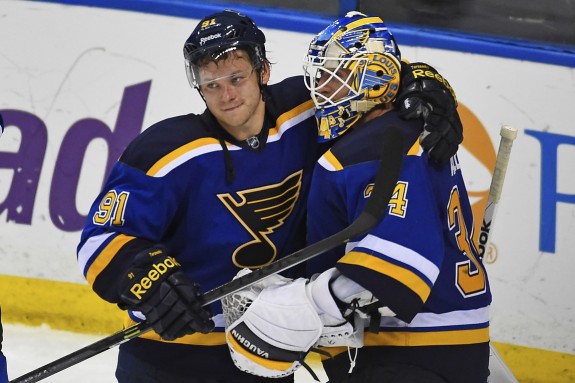 THW: This is the first season that you started in the NHL; do you feel like you belong here now?
JA: Yeah, it was great to know that I am going to be here full time this year. I'm looking forward to it, and I'm just trying to make the most of my chances when I get them. Brian (Elliott) has been playing great and the team has been playing great; whenever I get into the net I just want to give them a chance and enjoy it. I'm having fun and it's great to be a full time NHLer now. It's been a long road for me but I'm glad to be here.
THW: You were a second round draft pick, what do you remember about that day?
JA: It was exciting; it was in Ottawa, I didn't really know what to expect. I didn't know if I was going to go in the first round (laughs) or the seventh round. It's the draft, it's somewhat of a crapshoot, I was just glad to be called; things have worked out great for me. I paid my dues in the minors. I played three and a half years there and I'm finally getting my chance here now. I couldn't ask for a better spot to be honest, thinking back to that draft day; it was a special day for me and it's paying off now.
THW: You had a really good season last year in the AHL, how important was that for you?
JA: You know, I just wanted to go down there and play as many games as I could. Get better, and prove to this organization that I was ready to come up here this year and take the job; whatever position that may be and I felt I did that. I went there, had some fun, enjoyed it and tried to improve and I had a great year. I played over 60 games and that was my goal going in there, to play as much as possible and that definitely has prepared me for this year.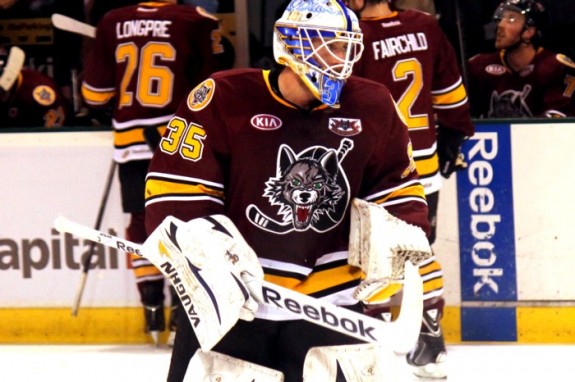 THW: That's kind of why we were asking; would you rather play a lot down there in the AHL or maybe only play 12-15 games in the NHL? But you're in the NHL.
JA: Last year I think…I think it was the right move for me; to go down there and play 60+ games and prove to them that I was ready. And just come up here this year and give them as much as I can. Hopefully I get as many games again as I can, you never know how many that may be but I think it was the right move for me to go back last year and play all of those games.
THW: You're first career win was against Detroit right?
JA: Yeah, I was pretty good. I was in the minors, got called up and they told me I was going to start in Joe Louis Arena; nationally televised game, I was pretty nervous. It was a game I'll never forget — I think I let two of the first three shots in (laughs), but we ended up winning. That was a real special moment.
THW: You still have a puck from that night?
JA: Yeah, they (the Blues staff) did a great job — they framed the puck and gave me a plaque that I have hanging up at home.
Dan Rice can be reached via Twitter: @DRdiabloTHW or via Email: drdiablo321@yahoo.com
Dan Rice is in his 9th year of reporting for THW & has covered NJ Devils home games for 15+ years at various websites. He began his journey working for legendary broadcaster/writer Stan Fischler from 2002-04 & completed an internship at the ECHL; he also has been writing features for the NWHL (nwhl.zone) website since 2016.