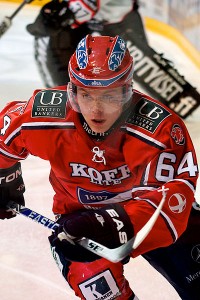 Every now and then a young player emerges from the depths of the crowded prospect pool that is seemingly destined for greatness. Not only does he exude the skill set of a dominant player but he carries himself as though he is a veteran, playing with a determination and maturity that separates him from the rest of the baby faced prospects looking to crack an NHL roster.
When the Minnesota Wild selected Mikael Granlund with the ninth overall pick in the 2010 NHL Draft they were not expecting to select a superstar. Even though the young Fin had taken the SM-liiga by storm, tallying 40 points on his way to winning the Jarmo Wasama memorial trophy (rookie of the year), he was viewed by many as undersized and lacking the footwork that was necessary to be an impact center in the NHL. Many believed that Granlund projected to be an above average playmaking center, but a superstar? Not likely.
It's been two years since the 2010 NHL draft and although Granlund has yet to play a single minute in the NHL the view on what he could become has drastically changed. His size and footwork have become nothing more than minor deficiencies and the focus has shifted towards his astounding stick handling ability and superb vision. He went from top ten selection to potential superstar without stepping foot onto an NHL rink which raises the inevitable question; will Granlund become the next Finnish superstar or is he another overhyped prospect?
It would be easy to dismiss Granlund as an overhyped prospect if he played in one of the North American Junior Leagues where a player's skill can be skewed due to a lack of competition, but Granlund has spent the past three years playing in one of the top European leagues. In that span he won the Jarmo Wasama memorial trophy, led his team ,HIFK, to the Kanada-malja (SM-liiga playoff championship) and ranked in the top ten in league scoring all before the age of 20. While many fellow prospects were playing in the OHL, QMJHL, WHL and NCAA, Granlund was gaining valuable experience while playing against former NHL players in a competitive professional league.
Another advantage that Granlund experienced during his time with HIFK was the opportunity to play with the senior Finnish national team. After leading the junior team for several years he made his debut during the 2011 IIHF World Championship, tallying nine points in nine games. Finland ended up winning the title but the tournament defining moment was produced by Granlund during the semifinal game against Russia. Words cannot do the goal justice so a video is necessary.
With his success in SM-liiga and international competitions Granlund has already become an icon in Finland. Jari Kurri, considered to by many to be the greatest Finnish players of all time, has already proclaimed that Granlund is the next Finnish superstar. Others have gone as far as to compare Granlund to Kurri and fellow Finnish legend Teemu Selänne. With this kind of praise it's hard to imagine that Granlund will be anything but a game changer when he wears the Wild sweater, but are his accolades overblown? Can he continue this success in the NHL?
The answer to that question boils down to Granlund's skill set. If you take away his success in SM-liiga and the international level what do you get? It's true that he is undersized at 5'10" and his footwork and speed aren't desirable for his position. Those are things that he will have to overcome while playing in the NHL, but the truth is those are only minor glitches when you evaluate his game in its entirety.
The most prominent strength in Granlund's game is his vision. Being able to pick apart defenses is a crucial aspect for any playmakers game and it's something that Granlund excels at. He finds the crevices and exploits them beautifully by maneuvering himself into solid positioning in the offensive zone. When he gets that space he has the puck handling ability to create chances for not only himself but his teammates which creates chaos for the opposing team.
Although he has yet to flash signs of goal scoring prowess he does have the ability to score with a quick and accurate shot. That aspect likely won't be on display for the majority of his playing time as he prefers to set up his teammates rather than shoot.
Despite being such a talented offensive threat he has not forgotten the defensive side of the game. In true Jari Kurri style Granlund works hard on the defensive side of the puck which increases his value dramatically.
Now that I have successfully built up Granlund as the next great center in the NHL it's time to be pessimistic. Like any other promising prospect Granlund has his flaws. Besides his speed and size he has struggled with a concussion that sidelined him for two months during the 2010-2011 season which is never a promising sign especially for a player that is so young. He also struggled towards the end of the 2011-2012 season, becoming ill while HIFK flamed out of the playoffs.
So what does this all mean? Will Granlund become the next face of the NHL or just turn into another role player? Will his vision lead him to greatness or will his size hinder his growth?
If I were to make a prediction I would tend to lead towards the superstar projection. It's understandable to be weary of a player that has yet to reach the top league and in today's hockey landscape we are quick to toss around the label of superstar to anyone who exhibits a hint of skill, but Granlund is different. Not only does he exude the skill set of a great player but at the age of 20 he already has the maturity of a veteran. He turned down the Wild's offer just a year ago so that he could finish school and serve his mandatory military duty all while growing as a hockey player. There are certain things that coaches cannot teach their players and those are the things separate the good from the great. It seems as though Granlund has a few of those traits, it's just a matter of putting it all together. If that happens then Mikael Granlund could become a dominating player for years to come.