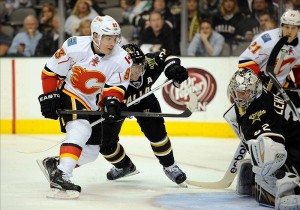 As summer winds down and prepares to turn into fall, hockey fans prepare for the beginning of the season. But with so many players throughout pro organizations scattered throughout so many leagues, it's a pain to keep track of all the important dates.
In the interest of clarity, here are a few key dates for Calgary Flames fans to bear in mind as we prepare to kick-off the 2012-13 hockey season.
THE BIG CLUB
The pre-season begins September 24, pending the NHL and NHLPA agreeing on a new CBA.
The regular season begins October 11 with the first of six contests with the Vancouver Canucks (they'll also play the Flames on December 26, December 27, March 2, March 3 and April 6).
The Flames play the Edmonton Oilers six times in the regular season – three times early in the year (October 24, November 24 and December 23), and then three times in April (the 1st, 3rd and 13th).
The Flames play the Montreal Canadiens twice, on October 30 and November 13, in the continuation of the team's Stanley Cup rivalry from the 1980s.
Last season, the Boston Bruins blew out Calgary 9-0. The Flames take on Boston on December 31 in an effort to see if they've improved in the interim.
The NHL All-Star Game takes place January 27 in Columbus, OH.
MINOR PRO
The AHL's Abbotsford Heat kick off their fourth season on October 12.
The ECHL's Utah Grizzlies open their regular season on October 12, as well.
The AHL All-Star Classic takes place January 28 in Providence, RI.
The ECHL All-Star Game takes place January 23 in Loveland, CO.
EUROPE
The KHL's Avangard Omsk (G Karri Ramo) have begun their pre-season already. They kick off their regular season on September 4.
SM-Liiga's HIFK Helsinki (G Joni Ortio and F Markus Granlund) kick off their regular season on September 13.
MAJOR JUNIOR
The IIHF World Junior Championships are December 26 to January 5 in Ufa, Russia.
The Quebec Remparts (D Ryan Culkin) have already begun their pre-season. Regular season play begins on September 20.
The Windsor Spitfires (D Patrick Sieloff) begins pre-season on September 1 and their regular season begins September 20.
The Swift Current Broncos (F Coda Gordon) kick off their exhibition calendar on August 28 and their regular season on September 21.
Oddly enough, the Portland Winterhawks (D Tyler Wotherspoon) and Vancouver Giants (D Brett Kulak) begin both of their pre-seasons on August 31 and their regular seasons on September 21.
The WHL champion Edmonton Oil Kings (G Laurent Brossoit) begin defense of their title in the pre-season on September 1 and in the regular season on September 20.
COLLEGE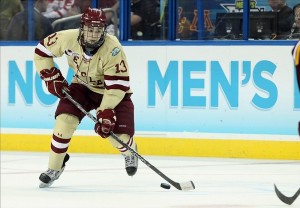 Michigan State (F Matthew Deblouw) opens their pre-season on October 8 and their regular season on October 12. The annual Great Lakes Invitational tournament takes place December 27 & 28.
Notre Dame (F Nick Larson) opens their pre-season on October 7 and their regular season on October 12 & 13 with the IceBreaker tournament. The conference play begins the following week. Notre Dame plays the Hockey City Classic in Chicago on Feburary 17.
Wisconsin (D John Ramage) plays an exhibition game on October 6 and begins regular season play on October 12.
Providence College (F Mark Jankowski and G Jon Gillies) opens their regular season on October 12.
Defending National Champions Boston College (F Johnny Gaudreau and F Bill Arnold) play a pre-season game on October 6, begin their regular season October 13, play in the Mariucci Classic December 29 & 30 and try to defend their Beanpot title on February 4 & 11.
Oh yeah, Boston College plays Providence College three times next season – December 7, March 1 and March 2.
Ryan Pike has covered the Calgary Flames and the NHL Draft extensively since 2010 as a Senior Writer for The Hockey Writers and Senior Contributing Editor of FlamesNation.ca. A member of the Professional Hockey Writers Association, he lives in Calgary.