Just under two weeks ago, Bruins netminder Tuukka Rask drew a lot of heat from the media and fans after missing a crucial game against the New York Islanders.
Rask was called out by many who believed he couldn't handle the big stage – pointing to times in the past when injuries or illnesses have cropped up at unfortunate times, keeping Boston's top netminder out of the crease.
A week and a half later, those questions have been put to rest. Since missing out on the game against the Islanders, Rask has won four straight games, with a combined .972 save percentage and two shutouts.
Long story short, Rask is in the zone for the Bruins at just the right time. But how will he fare in the playoffs?
Rask in the Postseason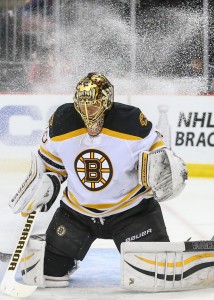 It's been three years since the Bruins last made the playoffs, but Rask does have postseason experience with the club. In 47 career postseason games, he has a .930 save percentage and 2.11 goals against average with five shutouts.
More important, however, is Rask's current run. The netminder is on a four-game win streak and has been playing his best hockey of the season. Anybody who has watched playoff hockey before knows that your goaltender is your most important player – a hot netminder can be the difference-maker for any team.
Right now, Rask is hot. But, the Bruins have pivotal points up for grabs before the regular season comes to a close, so Rask will not have the opportunity to rest quite yet. It's important for the Finnish netminder to continue his hot streak through the remainder of the regular season so that he can carry his streak into the playoffs.
How He Matches Up
As of now, the Bruins could see first-round matchups against the Maple Leafs, Senators, or Capitals. The bad news for Bruins fans is that Rask has yet to beat any of these teams this season. Here are his stats and career numbers against each team:
Toronto: 
2016-17: 0-2-0, .852 save percentage, 3.63 goals against average
Career: 15-5-2, .927 save percentage, 2.07 goals against average, 2 shutouts
Ottawa:
2016-17: 0-3-0, .882 save percentage, 3.07 goals against average
Career: 8-7-3, .919 save percentage, 2.42 goals against average
Washington:
2016-17: 0-1-1, .786 save percentage, 4.49 goals against average
Career: 1-9-5, .887 save percentage, 3.14 goals against average
You can look at these stats a number of ways. All three of teams have had Rask's number this season. Career-wise, the Capitals have been Rask's kryptonite. That being said, Rask has had success in the past against the Maple Leafs and the Senators.
Obviously, the Bruins would like to avoid a first-round match-up with the Capitals. They're the league's top team, and they have had loads of success against Rask. Ideally, the Bruins can avoid the last wild card spot, and earn a matchup with a divisional rival in the first round instead.
So, the question is, should the Bruins be worried about Rask's numbers against Toronto and Ottawa? Well, no. They shouldn't. If anything, there could be some minor concern but not any serious worry.
Why? Well, playoff hockey is a different animal. When you line up against a team for a seven-game series, some of those stats go out the window. More important is the Rask's current streak. If he can lock up two points against the Senators tonight, then the Bruins shouldn't worry about his season numbers headed into the postseason.
To put it simply, I'd take a hot goalie with sketchy season stats against a team over a cold goalie with a better record against that same team ten times out of ten. Rask's career playoff stats only make that decision easier.
Despite what critics may say, Rask has proven to be a goaltender who can carry the team on his back. He's capable of stealing games for the Bruins, and I expect him to be a strength as they make their return to the postseason.