VANCOUVER — Jonathan Drouin's late-game power-play goal led the Montreal Canadiens to a 3-2 victory over the Vancouver Canucks Saturday.
Drouin buried the puck with less than three minutes to go, just seconds after Vancouver defenceman Michael Del Zotto was booked for interference.
The Canucks have now lost their last five games.
Tomas Tatar and Andrew Shaw also scored for the Canadiens (11-6-3), while Del Zotto and Elias Pettersson responded for the Canucks (10-10-2).
Carey Price stopped 36-of-38 shots for Montreal and Vancouver goalie Jacob Markstrom made 28 saves.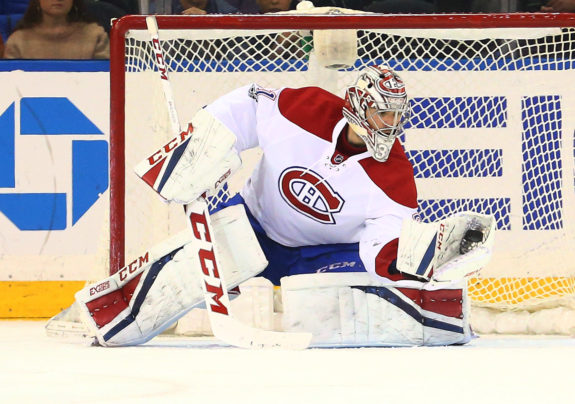 Despite a flurry of early chances, the first goal of the evening didn't come until midway through the second frame.
Habs defenceman Jeff Petry collected the puck in his own end and sliced it up the ice to Tatar. The left winger calmed the bouncing rubber, then sailed it up over Markstrom's shoulder and into the net.
Tatar now has 17 points and six goals in his last six games.
Del Zotto evened the score with less than four minutes to go in the period, tapping the puck in from the side of the net.
It was the first goal of the year for the Vancouver defenceman.
Pettersson put the Canucks up midway through the third, rocketing a slapshot past Price on Vancouver's fourth power play of the night.
The 20-year-old rookie has been an offensive juggernaut for Vancouver, tallying 18 points in his first 16 NHL games.
The Canucks couldn't hang on to the lead for long, though.
Less than two minutes after Pettersson scored, the puck bounced off Shaw and into Vancouver's net.
Max Domi was credited with an assist, extending his scoring streak to 13 points in nine games. He leads Montreal with 24 points on the season.
Both the Canucks and Habs will be back in action on Monday, with Vancouver hosting the Winnipeg Jets and the Washington Capitals visiting Montreal.
Gemma Karstens-Smith, The Canadian Press