For most of the season, the Montreal Canadiens have been able to provide exciting and competitive hockey under head coach Martin St. Louis. Fans have watched many prospects make their NHL debut and young players take strides in their development, mainly due to the injury bug that infected the dressing room. 
So, general manager (GM) Kent Hughes watched his team fall into the bottom five in the NHL standings without needing to follow the tanking model of the Arizona Coyotes, who are now ahead of the Habs in the standings after 80 games. With all the talk about first-round picks and how the Canadiens should spend that capital, would it be worth it for them to add more picks or use one to make a trade?  
Canadiens Acquiring Another First  
There has been talk about Hughes working the phones to get a third 2023 first-round pick to add to his own and the Florida Panthers' first. 
"We have two first-round picks. In a perfect world, we end up with three first-round picks. And then we use that collateral to see what we can do in terms of moving up to have higher picks or whatever, depending on what we see at the draft."

– Kent Hughes (Marc-Antoine Godin, Canadiens' GM Kent Hughes chose development instead of tanking, and the strategy is timely, The Athletic, 7 Oct. 2022) 
Hughes wants to continue what he started in the spring of 2022, turning over the roster and moving veterans for futures. That should make it easier to land a first-round pick, right? Well, he made the statement above at the start of the 2022-23 season, when he had well-regarded veterans and, most of all, healthy. Then Sean Monahan and Joel Edmundson were injured, and Evgenii Dadonov coasted through his time in Montreal. So now, what is the cost to land one of those coveted top picks?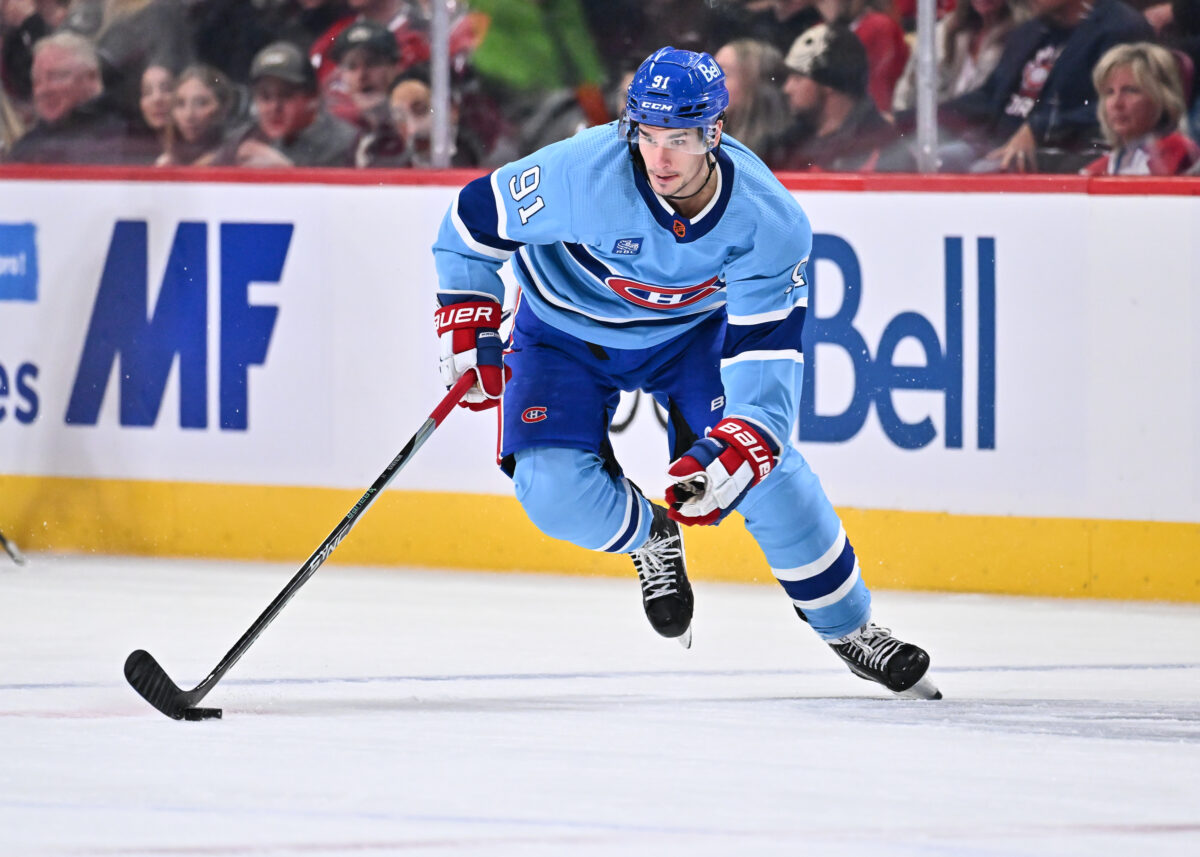 Today, it would another first-round pick would cost the Canadiens a player they would rather keep. Players such as Josh Anderson or Mike Matheson have that value or more, but is it worth trading one of them just to ensure the Canadiens can add a first-round pick that is very likely to fall in the 22 to 32 range? Not really. Not unless there is much more to the package than a pick and some salary cap space, especially considering that both players are still only 28 years old, performing at a very high level, and the roster still needs veterans to help mentor the youth and insulate them when they fall into an inevitable slump over a long season. 
Buy One Pick to Sell Another 
Along with the rumours that Hughes is hunting for another first-round pick, others have him willing to deal a high pick to make a Kirby Dach-type deal, where the Canadiens can move the Panthers' first-round pick to acquire a young player who can be grafted onto the young core or, at the very least, be an ideal complement to that core. 
"You have a team like Montreal that I believe would listen on Florida's first-round pick, that they own, that will probably be a mid-round, first-round pick."

– Pierre LeBrun 
If a Dach-style deal is what Hughes is looking for, then it would make sense that a young (under 25 years old), big-bodied (over 6-foot-2 and 200 pounds) center could be a target, and there is one player who fits, whose story is one of the worst-kept secrets in the NHL: Winnipeg Jets center Pierre-Luc Dubois.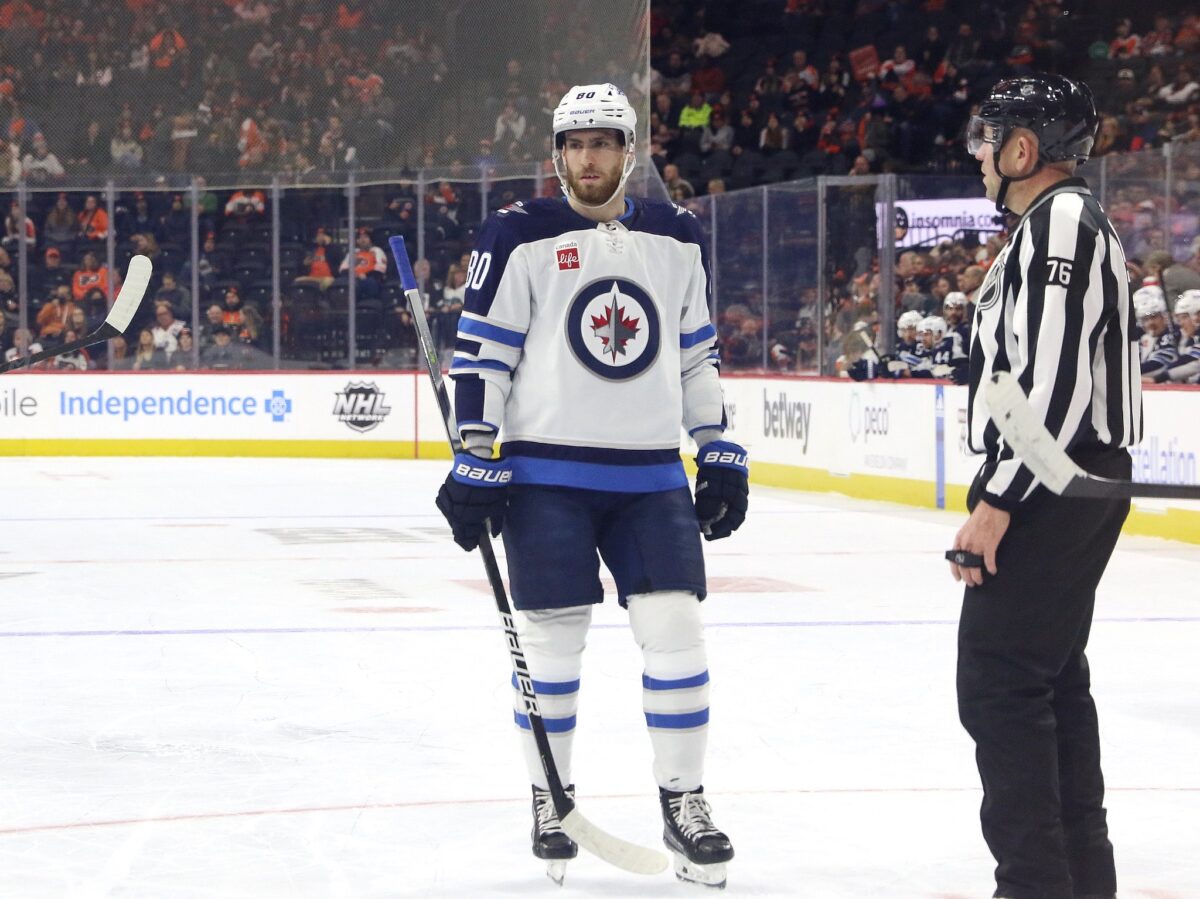 The Jets' situation isn't ideal. Mark Scheifele and star goaltender Connor Hellebuyck are entering the final season of their contracts, their core is aging, and they haven't accomplished anything of note since their run to the 2018 Western Conference Final. In the life cycle of a hockey team, this is the right time to begin trading valuable veterans to enter a rebuild. 
Related: 2023 NHL Draft: Will Smith, Skilled and Driven  
---
Latest News & Highlights
---
During his 32 Thoughts podcast, Elliotte Friedman stated, "Jets have talked to the Canadiens on and off about Dubois. We know that Dubois is going to end up there 95%. Is there some way we can make a deal so the Canadiens get him earlier, and we get something we want? They've talked about that." This would make Dubois a prime target for a package centred around the Florida draft pick, as he checks every box Canadiens management is looking for in trading that pick.  
It's plausible that Hughes wants a third first-round pick to use one in a trade and still select two high-ranking prospects in one of the deeper drafts in recent memory. Several prospects could become impact players in Montreal, but it could take several seasons before that happens. Yet, unless the Canadiens can put their hands on a game-changing presence for a reasonable price – in trade assets and player salary demands – that pick is probably better off being used to select a prospect rather than use in a trade. 
While adding a young, established player would vastly improve the Canadiens' roster immediately, it would have a direct impact on the direction of their rebuild. Adding more picks shows they are looking at a much longer timeline while using some draft capital now points to a wish to become contenders sooner than later. In the end, the Canadiens are likely to hold the picks they have and use them to add prospects. Given Hughes' history of sticking to his guns in trade negotiations, which tends to result in a great deal for his team, Canadiens fans can rest easy knowing no decision will be made without due diligence.