To say that Alexander Romanov has passed every test with flying colors since signing his entry-level contract with the Montreal Canadiens last summer would be an understatement. To say that he has come as advertised and then some would also be pointing out the obvious.
It's hard to recall a Habs' rookie who has made this big of an impact so quickly, but the 21-year-old defenseman is one game into his NHL career and has already put the rest of the league on notice.
An Impressive NHL Debut
Romanov showed off his talent, confidence, poise, enthusiasm, and competitive drive during training camp, so naturally the anticipation was sky-high heading into the season opener on Wednesday against the Toronto Maple Leafs and to the surprise of no one, he exceeded expectations in his debut as lofty as they were.
Related: The NHL's New North Division Will Re-Ignite the Canadiens-Maple Leafs Rivalry
He logged more than 21 minutes of ice time, put three shots on net, and had four blocked shots. He also picked up his first career point thanks to a perfect breakaway pass that sprung Tomas Tatar for the Canadiens' third goal of the contest and he made a bit of history in the process. Ironically, that wasn't even his best pass of the night.
All the qualities he showed in training camp were on full display and translated seamlessly to game action. Romanov played like a 10-year NHL veteran, not a rookie and his strong play didn't go unnoticed by his teammates.
"I think he battles really hard. He's moving the puck very well, even on our second power play unit. This kid is a good hockey player, Tatar said.
Sure, it's only one game, but talk about making a good first impression and leaving Habs' fans wanting more, a lot more.
Earning the Coaches' Trust
The Canadiens' coaching staff haven't been shy about handing out praise for Romanov and they also haven't wasted any time putting him in a position to succeed.
He played in all situations against Toronto, seeing time on both special teams' units. He controlled the point on the power play with ease, making several skilled, if not risky plays at the blue line with Maple Leafs' players draped all over him to keep Montreal on the attack. His composure was reminiscent of fellow Russian Andrei Markov who was the great general on the Canadiens' man advantage for some 16 years. At first glance, it certainly seems like Romanov will be able to put up his fair share of points.
Related: Montreal Canadiens' 2020-21 Season Preview
"I went to Moscow twice to watch him play the last few years, and what I did like back then… he's got it here. He's engaged, he's always aware, he's got a great gap, he's got a good stick, and he plays with a lot of confidence and he loves the game. So, the kid I saw in Russia the last two years? That's what we have here today," Canadiens general manager Marc Bergevin explained.
Romanov doesn't appear phased by playing on his wrong side either. The left-handed defender is currently lining up to the right of Brett Kulak on the third pair, but it's unlikely he'll be there for long because a spot next to either Jeff Petry or Shea Weber in the top-4 is already calling his name. Could he make his way into the Calder Trophy conversation this season as well? Surely he'll be up for the challenge.
An Infectious Personality
Everyone took notice when Romanov was always the first player on the ice and the last one off it during training camp, but that's par for the course for a kid full of energy who has an unmistakable love for the game and a burning desire to succeed.
"Romanov is the kind of guy that, if you just give him, he'll take… Just put him into hell and wait about 10 games, and he'll come out on top," Bogdan Kiselevich said of his former teammate with CSKA Moscow in the KHL. "He will survive and end up becoming the best at it. He's that kind of guy."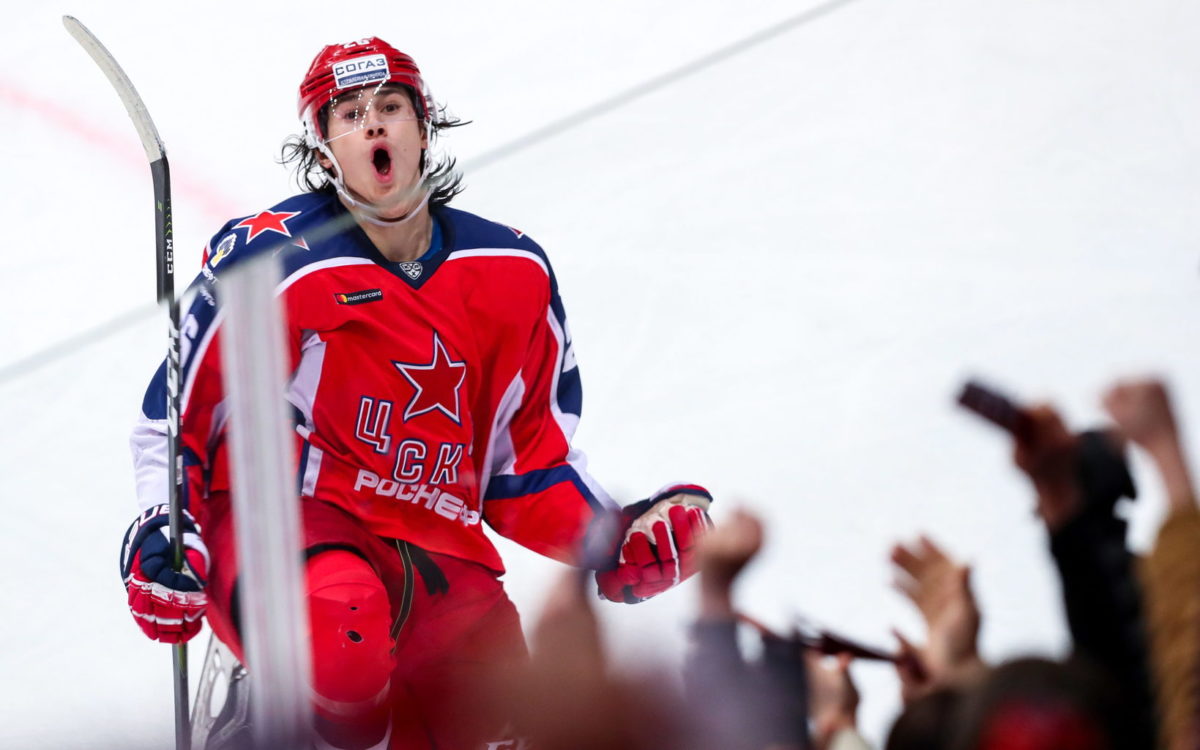 His fun-loving personality and easy-going demeanor will serve him well in hockey's most demanding market. He also has the skills and the swagger to be the superstar that Montreal so craves, a role he seems already prepared to embrace.
Romanov isn't cooperating when it comes to slowing down the hype train so here's a piece of advice for Habs fans: just sit back and enjoy the ride.
---
---