The 2020-21 season will be the final one of Tomas Tatar's current contract with the Montreal Canadiens. With the team facing a much tighter cap situation, the spectre of the expansion draft looming, and the expectation of financial raises going to the re-signing of Phillip Danault and Jesperi Kotkaniemi (and possibly Joel Armia and Artturi Lehkonen), it is unclear where Tatar will land after next season.
This is a peculiar situation for the Canadiens and Tatar considering the 29-year-old left-winger is coming off of back-to-back career seasons, scoring 58 points in 2018-19 and a team-leading 61 points in a shortened 2019-20.
Under more predictable economic circumstances, where increases to the salary cap would have been likely, re-signing Tatar might have been an easy decision for general manager Marc Bergevin. Instead, in our new reality, it is possible Bergevin is forced to let Tatar walk, perhaps making the next NHL season the most important of Tatar's career.
With Tatar entering a contract year cloaked in uncertainty, he will have to perform under the pressure of newly heightened expectations for the Habs alongside an individually shrouded financial future. So, let's suppose Tatar is unable to re-sign in Montreal. What does he need to do this season to maintain or raise his worth on the market?
Positives for Tatar
With the Canadiens offence revamped this offseason, Tatar is arguably in a better position to succeed than in his two previous seasons with Montreal. On paper, the team should be better offensively at both 5-on-5 and on the power play.
This puts Tatar in a situation where another career season is viable, especially if he is able to maximize the existing chemistry with Phillip Danault and Brendan Gallagher at 5-on-5. Over the last two seasons, this line has dominated possession numbers establishing themselves as one of the better 200-foot lines in the league. This needs to continue, if it does, Tatar will be able to enter contract negotiations by citing his strong two-way play.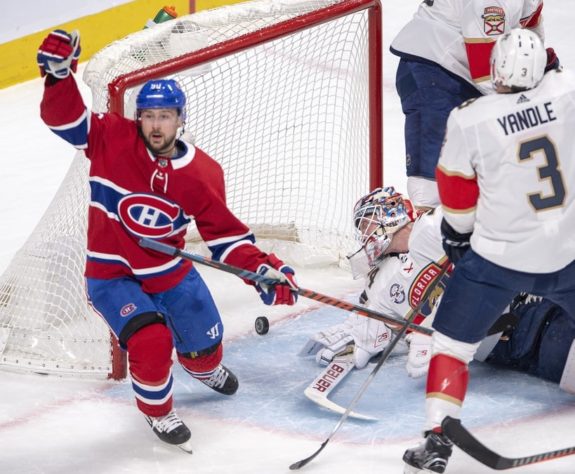 The Habs power play should also be more dynamic. There are far more offensive options for the team to deploy. Tatar should look to be a shoot-first player when on the man advantage. It is vital that he score 20-plus goals this season. Additionally, if Tatar can put up another season between 50-60 points, he will secure a position in which he will be a highly sought after player around the league. The power play is a good place to begin.
Another positive is Tatar's durability. Over the course of his career he has not sustained any significant injuries to date. With the aforementioned unpredictability of the market, general managers will take note of this fact. Few teams would be willing to make a large financial gamble on a veteran player with a history of health issues. Luck plays a part in injuries, but as Tatar enters his 30s, he will need to continue to physically prepare appropriately.
Questions Around Playoff Inconsistency
Tatar became an expendable asset to the Vegas Golden Knights after being used in a limited fashion during their run to the Stanley Cup Final in their inaugural season (2017-18). He finished that postseason by playing in eight of the Golden Knights' 20 games (from 'Tomas Tatar joins Canadiens after second trade in just over six months,' Montreal Gazette -12/09/18). As a result of his finish, Tatar was traded to the Canadiens — with Nick Suzuki — for Max Pacioretty.
Tatar struggled again in this season's playoffs and was effectively neutralized through all but one of the Canadiens' 10 games, scoring twice in their Game 2 victory over the Flyers.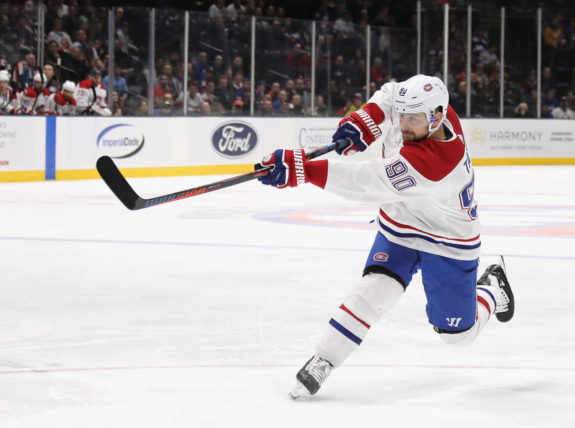 However, Tatar's discouraging playoff performance this season was too small a sample size to begin to undervalue his abilities. Many players underperformed in the playoffs this season. It could be argued that some of that was based on circumstance. In any case, should the Habs make the playoffs next season, Tatar will have to reverse the narrative that he is a playoff bust. If he is able to remain consistent through a playoff run, he will further solidify himself as a player worthy of a long contract.
It should be noted that the loss of Tatar at the end of next season would create a hole for the Canadiens moving forward. However, if this is Tatar's last season on the team, he is in a position to push the team to success. Ironically, the better he plays, the less likely he is to return. In the short term, Habs fans should be excited about this. Besides, in a year where Bergevin has made several unexpected deals, who knows, maybe he will find a way to bring Tatar back at a bargain.
---
---