For teams who have no hope of making the playoffs, this is the time of year where fans start counting down the days until the draft. As for the team themselves, this is where player evaluation for next season begins. For the Montreal Canadiens, general manager Marc Bergevin has already indicated the team needs to get younger and faster. The youngsters need to establish themselves and veterans have to show they deserve to stick around. Welcome to the early start of training camp.
The Youth Movement
Since the calendar flipped to 2018, the Habs' roster has been transitioning to a more youthful look. In some cases, circumstances have contributed to this transition. Injuries have piled up while trades have created holes. Carey Price, Shea Weber, and Max Pacioretty are all on injured reserve while others like Phillip Danault and Charles Hudon have spent time on IR lately.  
On defence, Victor Mete fractured his finger, which ended a solid rookie season for him. On the bright side, Noah Juulsen has stepped in and performed well on the blue line and is making his case for a roster spot next season. Mike Reilly is a little older at 24 and has NHL experience but he has acquitted himself nicely since quietly coming over at the trade deadline. Rinat Valiev got hurt in his second game with the Habs, which prompted the recall for Brett Lernout. For Lernout, this is a big opportunity for him. He has spent three years in the AHL and has the tools to be a solid bottom-pairing player. Now, this is a chance for him to show he deserves to be in the team's plans going forward.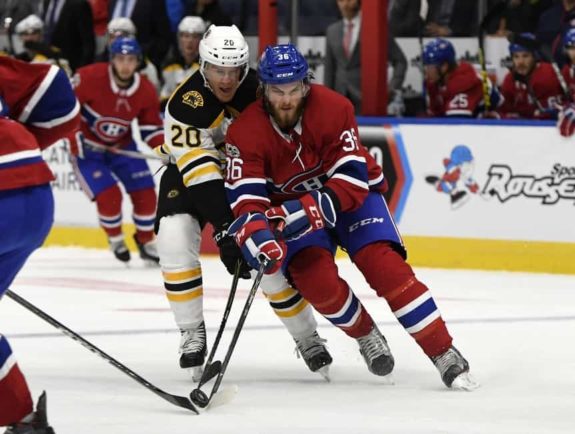 Up front, Jacob de la Rose and Nikita Scherbak are two players trying to carve out roles for themselves. Both players have good size and skate well but their playing styles are complete opposites. de la Rose is a defensive player with minimal offence while Scherbak is the offensively gifted one. Scherbak in particular has shown more promise during this NHL stint but De la Rose has been better since the trade deadline. Both players will be battling for roster spots next season and it's crucial for them to show management their NHL upside. 
Overall, Montreal's forward corps is pretty young. The oldest forward on the roster is Pacioretty at 29 (excluding Ales Hemsky who is 34 but has barely played this season). Most of the forward corps is 25 or younger and it's a nice blend of young players and veterans. What's missing is more talent. Besides the obvious holes at centre ice, the team needs more elite skill to keep pace with other teams. The quantity of youth is a good first step. Now it's about getting more quality.
Veteran Evaluation
It's important that the team have veterans around, but more importantly, veterans who contribute and play at a high level. The Habs have excellent ones in Price, Weber and Pacioretty while others like Jeff Petry, Paul Byron and Andrew Shaw are good supporting veterans. Whether it's due to injuries or having an off year, many of the team's veterans did not play up to their individual standards. While they are not necessarily in danger of being traded or demoted, they need to be better next season. They have all summer to rest and rehab any injuries but to have them come in next season and repeat this one would be unacceptable.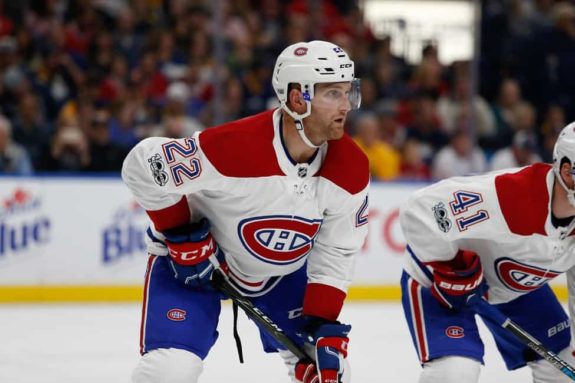 The Habs have a few veterans where you see how the game is passing them by. Karl Alzner and Jordie Benn really struggle at times with how fast the game is. Alzner has looked a little better playing with Juulsen and away from Petry, a pairing that never worked well together. For Benn, he is serviceable in a small role but runs into trouble when he starts to play above his skill level. The team's younger defencemen lack the NHL experience of Alzner and Benn, but they are miles ahead in the speed department and have more to give, skill wise. Alzner's deal is a tough sell on the trade market but Benn has just one more year at $1.1 million and his spot would be better served for one of the younger defencemen. 
The Summer Ahead
It's going to be a long summer for the Habs. It's hard to picture many of them being invited to the World Championships in the spring with the exception of Brendan Gallagher and maybe Alex Galchenyuk and Jonathan Drouin. Hopefully the influx of youth continues into next season and that the veterans find their games again and come back in the fall healthy. This is the time of year where it's important to make an impression before training camp opens in September. The next few weeks will make it even more clear on who deserves to stay and be a part of the solution and who might be better off elsewhere.