In this edition of the Vancouver Canucks News & Rumors, the organization traded for Russian forward Vitali Kravtsov. Additionally, they traded away defenceman Riley Stillman to the Buffalo Sabres. Also, Toronto Maple Leafs forward Alex Kerfoot is linked to the Canucks as a potential trade destination.
Canucks Trade for Kravtsov
The Canucks acquired Kravtsov from the New York Rangers for William Lockwood and a 2026 seventh-round pick. The former 2018 ninth-overall pick played 48 games with the Rangers over the past two seasons, scoring five goals and 10 points. His agent Dan Milstein had permission to talk to other teams about a trade, and the Canucks were an obvious fit since he is friends with the Russians on the team. (from 'Canucks acquire former first rounder Vitali Kravtsov from the Rangers,' The Province, February 25, 2023).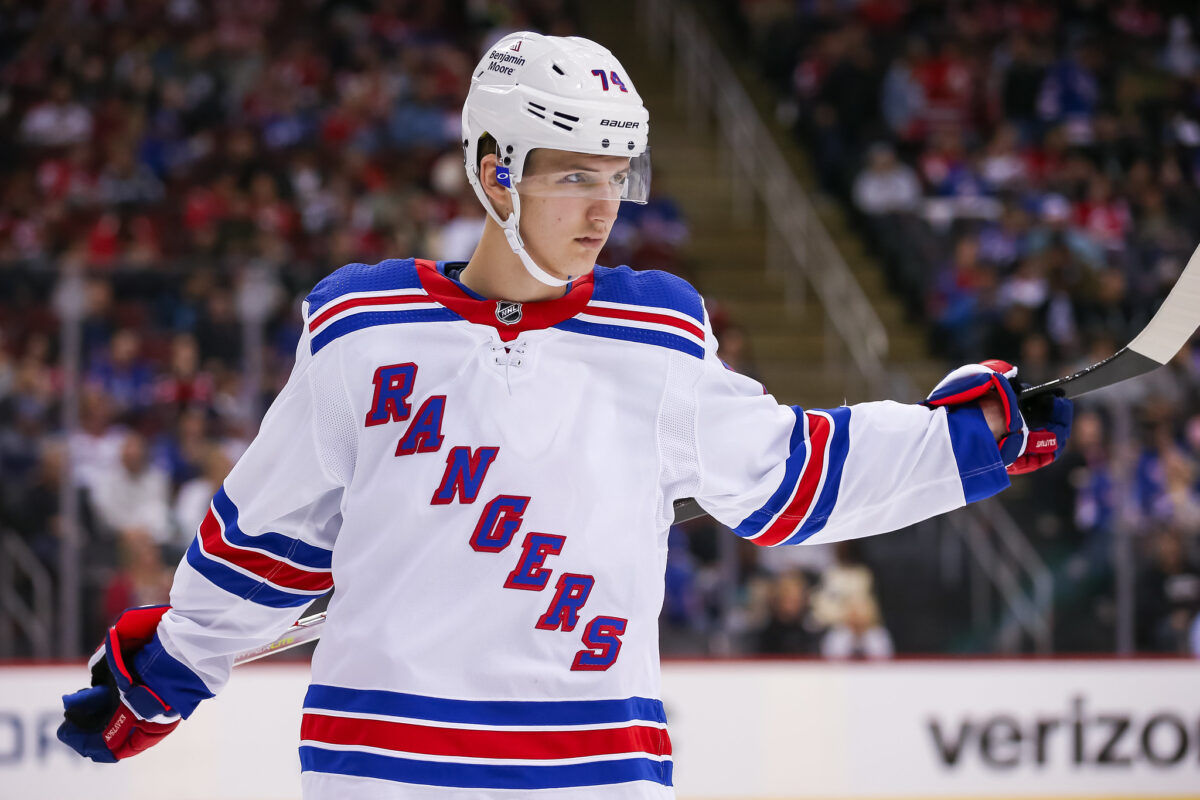 Kravtsov commented on joining the Canucks during a room session on Monday morning  (from 'Canucks: Comfort factor will help Vitali Kravtsov make opposition uncomfortable,' The Province, February 27, 2023).
"I'm just so happy and I've already spoken to the Russian guys here and they told me all the good stuff about Vancouver," he said. "And I'm very excited to be with Podkolzin on the same team. It's the first day and it's hard when you try to meet everybody, and they (Podkolzin, Kuzmenko) are just doing everything to make me feel comfortable here."
---
---
Head coach Rick Tocchet commented on the addition of Kravtsov, noting the forward joined the club in Dallas on Monday. 
"I think he's got a lot of upside, so I'm anxious to see what he can bring for us," Tocchet said. "He's got a lot of tools, I heard. I haven't really watched a lot of him play, more from other people. I don't know that the deal was there (in New York), what happened, but he's got a new lease on life. Now it's his opportunity to take it and see where he goes with it."
Kravtsov played in his first game as a Canucks in their 5-4 win over the Dallas Stars. He averaged 8:53 in time on ice, one shot on goal and two hits.
Canucks Trade Riley Stillman to Buffalo
On Monday, the Canucks general manager Patrik Allvin announced the organization traded defenceman Stillman to the Sabres in return for forward prospect Josh Bloom. The Canucks acquired Stillman earlier in the season from the Chicago Blackhawks for Jason Dickinson and a second-round pick in a salary dump move.
Related: Canucks Make Smart Bet By Trading for Kravtsov
---
Latest News & Highlights
---
"We would first like to thank Riley Stillman for his time here in Vancouver and we wish him the best in Buffalo," said Allvin. "We are excited to add another young prospect in Josh Bloom and we look forward to working with him and helping his development in the years to come."
Bloom is a 2021 third-round draft pick. Standing at 6-foot-2, 182 pounds, he is playing in the Ontario Hockey League with the North Bay Battalion. In 59 games, the 19-year-old has 26 goals and 58 points. He is a big-bodied forward that can get to the net and has a strong release.
Kerfoot to Canucks Rumblings
Frank Seravalli reported there is smoke with Kerfoot to the Canucks. The Maple Leafs traded for Jake McCabe and Sam Lafferty, which leads to Servalli believing either the Maple Leafs are not planning to activate goaltender Matt Murray until the playoffs, or they are moving one of Kerfoot, Pierre Engvall or Justin Holl.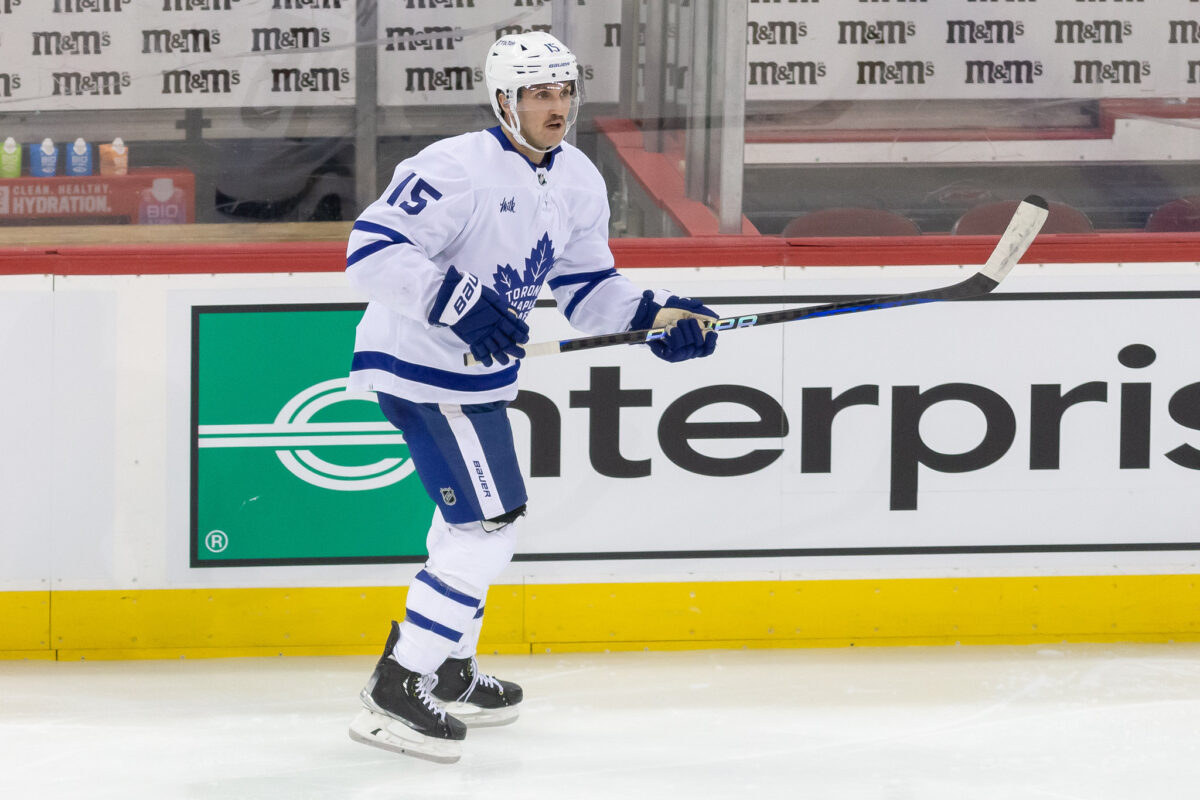 The club is tight on cap space, and a trade involving Kerfoot to Vancouver is possible. The pending unrestricted free agent's production has dropped off compared to last season, as he's posted seven goals and 26 points in 60 games compared to last season's 13 goals and 51 points in 82 games. The Canucks can add a draft pick or prospect as a sweetener in a deal.
Trade Update on Canucks Pieces
Luke Schenn, J.T. Miller, Brock Boeser and Thatcher Demko are all players rumored to have trade interest from other NHL teams. Elliotte Friedman discussed the first three players on Monday. He noted it has been up and down on the Schenn front, as they've been close, but clubs have backed off at times. He adds the Canucks were frustrated as they felt one team was close to agreeing to a deal.
Meanwhile, he believes a Miller trade is unlikely, while there is a chance Boeser is moved this week as teams are showing interest. However, the term on his deal is hard to trade. Rick Dhaliwal added Boeser could be moved with some of the forwards coming off the market, including Timo Meier. He also reported there hasn't been a trade request from Demko, and Canucks aren't trading the goaltender unless there is a grand slam offer.
Canucks Injury Update: Miller, Demko & Bear
The Canucks announced a few injury updates over the weekend as well. First, the club announced Miller is out week-to-week with a lower-body injury. The injury likely took the veteran forward off the trade market. Meanwhile, the organization placed Ethan Bear on injured reserve and recalled Noah Juulsen from the Abbotsford Canucks of the American Hockey League (AHL).
In positive news, the Canucks announced they activated Demko from injured reserve ahead of Monday's game against the Stars. The 26-year-old has been out with a groin injury since early December. As a result of his activation, the Canucks assigned Arthur Silovs to Abbotsford in the AHL. Demko started and picked up a win in his first game back. He posted a .895 save percentage and allowed four goals.