With the 2023 NHL Trade Deadline nearing, the Seattle Kraken find themselves, surprisingly to some, in a playoff spot. How much longer they remain in the second wild-card position in the Western Conference could be determined by what happens this week, as the team begins a crucial four-game road trip with a lot on the line.
Kraken's Misery Last Week
Before looking ahead, let's look back, starting with the 'good.' Entering play on Feb. 20, 2023, the Kraken sat fourth in the Pacific Division with a record of 32-18-6. Head coach Dave Hakstol's team was coming off a stretch of four games, having won three of them and looked very good in doing so. They beat the Philadelphia Flyers 4-3 on Feb. 12 and then four days later by a score of 6-2. Yes, the Flyers are not having a good season, but "wins are wins." That Saturday, Feb. 18, Seattle doubled up the Detroit Red Wings 4-2. Three wins by a combined score of 14-7, so not bad.
Related: Kraken Would be Wise to Gauge Trade Market for Soucy
---
Latest News & Highlights
---
The only blemish during that stretch was a 3-2 shootout loss to the Winnipeg Jets, but that extra point ensured the Kraken took seven of a possible eight in a key week. Of note, goaltender Philipp Grubauer was in net for each contest and never posted a goals-against average (GAA) of higher than 3.00, going as low as 1.85 in Seattle's game against the Jets.
That's the good. Now for the bad. The Kraken had a game against the lowly San Jose Sharks on Feb. 20 — one that "any" team in a playoff race should win — and failed to secure the victory. In fact, Seattle looked dismal in losing 4-0 to a club with only 45 points on the season. Hakstol went with a struggling Martin Jones in net for that one. In his last five starts, including the one against San Jose, he's allowed 18 goals with a GAA of 3.78 and a save percentage (SV%) of .870.
Next up was a meeting with the best team in the NHL. Although the Kraken put up a good fight against a Boston Bruins side with a record of 43-8-5, they fell just short, losing 6-5. Still, it was a much better effort. Then, this past Sunday, Feb. 26, Seattle dropped another one, this time 5-1 to the Toronto Maple Leafs. So, three games, three losses by a combined score of 15-6.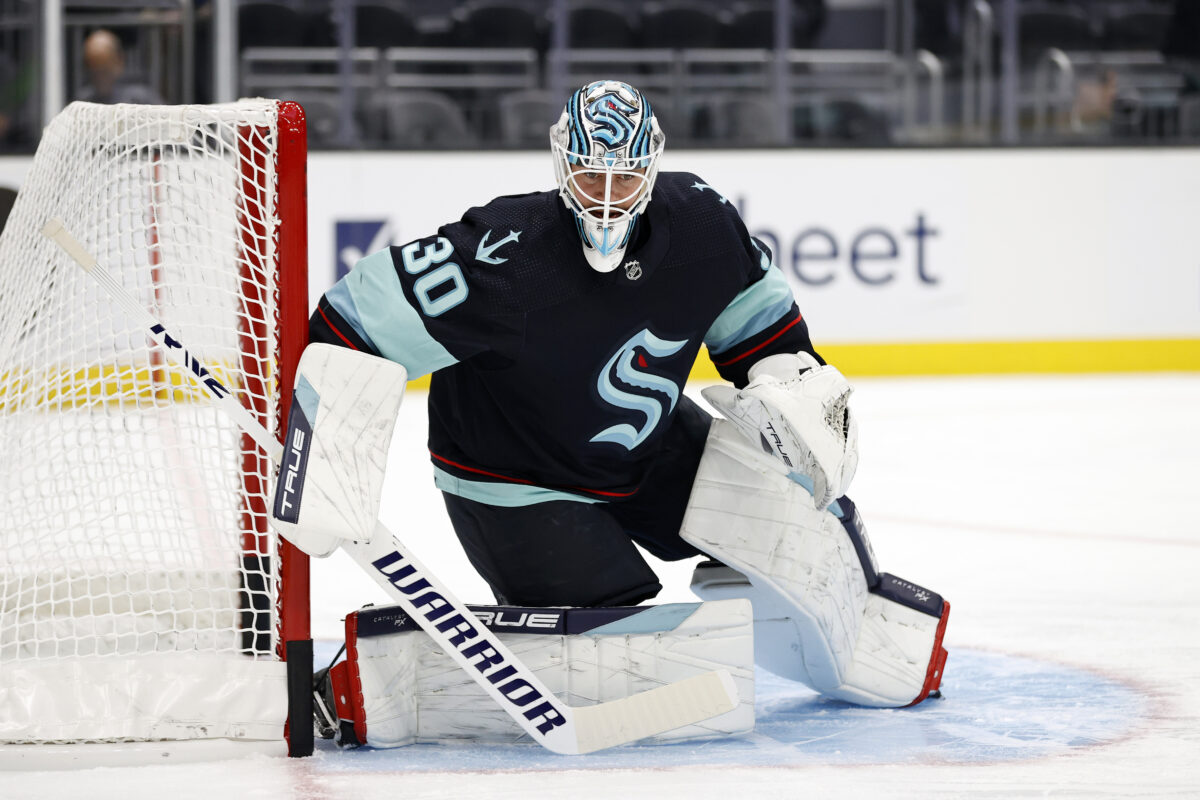 To recap — two weeks, one with seven of eight possible points and the other, none out of a possible six. Inconsistency won't win you games in this league, won't secure you a playoff spot, and will not make general manager Ron Francis' job any easier in the days leading up to the March 3 trade deadline.
Kraken's Tough Trip This Week
Here's a look at the Pacific Division standings as of Feb. 27: The Vegas Golden Knights lead with 76 points in 59 games, while the Los Angeles Kings, having played two more games than Vegas, lie two points back with 74. The Edmonton Oilers sit third with 72 points, which adds up to three teams within four points of each other for the top three spots in the division. The Kraken are fourth with 70 points, with a game in hand on Edmonton and two on the Kings.
This vital road trip starts Tuesday with a game in St. Louis against a reeling Blues team. Following that meeting, Seattle will take on the Detroit Red Wings Thursday before playing the Columbus Blue Jackets the following evening. They then wrap up the trip against the Colorado Avalanche on Sunday. On paper and based on the standings, two of these games should be automatic wins for the Kraken. St. Louis has lost five in a row, and head coach Craig Berube publicly criticized his high-paid players for their lack of effort. They aren't in a good spot.
And Columbus? Well, you'd think this would be an easy two points against the worst team in the entire league. As for Detroit and Colorado, those contests could go either way. As mentioned, Seattle beat Detroit 4-2 and are 1-1 against the Avalanche this season, with their lone loss coming in the shootout.
This no doubt sets up to be a stressful week for the Kraken. In total, they have 23 games remaining on their schedule, and some very tough ones at that. But they stand to benefit from some easier contests later on against teams like the Arizona Coyotes and Chicago Blackhawks. All said, with a playoff spot in hopeful sight, Seattle doesn't have the luxury of taking any night off, as every single point counts.
---
---