The Vancouver Canucks' 2020 playoff run came to an end on Friday after an improbable second-round appearance against the Vegas Golden Knights. They not only met expectations this season, but they also exceeded them by a large margin. Despite the loss and the disappointment that went along with it, there were a lot of positives we can take away from this latest venture into the postseason.
Pettersson Was a Two-Way Force in the Playoffs
No one knew how Elias Pettersson was going to react to the tight-checking and intense physical play of the playoffs. We had a bit of an idea from his days in the Swedish Hockey League, but I don't think anyone thought he would end up dominating the postseason. But that's exactly what he did. Yes, he had his ups and downs, but in the end, he showed everyone that he could be a force not only offensively, but defensively as well.
Related: 5 Takeaways From Canucks' Game 7 Loss the Golden Knights
Pettersson finished the playoffs with 7 goals and 18 points, which ranked him seventh all-time on a list of centers 21 or younger. That list includes names like Wayne Gretzky, Sidney Crosby, and Stan Mikita. If the run would have continued, I have no doubt in my mind that he would have climbed that list to number one as he was only six points back of Crosby's 24 points set in 2009.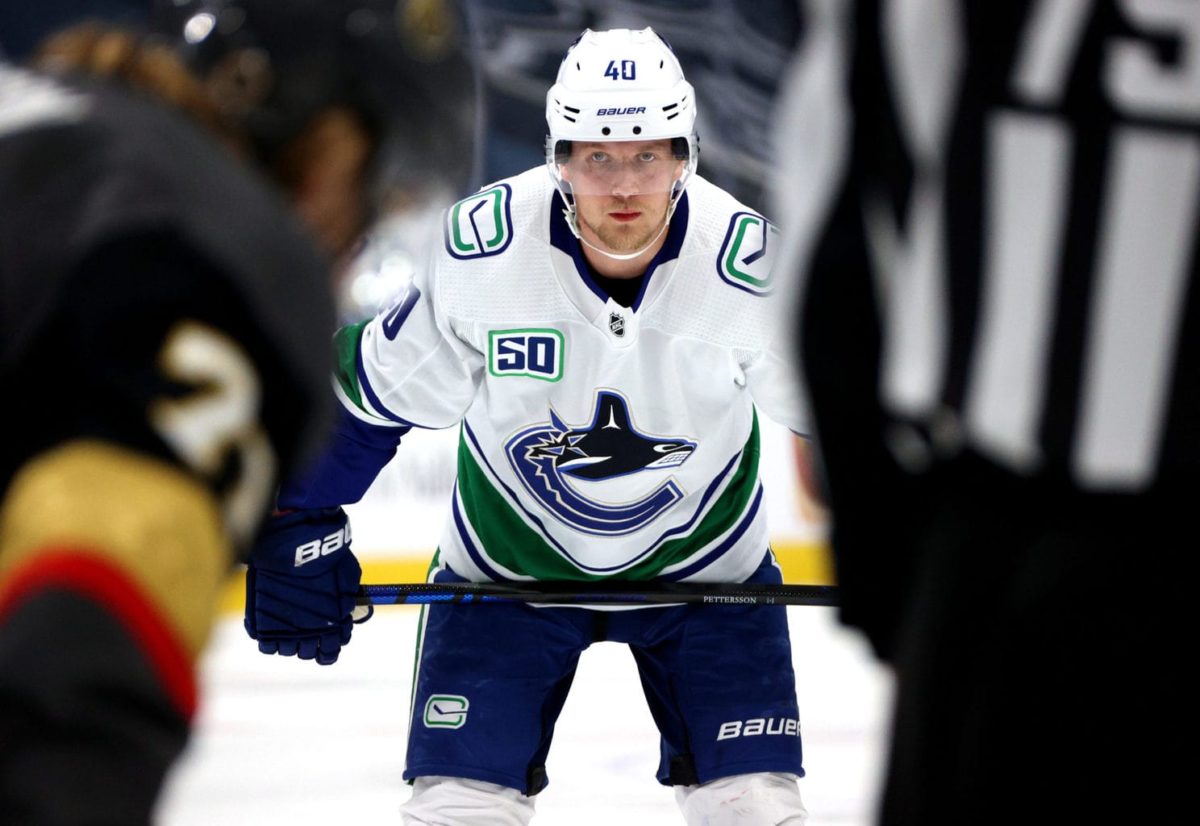 The most impressive thing about Pettersson's performance this postseason was the fact that he didn't just make an impact on the scoreboard, but on the defensive side of the game as well. He blocked shots, made slick defensive plays, and was quick on the backcheck too. He also was not afraid to get in front of the net and set screens which directly led to two goals in Game 6. At 21-years-old, he was a playoff performer at both ends of the rink.
Hughes is Already One of the Best in the NHL
After Game 7's 3-0 defeat to the Golden Knights, it was revealed that Quinn Hughes was nursing knee and ankle injuries that required constant treatment. Despite that, he still put up one goal and six points in the series. He wasn't his usual dynamic self, but now that we know he was playing injured, worries about him not being able to handle increased physical pressure should be put to rest now. If he were healthy, I'm sure he would have been as dominant as he was against the St Louis Blues and Minnesota Wild.
The fact that Hughes performed at a high level in the pressure cooker of the playoffs at 20-years-old should be music to everyone's ears. He finished the playoffs with an eye-popping 16 points and was talked about in the same breath as Hall-of-Famer Ray Bourque. He also broke the franchise record for points in the playoffs which stood for 26 years.
Not only that but Hughes also broke the NHL record for assists by a rookie defenceman passing Al Macinnis and Janne Niinimaa which were both accomplished when he wasn't even born yet. He's quickly become one of the best in Canucks' history and is flirting with top-five status in the NHL right now.
With all Hughes has done in the NHL in just over a season, you have to start wondering what else he could accomplish. The sky's the limit for the young wunderkind, and we should feel privileged to be able to watch him for the next decade or so.
The thing you notice about Huggy, and what is so amazing for a young kid, is that he has shown a high level of consistency…With a young kid, you tend to see more of an up-and-down trend. It's great to see the maturity he has shown in his first year and especially into the playoffs.

Tyler Myers (from 'Ben Kuzma: A performance ceiling for young Canucks star Hughes? Probably not' The Province, 9/4/20)
As Tyler Myers said, the amazing part of Hughes' game is his consistency and drive to stay even keel. Amidst intense physical play and pressure, he always found a way to generate offence and produce points. As the series went on against the Golden Knights, he adjusted his play to get out of the zone quicker and cleaner. Even though he was struggling with an injury, he still played his usual minutes and fought through the pain to help his team win. That's the mark of a champion and a truly elite player.
Bo Knows Leadership
In his first season as captain of the Canucks, Bo Horvat not only led his team to the playoffs but he also cemented his legacy as one of the top-performing captains in franchise history. His ten goals were in the top-20 of active players and third in Canucks' history just behind Trevor Linden's 12 and Pavel Bure's 16, which were both set in 1994. He now has 11 goals in 23 playoff games and should continue to be a prominent figure in future playoff runs.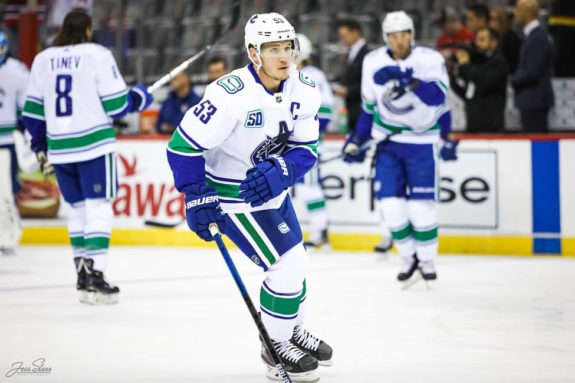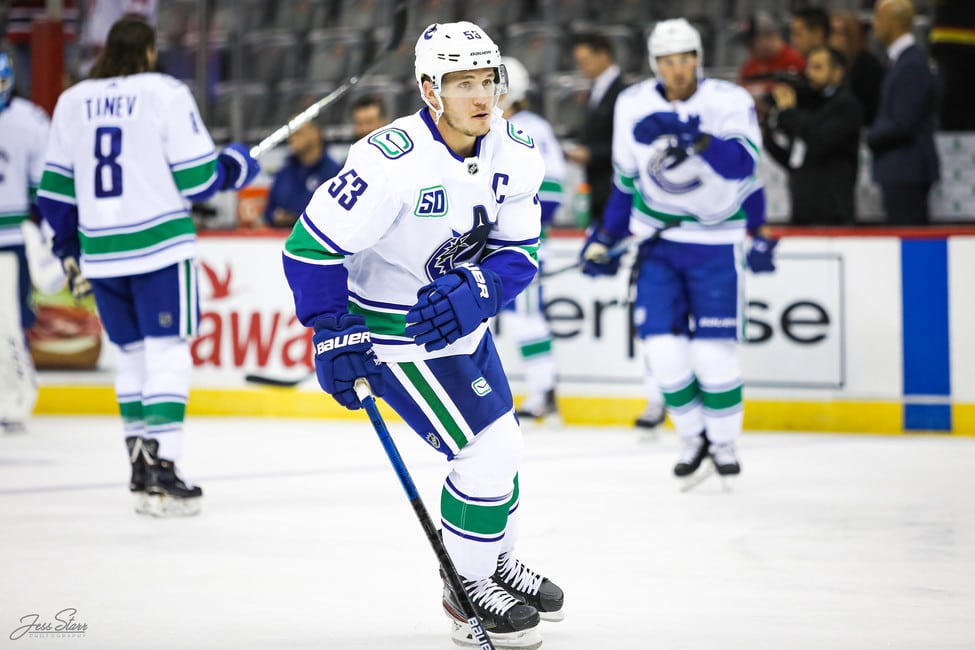 Horvat was also a monster in the faceoff circle finishing with an insane 58.9 percent success rate. He basically was everything for the Canucks this postseason.
Related: Canucks' Top-20 Goal Scorers All-Time
In addition to his play on the ice, Horvat was a leader off the ice too, as he was one of the main drivers of the decision to postpone games in support of the Black Lives Matter movement.
It was a collective, it was a bunch of us, the leadership group in the room…We thought the best thing to do was see Vegas and see what they thought we should do…He [Reaves] gave us his perspective on the best course of action…We agreed and we wanted to back him.

Bo Horvat (from 'Patrick Johnston: Canucks' Bo Horvat 'C's the day' in helping lead NHL Black Lives response' The Province, 8/30/20)
That's how strong a leader Horvat is. He's a character guy on and off the ice and backs up his words with action. The Canucks are lucky to have him as their captain.
Demko Can Be a Number One Goaltender
In a postseason full of crazy and amazing storylines, Thatcher Demko's was one of the best. With the Canucks' season in the balance and hanging by a thread, head coach Travis Green had to turn to his rookie backup after his workhorse Jacob Markstrom was deemed "unfit to play". Demko had not played since December, and there were legitimate concerns on how he would perform in his first playoff experience.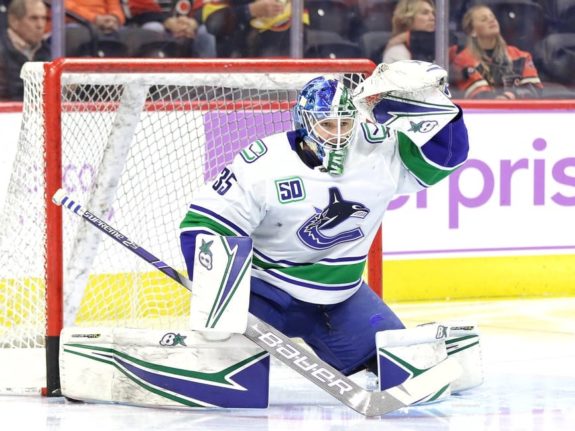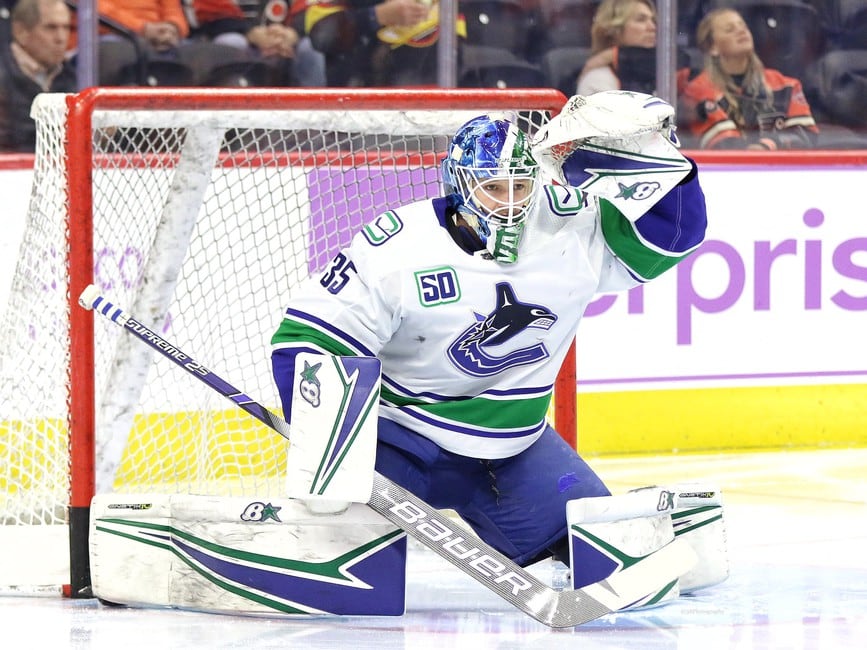 It turned out that those concerns were wildly unwarranted. Demko not only came away with the Game 5 victory but also stole it with a 42-save performance. He then followed that up with a show-stopping 48-save shutout and a 34-save final act in Game 7. Unfortunately, his team couldn't provide any run support to back up his brilliance in the end. Regardless, his first NHL postseason was beyond amazing as he finished with an unbelievable 0.64 goals against average (GAA) and .985 save percentage (SV%) stopping 128 of 130 shots in the series. Aldergrove native Shea Theodore was the only player to ever beat him.
Related: Canucks' Goaltending Options for Next Season
Throughout the three games he was calm, cool, and collected in the crease and even made some ten-bell saves in Game 7. At times it looked like the Golden Knights were just shooting at a brick wall in the net. Even when it looked like they had an open goal, he or one of his teammates would get in the way. He was just in a zone that reminded everyone of Roberto Luongo when he was at his best. Too bad the Canucks couldn't score at least one goal in Game 7, because I really believe he could have carried them to the Stanley Cup Final. But it is what it is.
Even though the dream of the Canucks' first Stanley Cup ended this season, Demko showed everyone that he could be a starting goaltender in the NHL. In the pressure cooker of three elimination games, he was their best player and the reason they even had a chance at the Conference Finals. If I was Jim Benning, I would look long and hard at going with him in 2020-21, especially if Markstrom wants too much money and term.
Canucks Ascent Has Just Begun
As much as we all wanted this playoff run to continue, the Canucks aren't done yet, not by a long shot. Their core players are in their early 20s, their captain is just approaching his prime and they have a young goaltender that hasn't even cut his teeth as a starter yet. Not to mention they have some exciting prospects in Vasili Podkolzin, Nils Hoglander, and Jack Rathbone just on the horizon. This team is only going to get stronger, and this recent playoff experience will be invaluable in the future. Horvat has even begun to plan for the next playoff run already.
We shouldn't hang our heads; we should learn from it. We're going to learn from it. We all said it in the room already: 'We can't wait to get back next year and prove ourselves again.'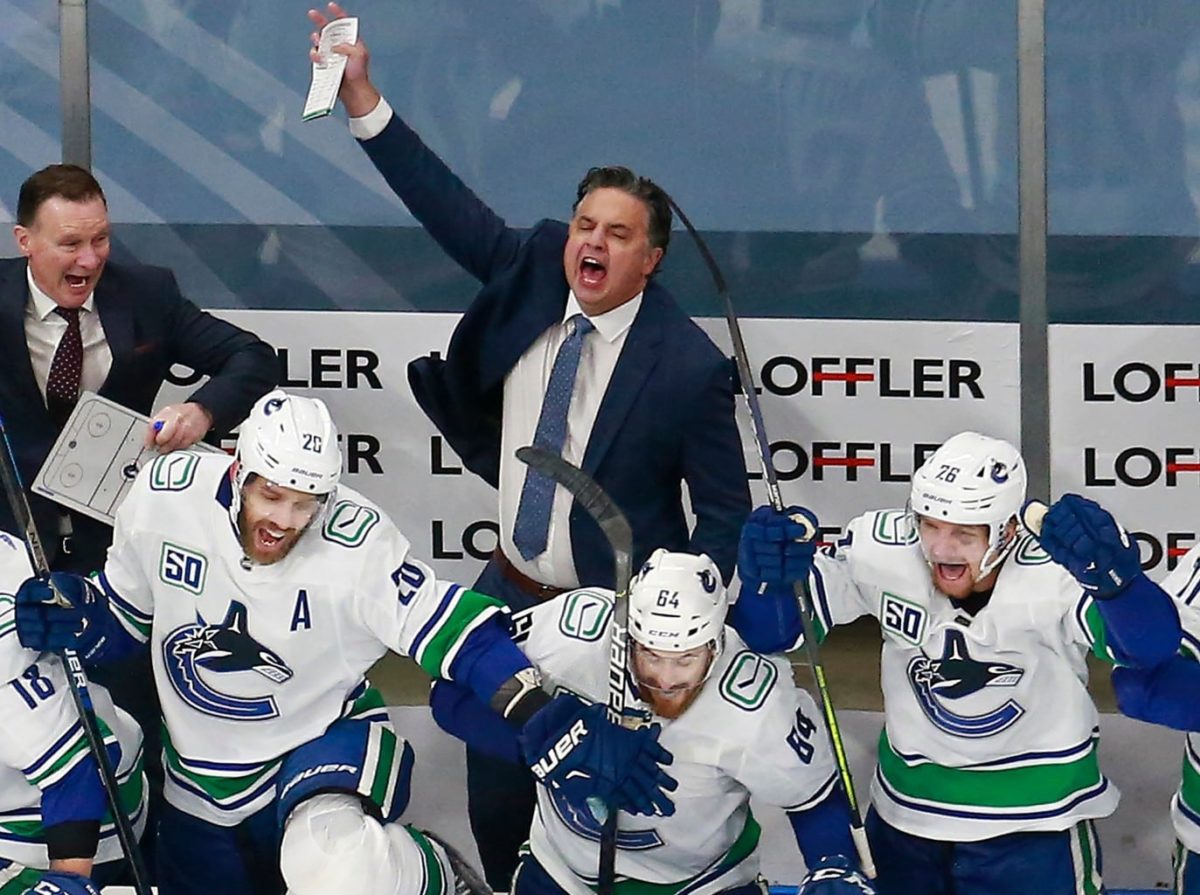 Yes, the Canucks will look different with Markstrom, Chris Tanev, and Tyler Toffoli potentially moving on, but there are many young players that could take their place. This team's ascent has just begun, and I for one can't wait for it to continue in a few months time. Until then, let's enjoy the memories they gave us during one of the most exciting runs since 2011. I'm sure there will be plenty more in the seasons to come.
---
---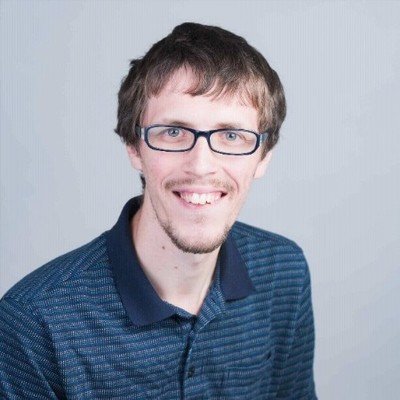 Matthew Zator is the assistant managing editor at THW and a writer who lives and breathes Vancouver Canucks hockey, the NHL Draft, and prospects in general. He loves talking about young players and their potential. Matthew is a must-read for Canucks fans and fans of the NHL Draft and its prospects. For interview requests or content information, you can follow Matthew through his social media accounts which are listed under his photo at the conclusion of articles like this one about Tyler Motte.
Matthew also hosts The Hockey Writers Prospect Corner on YouTube and is the co-host of The Hockey Writers Podcast & Western Centric Podcast.