Less than 24 hours after trading up to gamble on Hendrix Lapierre, the Washington Capitals made four picks in Rounds 4-7. GM Brian MacLellan did make the most of his assets, though.
RELATED: Capitals Gamble With Hendrix Lapierre on NHL Draft Day 1
He grabbed two forwards that fit a similar mold, a precociously confident goaltender, and a smaller but highly skilled forward who maybe slid too far.
Round 4, 117th Overall: Bogdan Trineyev (MHK Dynamo Moskva: MHL)
Bogdan Trineyev is a 6-foot-3, 198-pound forward from Dynamo Moskva's junior team in the MHL. The scouting report on him is that he's a big player who knows how to play big. What that means is his strength and how he uses it to match his big, powerful frame.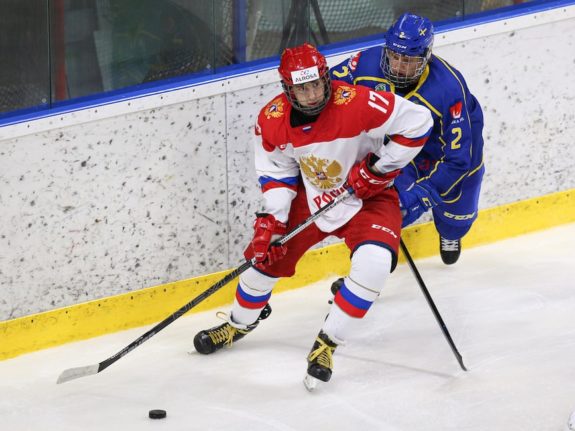 The best parts of his game are his compete level, speed, and his willingness to battle along the boards in all three zones. He's a strong competitor in the areas of the game that NHL coaches are always preaching about, and he has the footspeed to get to these areas and involve himself in the play often. This player makes his living in the hard to play areas of the ice.
#ALLCAPS with one of my favourite players in the draft, Bogdan Trineyev #nhldraft2020

— Dennis Schellenberg (@ScoutingFactory) October 7, 2020
Dennis Schellenberg's seal of approval is a good vote of confidence for this player. In spite of that, the downsides to Trineyev's game are unfortunate. His shooting and passing ability are average at best. He does have pretty good hands in tight, though, and might actually find a nice role for himself as a net-front presence in the future in North America. Ultimately, Trineyev is one of those cases where a young Russian skater might actually find himself better off on the smaller ice of North America carving a gritty role out for himself.
Round 5, 148th Overall: Bear Hughes (Spokane: WHL)
Bear Hughes is such a strange story. (from 'Spokane Chiefs' Bear Hughes took unusual path to success in Western Hockey League,' The Spokesman Review, 12/26/2019) The 6-foot-1, 165-pound, 19-year-old played his first season of major junior hockey this year. And he did his best to make up for lost time.
In 61 games for the Spokane Chiefs, the feisty rookie scored 16 goals and 31 assists. Those are not the kind of numbers that typically result in a player getting drafted. However, the manner in which he scores is the key. Hughes tenaciously moves into dangerous areas and drives pucks towards the net. He'll park himself near a goal crease and can be very difficult to dislodge. His stick is always hungry for a tip-in or a rebound. That skillset is highly projectable in the NHL, especially when it's combined with tenacity and a willingness to get physical.
Round 6, 179th Overall: Garin Bjorklund (Medicine Hat: WHL)
Goaltender Garin Bjorklund spent this season as the second piece of a Medicine Hat's goaltending tandem with 2019 37th overall pick, Mads Sogaard. He's got the size that NHL teams are looking for, checking in at 6-foot-2. A first glance at Bjorklund's stats doesn't leave a glowing impression of him. But, there's more to him than his stats convey. After all, NHL Central Scouting ranked him 5th among North American goalies.
Bjorklund is quick. He's really quick, and he knows it. This is a player who is supremely confident in his own abilities no matter what happens in the game. He flashes a quick glove hand, and his side to side movement is impressively zippy. This allows him to make some really flashy saves, and he seems to thrive on it. It actually makes him really fun to watch, which is not something you can say about a lot of goaltenders.
Round 7, 211th Overall: Oskar Magnusson (Malmo: SHL)
Swedish winger Oskar Magnusson probably should not have been available in the 7th round. His 22 goals and 26 assists in 38 games saw him average 1.26 points per game in the Swedish U20 league. Only Zion Nybeck and Emil Heineman averaged better point totals among first year draft eligible prospects, and both went substantially higher than Magnusson.
RELATED: Oskar Magnusson – 2020 NHL Draft Prospect Profile
His point totals would be impressive enough on their own, but Magnusson shows high level skills in aspects of the offensive game that do not show up on a stat sheet. He's a very capable puck carrier and does very well in gaining the offensive zone. He uses excellent vision to move the puck to teammates, but then engages in the forecheck to try to attack dangerous areas of the ice. Really the only knock on him is that he's 5-foot-10 and 165 pounds. If he could add 15-20 pounds and continue to develop, his threat as a shooter might be a real steal for the Capitals here.
RELATED: Capitals' 2020 Draft Preview
In my draft preview I stated:
…they need to find players with top-six forward potential or top-four defenders even if they seem unlikely to reach their ceiling. They may be considered flawed, but they have a distinct skill set that makes them stand out. The Capitals would be betting on themselves to help these young players blossom at the next level.
Every player MacLellan picked on Day 2 has a distinctive skill that could carry them to the NHL. Trineyev's speed and compete level are things coaches covet. Hughes' tenacity around the net could see him become the next Patric Hornqvist type of player. Bjorklund's agility could see him continue to improve as he hones his technique. Magnusson just has to continue doing what he's been doing at each successive level he comes to. In the end, the Capitals had a pretty successful Day 2 of the draft.
---
---