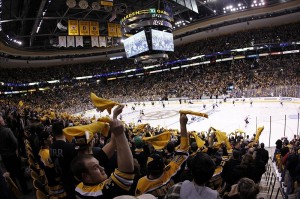 The Washington Capitals acquired center Zach Hamill from the Boston Bruins in exchange for left wing Chris Bourque. It was announced Saturday by Vice President and General Manager George McPhee.
Hamill, a native of Port Coquitlam, British Columbia was drafted 8th overall in the 1st round of the 2007 NHL Entry Draft held at the Nationwide Arena in Columbus, OH.
After spending his entire WHL career with the Everett Silvertips, the highly regarded center at the time, arrived in Boston to begin his journey with the Boston Bruins with high expectations from the Bruins brass.
As a solid two-way center with good play making ability, Hamill found residency in Providence, skating the first three seasons as a pro with the Bruins top minor league affiliate of the American Hockey League.
It never escalated to a full-time role with the parent club though for the 5'11" 173 prospect. He had a cup of coffee in each of the last three seasons in Boston, appearing in 20 games total and adding just four assists to the score sheet.
The 23-year old was placed on waivers by the Bruins on February 6th, 2011. He cleared waivers as 29 other NHL clubs passed on acquiring his rights.
Hamill is due to become a restricted free agent this summer. His qualifying offer for next season is $826,875 according to the Washington Post.
As for the son of Hall-of-Famer Raymond Bourque, Chris is set to become an unrestricted free agent this summer, but will have a chance to sign a contract with the organization his Father spent nearly his entire career with.
The Bruins will make an attempt to sign the 5'8″ forward to a 2-way contract for added depth purposes. Having played in 33 NHL contests, Bourque has contributed one goal and three assists.
Washington Capitals off-season notebook
The Washington Capitals have renewed their contract with the American Hockey League's Hershey Bears through the 2013-14 season.
"We are excited to extend our affiliation with the Hershey Bears,"GM George McPhee said. "The Bears are one of the most storied franchises in the AHL and we are looking forward to continued development of some of our top prospects in Hershey."
Follow me on Twitter @ DarrenCoslov