The Washington Capitals have signed University of North Dakota forward Shane Gersich to a two-year, entry-level contract, general manager Brian MacLellan announced Friday.
With this contract, the 21-year-old forward is eligible to start playing immediately and has already joined the team in Montreal. His contract carries an annual AAV of $925,000 and means that the junior will forego his senior year at North Dakota.
"I thought I had a good season last year and my confidence is pretty high right now, and I feel good out there," Gersich said following the week at the Capitals' development camp. "I worked on my game last year and got to play a ton, so you just come into these camps and you want to be a leader and you go from there."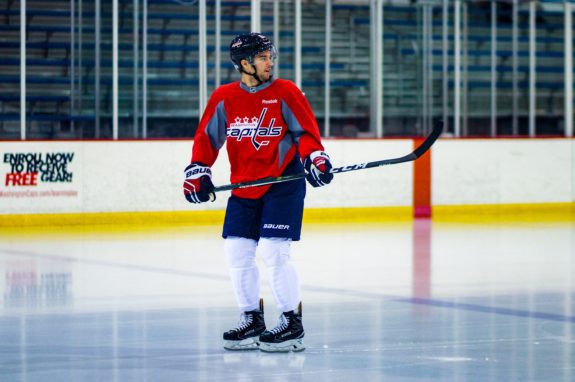 In 40 games with the Fighting Hawks this season, Gersich has registered 13 goals and 29 points, coming in second in goal-scoring among his teammates. Last season, he turned heads and truly caught the attention of the front office this past year with 21 goals and 37 points in 40 games in his sophomore season, followed by an impressive performance at Washington's 2017 development camp.
What Gersich Brings to the Table
Throughout his time in the NCAA, Gersich has become a top goal-scorer and leader among teammates, while also making significant strides in his development each season. The 5-foot-11, 175-pound winger also helped North Dakota to an NCAA championship when he was a freshman in 2016, opening the scoring in the championship game against Quinnipiac.
Last season, Gersich elected to stay with North Dakota for his junior year in order to continue to develop his skills and better prepare for the jump to the professional level, while also seeking to win another NCAA championship.
"I want to keep working on my game, and you couldn't ask for a better place to play or a better team to play for," Gersich said.
Gerisch thrives in many different areas of his game, which should benefit Washington as he officially joins the organization. He is a renowned skater who has a lot of speed and can use that to his advantage, making him a fast-moving winger who can also play well at both ends of the rink. Not to mention, he can play the center or wing position and has also been working on evolving his shot and playmaking ability, and he can backcheck effectively.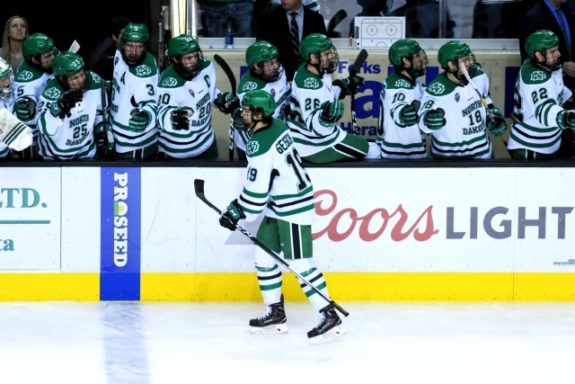 With the Hershey Bears nearing the end of their season, considering they did not qualify for the playoffs, Gersich will report to the Capitals and likely stay with the team and get time practicing and possibly playing in Washington. He will not only add organizational depth down the stretch, but the young forward could also help the Capitals as they enter the postseason and look to make a deep run this season.
Back in the summer, general manager Brian MacLellan acknowledged that Gersich was one of the best players at development camp, and had nothing but praise for him as he looked forward to his development with the organization.
Overall, Gersich has developed his game over the last few years to become a top prospect in the Capitals organization, and as he goes pro, he will also benefit Washington by providing more forward depth, almost immediately.