If you ask Washington Capitals prospect and University of North Dakota forward Shane Gersich what he'd be doing if he wasn't playing hockey, he'd be a bit at a loss for words.
"I never really thought about that," Gersich said. "Plan A was [to] always make the NHL."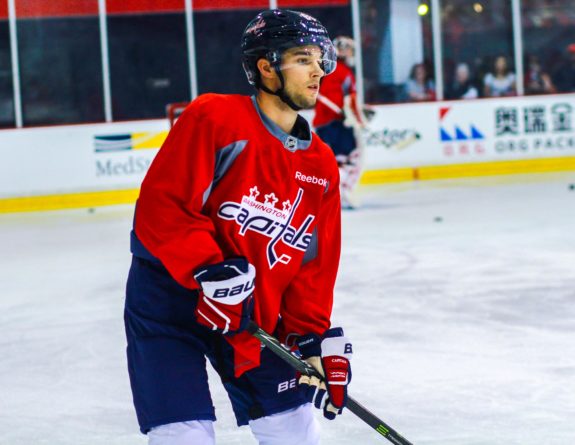 He has always had his eyes set on his dreams of playing professional hockey, and according to him, his plan B would still involve hockey. Fortunately for him, he has shown tremendous upside and ability that make Plan A a possibility.
Showing Promise
Since being drafted by Washington in the fifth round in 2014, the Capitals prospect has been developing in the NCAA. This past season, Gersich found his touch, and his outstanding performance turned heads not only through the NCAA but also through the Capitals organization.
In 40 games with North Dakota this season, the Minnesota native scored 21 goals and 37 points, leading all Fighting Hawks skaters in scoring while putting up the best numbers of his career.
[miptheme_quote author="Shane Gersich" style="text-center"]I thought I had a good season last year and my confidence is pretty high right now and I feel good out there. I worked on my game last year and got to play a ton so you just come into these camps and you want to be a leader and you go from there.[/miptheme_quote]
This year marked Gersich's fourth development camp, and though he learns a lot from the coaching staff and on-ice work, he also learns from his fellow prospects in the locker room.
"You get guys from everywhere and every different league and you can pick up things from guys that have played in the [AHL] or in major juniors or things like that," Gersich said. "You kind of become friends with a lot of these guys and see what their experience is like when they're playing with their club team back home, so you just try to pick up things from different guys and try to learn."
His confidence and success from his breakout season certainly carried over into Washington's 2017 development camp. The Capitals wrapped up camp this past week, but he left one of the best impressions. Not only did he appear to be one of the best skaters and showed great speed and ability, but he also scored a goal and assist during Washington's scrimmage, and was among the top forwards all week.
Not only did Capitals General Manager Brian MacLellan note Gerisch as the "best player" at development camp, but Hershey Bears head coach mused about the North Dakota sensation, noting that he would be a strong addition to the Bears' roster.
"From the forwards perspective, Shane Gersich, to me, was by far the most impressive," Mann told The Washington Post. "He looked great. I know it's developmental camp, but he certainly looked like a guy who would fit in great in Hershey as a left-winger. But from what I hear, he's heading back to college."
Back to School
The 20-year-old made the decision to stay in the NCAA and will be returning to North Dakota for his junior year. According to Gersich, many factors went into his choice.
"It was a lot of things," he said. "I want to keep working on my game there and you couldn't ask for a better place to play or a better team to play for. I know the Frozen Four is in Minnesota next year and that's our goal and I want to win another National Championship with North Dakota."
Not only does Gersich value his education, but he also believes that being at school helps his development as he continues to build on his game.
"Our coaching staff is unbelievable and the players are great," Gersich said. "They're really great with working with us in the mornings before practice and before class, so I think that's really where my game elevated and took another step."
A communications major, Gersich finds it can be difficult to balance schoolwork and hockey, but manages to stay on top of things by taking summer classes, doing as much schoolwork as possible and getting help from the University.
"It's tough, obviously, you're practicing every day and stuff like that, but you just gotta make sure you're going to class and make sure you're listening, and if you're doing that it's not too tough, honestly," Gersich said.
Even though he is one of Washington's most promising prospects and certainly seems ready to take on a role in the AHL, Gersich believes it is best for him to stay at college for his junior year. Despite his choice to stay in college through next season, he is unsure if he will stay long enough to graduate from North Dakota.
"I don't know, you just take it year by year and you go from there," Gersich said. "Every year, you try to grow your game and see where you're at and make a decision from there."
If Gersich does stay unsigned and finishes school at North Dakota, he could become a free agent and sign a deal elsewhere. And, from the looks of his past season, he could have a lot of suitors if that's the path he elects to take. Still, no matter where Gersich is headed, one thing is certain: he packs a lot of promise heading into the future.