In this second edition of "Kings-in-Waiting", we will take a closer look at Los Angeles Kings center prospect, Jaret Anderson-Dolan. The 18-year-old was taken with the Kings' second-round selection, 41st overall, in the 2017 NHL Entry Draft. Much like Matthew Villalta, whom we analysed in our inaugural edition, Anderson-Dolan has had a distinct journey throughout his hockey career.
Anderson-Dolan's Story
"JAD" was born in Calgary, Alberta and played his bantam, midget and prep hockey for the Edge School, a private outfit located just west of Calgary. The left-handed center was wildly successful playing for the Edge, notching 238 points over the course of four seasons. His productivity, coupled with his blazing speed and high hockey IQ, were reasons why WHL teams should have been clamoring to select the youngster early in the draft, but that didn't happen.
Kings Prospect Raised with Motherly Love
He experienced an unconventional yet blessed upbringing: he was raised by two mothers. His parents, Fran and Nancy, were both instrumental in instilling leadership, a strong work ethic and great dietary habits in their son. The Kings prospect had the following to say during an interview with NHL.com:
Growing up, Nancy, she has her own business with food addiction treatment. So I was raised in a house where we eat well and all organic food. For me it's kind of a habit, just talking about the things you can do to take advantage of your opponent. I was raised in a house where we eat right, so it's pretty easy for me.
Despite possessing all the right tools to excel at the next level and being ranked among the top five prospects for the 2014 WHL draft, Anderson-Dolan inexplicably slid down to the 14th selection, where he was nabbed by his current team, the Spokane Chiefs. Some have speculated that the slide had something to do with his upbringing and family, though obviously, no one has ever admitted to that.
Regardless of the reasons, after such a discouraging experience, most would be deterred from ever wanting to play hockey again. Not Anderson-Dolan. He used this unfortunate turn of events as motivation for his playing career and, more importantly, as a stepping stone for awareness.
Hockey's Unofficial LGBTQ Spokesperson
JAD further spoke about his upbringing and the newfound opportunity to promote social progress:
Obviously, I don't know any other way of growing up. Even though people may say, obviously, it's a little bit different, but for me it's completely normal. For me, it kind of gives you a little bit of perspective just how much the world is changing and I think it's come a long way in the past couple of years. It's really cool to kind of be in this situation and have a voice in the community that way.
The second-round pick also recently used his Instagram account to amplify an important message on International Women's Day:
Not only has JAD developed off the ice, his on-ice performance should have Kings fans eagerly anticipating his arrival in the "City of Angels".
JAD Finds His Groove in the "Lilac City"
Although Anderson-Dolan's first full season in 2015-16 with Spokane only garnered 26 points in 65 games, it was enough for the five-foot-eleven forward to take home the Chiefs' Rookie of the Year award.
He continued to develop as a productive center by forming potent chemistry with Edmonton Oilers prospect, Kailer Yamamoto. As a result, Anderson-Dolan became a point-per-game player and significantly improved his two-way game in his second year. Unfortunately, the dynamic duo's efforts were not enough to propel their team to the 2016-17 playoffs.
This year has been different. The club recently clinched the third playoff spot in the U.S. division and, as a result, will take on their bitter rivals, the Portland Winterhawks, in a first-round clash commencing on Saturday.
A major reason for the team's ascension was JAD's breakout season. In 70 games, he lit the lamp 40 times and added an equally impressive 51 assists. This was all without his favorite line-mate, Yamamoto, who played part of the season with the NHL's Oilers.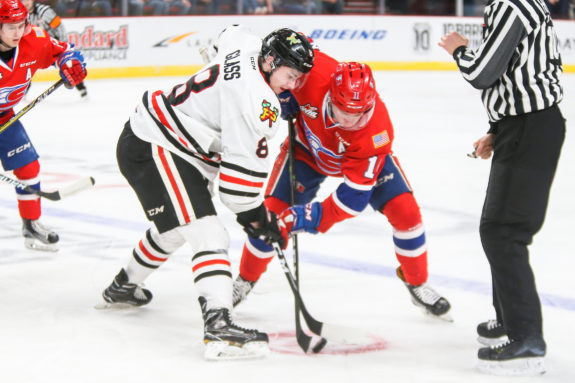 Captain Canada
As a reward for JAD's rapid progression and ingrained leadership, not only was he named to Canada's U18 World Junior team last year, he was rightfully assigned the squad's captaincy:
NEWS | Jaret Anderson-Dolan to captain Canada at #U18Worlds; Stelio Mattheos and Maxime Comtois will wear the 'A's. https://t.co/Oea73XcSr1 pic.twitter.com/lodGmLDnBZ

— Hockey Canada (@HockeyCanada) April 12, 2017
Despite a roster laden with future NHLers like Cody Glass, Stelio Mattheos and Maxime Comtois, the Canadians were ousted by Sweden in the quarterfinals. Unfortunately, Anderson-Dolan was unable to register a point in four games and was a disappointing minus-4. In spite of this, being named Canada's captain for such a high-profile tournament is a feather in his cap that cannot be taken away and can only help augment the youngster's future prospects.
Predicting Anderson-Dolan's Ceiling
Unlike most forwards in the junior ranks, Anderson-Dolan has managed to fill out his five-foot-eleven frame with 188 pounds of goodness. As mentioned earlier, he is a plus-plus skater that possesses a high hockey IQ. Below are scouting reports published before the Kings drafted him:
A hard-working versatile forward who can play a gritty or finesse game…skates extremely well and loves to get low and drive off his low center of gravity to burn around players…very balanced on his feet, enabling him to change direction with quick pivots…leans on his stick and is very good at protecting the puck from being stripped…plays a lot bigger than the listed size and is an absolute menace with the puck on his stick…does not hesitate to shoot the puck and has a good release with velocity that is likely to continue developing…great vision and is confident putting pucks through tight space to make a skilled pass…makes smart reads on puck movement…a constant factor when on the ice…defensive awareness is strong…constantly on his toes to play the routes of high probability with a waiting stick…is that heart and soul, all hustle player who attacks from the defensive side of the puck and can be relied upon in all zones…has the potential to become a strong pro middle six two-way player
Really smart, quietly competitive and difficult to deter. Ability to contribute in all situations.
Given the talent and maturity level that JAD has at his disposal, there is little doubt that he will continue to progress on the ice. The Kings hit a home run with this special player and, more importantly, special person.
NHL Projection: Second Line Center (ETA: 2020-21)