Washington Capitals' center Nicklas Backstrom – arguably one of the best centers in the NHL – has revealed that he may not be ready to take the ice for the 2015-16 season opener in October.
Backstrom, 27, is recovering from offseason hip surgery and said this to Arbetarbladet's Daniel Sandstrom when the latter asked him if he was confident he'd play the first game:
"No, I do not [know] … It is very difficult to answer. We will see here now [after evaluating] with the coach and fitness coach." The interview, conducted in Swedish, was translated by The Hockey News.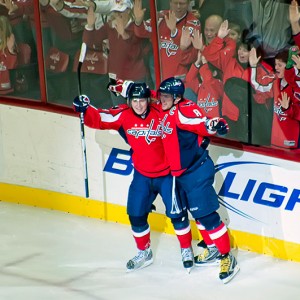 Backstrom didn't miss a single game last season (for the sixth time in his career) and was instrumental in the Capitals' run to the second round of the Stanley Cup Playoffs and his linemate Alex Ovechkin's NHL-leading goal haul (53). Backstrom himself tallied 18 goals and an amazing 60 assists for 78 points last term.
A Capitals' top line without Backstrom is a troubling scenario, although the team has suitable temporary replacements in either Andre Burakovsky or Evgeny Kuznetsov – both of whom would jump at the chance to fill Backstrom's skates in the short term.
The Caps' GM Brian MacLellan earlier gave The Washington Post his thoughts on the subject:
If Backstrom cannot start the season, [Evgeny] Kuznetsov would likely slide onto the top line, freeing up the second-line spot for [Andre] Burakovsky or someone else. The ripple effect would see [Jay] Beagle, [Brooks] Laich and Michael Latta in contention for the bottom-six center spots, which they already will be anyway.
Nicklas Backstrom: 'I could not run'
Soon after Backstrom's arthroscopic surgery, his club was confident that the procedure was minimal enough that their star center would be healthy enough to feature in the early going next season.
"Based on the nature of this procedure we are confident that Nick will be completely healthy prior to the start of the 2015-16 regular season," the Caps said in a statement back in May – not long after Backstrom had surgery.
Washington Capitals RUMORS: Nicklas Backstrom May Miss Regular Season Time … http://t.co/mJHCMs3a5P

— Nicklas Backstrom (@BackstromFans) August 26, 2015
Complications obviously arose going by what has transpired this week.
"There has been considerable focus on enhancing mobility in the hip again," Backstrom told Sandstrom. "From the beginning I could not run or anything." Backstrom also stated to Sandstrom that even slight movement caused a lot of pain over the summer.
One thing is certain; Ovechkin relies heavily on Backstrom to supply him the puck. A Capitals team without Backstrom will take time to adjust – he's as important to the forwards' goal totals as Braden Holtby is to preventing goals scored.
Glynn Cosker is based in the Washington D.C. area. A professional writer and blogger, Glynn brings insightful news and information on all things related to the Washington Capitals for THW. Follow Glynn @DCPuckDrop