Per Bob McKenzie, it has been announced Monday evening that Alex Ovechkin will be suspended for three games for a hit he delivered on Zybnek Michalek. Ovechkin will surrender $154,677.75 (via Stephen Whyno) and miss the Caps' next games against the Bruins, Lightning and Panthers.
The rivalry between the Pittsburgh Penguins and Washington Capitals garners high amounts of attention, and can be argued as one of the more intense battles in the NHL. While the previous three games between the two teams sort of lacked the ire that's usually expected, Sunday's game on NBC finally brought that intensity back. It had 7 goals combined, goals from the teams' top goal-scorers, a fight… and controversial hits.
The main hit people focused on was Alex Ovechkin's. Ovechkin, who, otherwise, had a solid game scoring three points (1 goal, 2 assists) skated to Michalek for the puck and as he aims to hit, his skates leave the ice and Ovechkin hits the Penguins' defenseman in the head with his elbow. No penalty was called:
Michalek was fine, and shortly after he was the victim of a questionable hit, he delivered this number on Matt Hendricks, which did receive an elbowing penalty:
Michalek also had a hearing Monday afternoon for his antics, but received no fine or no suspension.
In Brendan Shanahan's suspension video for Ovechkin, he explains that Ovechkin's hit was a charge. That is absolutely correct, and very few people disagree with that sentiment. As hockey folks know, there is a penalty for charging that can run from two minutes to a five-minute major.
Yet, also as Shanahan explains, Ovechkin's aim was not the head, but the shoulder. The extra jump, though, gets the hit to make contact with the head. Therefore, the intent to injure is significantly less. Earlier in the year, an elbow to Kris Letang from Max Pacioretty received three games. That call, which falls under the infamous "Rule 48", elbowing is a more blatant intent to injure than a hit that went wrong. Therefore, it is fair to argue that three games is a bit much for a missed charging penalty call and possible 10-minute game misconduct, which Shanahan has said before, he is not in the business of that kind of compensation.
What is more questionable, though, and the real issue at hand, is the fact that Michalek received no subsequent punishment for his act, which was equally as dangerous. As it is a hit from behind and an elbow to the head, that makes the hit as dangerous as the leap from Ovechkin. So here we have two dangerous hits, but different punishments.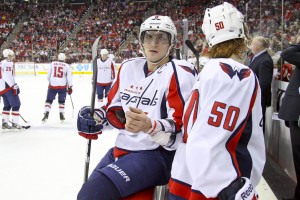 That leaves the explanation that Shanahan gives that differentiates the two situations that occurred in the same game: Ovechkin has been suspended four times in six seasons.
Two years later with a clean sheet, three games for a hit that without any priors would receive a fine or a 1-2 game suspension seems expected in this suspension climate. While this is true, Ovechkin was last suspended in March of 2010 for his hit on Brian Campbell that had him out for two games, and this hit comes after the 26-year-old Russian has drastically changed his game to avoid such instances. Still, in the CBA, section 18.3, part c explains that a period of 18 months between suspensions refers to the amount of a fine, but for the new CBA circa 2004, a part resetting player status as a "repeat" to a "first" offender was removed. So Shanahan couldn't help but factor in Ovechkin's previous infractions.
It would have helped if Shanahan released a video as to why he did not suspend/fine Michalek, much like he did Oct. 3 for Ryan Malone's hit on Chris Campoli. However, what does it take for a hit like Michalek made to receive a suspension? A three-games-to-none ratio considering the circumstances shows the NHL is riding on a slippery slope, continuing on the inconsistencies they appeared to try to eradicate at the start of the year.
For those wondering, Ovechkin will be allowed to participate in the NHL All-Star Game in Ottawa this weekend. It will be up to Ovechkin to decide whether he will take part in the festivities or rest up for the rest of the season. Some argue that the Caps' captain should just take this time to excuse himself from the activities and proceed prepare to lead his struggling team to the playoffs. I can't say that I blame that crowd. A Capitals' team spokesperson declined to comment on the matter. Either way, people will find a way to berate Ovechkin in the midst of this suspension.
NHL parole officers, anyone?
Angie represented The Hockey Writers at the 2011 NHL Winter Classic and is credentialed for Washington Capitals home games. She is a NHL Contributor for SB Nation's "NHL Scores & More" and covers high school hockey for The Washington Post. Angie attended American University where she studied broadcast journalism.