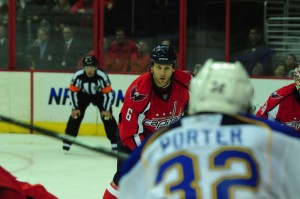 Back In The Saddledome Again
Caps blueliner Dennis Wideman was traded to the Calgary Flames in return for a fifth round draft pick and the rights to minor league prospect Jordan Henry.  In layman's terms, he was given away for a pittance rather than lost to free agency and given nothing at all in return. In just over a season with the Caps he scored 53 points and represented the team in the All Star game. With Green and Carlson playing right defenceman, Washington could ill-afford to pay Wideman the 5 year, $26 million contract he garnered with Calgary.
This is the fifth team Wideman will skate for since entering the league in the 05-06 season. If he plays all five seasons he is contractually obligated to play as a Flame it will be the longest he has stayed in any one city.
Meet Admiral Evason
It is with a heavy heart that I must announce that Caps assistant coach Dean Evason has signed on as bench-boss for the Nashville Predator's AHL affiliate Milwaukee Admirals. Or Pirates. Or Ghost Ship Captains. Their logo is a little confusing. Anyway, Dean spent seven seasons as an Assistant Coach in D.C. He had previously been head coach for the Kamloops Blazers and Vancouver Giants of the WHL. I had hoped he would be promoted into the head coach position upon Dale Hunter's exit. He was a draft pick of the Caps in 82 and played through the 96 season for a total of five different teams.
Here he is being introduced:
As a bonus, here is Dean showing Sneaky Pete what it's all about:
Dean autographed a Whalers hockey card of mine at a fan convention. He was very cool about it. I will miss him terribly. Perhaps he will be a Caps head coach one day. Stranger things have happened.
Whole Rolled or Steel Cut?
Last but not least, Adam Oates was introduced as the new head coach of the Caps. As you can see in one of my previous articles, Adam Oates was one of the best centers ever to skate in Washington. He also served as captain in his tenure. He spent the last couple of seasons as an assistant coach with the New Jersey Devils. Caps GM George McPhee, who is wont to give first-time coaches a shot, is very pleased with his choice. He feels that Oates has the hockey acumen and coaching skills to take the team to the next level. We will find out in the coming year if a new, untried head coach was the best choice. It has worked for McPhee in the past, but only to reach a certain point.
Oh, and Oates also was named to the Hockey Hall of Fame this week. So he has that going for him. In all seriousness, it is a well deserved accolade too late in coming.
Check out Oates giving it to the refs: