The Carolina Hurricanes had a horrible 2014-15 season. Starting 0-8 in October, saddled with another Jeff Skinner concussion and a horrendous broken leg to Jordan Staal, rookie head coach Bill Peters got a nice "Welcome to the NHL, coach." Add to that a superstar player that could not or would not produce, and the end result was not pretty.
Of course actually Peters is a grizzled veteran of the game and an old-school hockey guy. He worked hard and at times had his team playing very well. In the end, it was a season doomed to disappointment and another May and June watching the playoffs from home.
The frustration notwithstanding, there is some light at the end of the tunnel. While probably not playoff bound this season, the 'Canes are putting in place the pieces that will make for a very good team.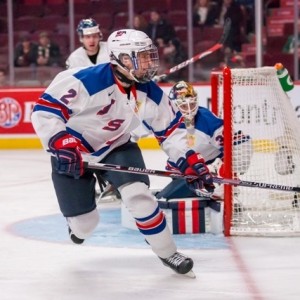 2014-15 RECORD 30-41-11 (last in the Metropolitan Division)
KEY ADDITIONS
Noah Hanifin
Eddie Lack
James Wisniewski
KEY LOSSES
Andrej Sekera
Anton Khudobin
Alexander Semin
Alexander Semin is listed as a key loss because the Hurricanes were able to lop off a player they had tried without success.to help overcome whatever it was that kept him from playing to his potential. Semin had six goals and no answers at season's end. His loss is key because it is one less distraction for the team to deal with this season.
FORWARDS:
Eric Staal
In the last year of his contract, Hurricanes' captain Eric Staal is in the spotlight in Carolina and across the NHL. Repeatedly saying that he wants to stay in Raleigh, Staal does not give any indication that he wants to move. His play at times leaves fans frustrated, with his totals of 23 goals and 31 assists last season being far from his potential. The team's success will largely rest on Staal, if he blows up the team will follow. If he is lackluster, the team will follow.
Jeff Skinner
Here's another player that could lead the 'Canes to greater success. Skinner has demonstrated the ability to score and do so with relative ease. However, his history of concussions has left him seemingly frozen, unable to go to the net and be aggressive. The team even let it be known that they were willing to trade Skinner, but have had no takers. Do other teams know something that is making them unwilling to bring in a former Calder Trophy winner and proven scorer? For Carolina to make any real progress this season, Skinner will have to return to form.
Elias Lindholm
The "Swedish Beast" as his teammates call him recently made bank. The Hurricanes extended Lindholm's contract in a deal that will pay him $2.5 million in 2016-17 and $2.9 million in 2017-18. He is an exciting player and could easily compete for top goal-scorer among his teammates this season. Not afraid to go to the net, Lindholm is a large part of the future of the franchise. Locking him in now as a smart move by GM Ron Francis.
Victor Rask
A rookie who proved he belongs last year is Victor Rask. He earned a spot early on the 'Canes and never looked back. If he continues to develop and grow, he will definitely be a force to be dealt with by opposing teams. Rask is up to the task and anchoring the second line at center is where he belongs.
DEFENSE: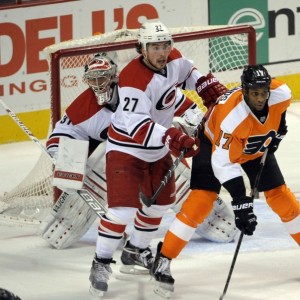 Justin Faulk made the NHL All-Star team last season and is a true top-line defenseman. The problem is that the 'Canes have not replaced Andrej Sekera whom they traded to the Los Angeles Kings, (who promptly traded to the Edmonton Oilers). Faulk was second on the Hurricanes' roster last season in points with 49. He plays hard and smart every night, and at 23 years old is one of the 'Canes' group that I have glossed the "young guns." If Carolina can settle on another top-tier defender to pair with Faulk, his play should continue to rise this season.
JAMES WISNIEWSKI
Obtained by the Hurricanes during the NHL Draft last June, Wisniewski is a veteran defender who can find the net. He had 34 points last year with the Columbus Blue Jackets and Anaheim Ducks, and 51 the year before in Columbus. Wisniewski could be the partner for Faulk, but that will remain to be seen. If he can bring another scoring presence to the 'Canes blue line, he will be well worth the $5 million he is set to receive.
NOAH HANIFIN
On everyone's NHL Draft watch list in June the Hurricanes got Hanifin who could very well be the difference in their upcoming season. Will he be another Aaron Ekblad who became a genuine presence for the Florida Panthers as a rookie and Calder Trophy winner last season? Or will he be another Haydn Fleury, seeing some preseason action and then being sent off to develop in the juniors? Bet on Hanifin to grab his NHL spot early and like Rask, never look back. He's that good.
GOALTENDING:
The job of starting goalie for the 'Canes is Cam Ward's to lose. Having recently stated that he wants to stay in Raleigh, Ward is also in the final year of his contract. The former Conn Smythe winner has only led his team back to the playoffs once since the Hurricanes' 2006 Stanley Cup win. Ward is not likely going to make anyone's top five NHL goalie list, but he did have a better season last year,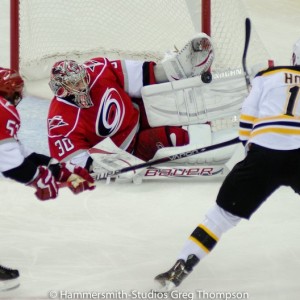 and can keep his team in games every night. He also has some extra motivation behind him in the form of Eddie Lack.
Lack was acquired by Carolina in the off-season from the Vancouver Canucks. He is 27 compared to Ward's 31, and is also a serviceable goalie. What will make the difference for Ward and Lack is the offense, who left former Hurricane Khudobin out to dry a lot last season, leading to his eventually being traded to the Ducks. If the offense does not produce again this year, it will be a long season between the Carolina pipes for Ward or Lack.
BREAKOUT PLAYER:
Ryan Murphy
It is tough to pin the label "breakout player" on a specific Hurricane at this point. But, Ryan Murphy, 22 and Zach Boychuk, 25 are both due. Boychuk is a potential offensive explosion waiting to happen; the problem is waiting for when. Murphy is a solid defenseman, but on a team with a lot of defensemen, he will have to distinguish himself somehow if he doesn't want to spend another season with the Charlotte Checkers. Either of these two could have the breakout season they need, but the real question is if they will get the opportunity. Like Rask last season, they may have to make their own opportunities that the coaches just can't ignore. Pressed to pick one, it's Murphy's time to bust out.
PLAYER WITH THE MOST TO PROVE:
Jordan Staal
He can prove once and for all that he is worth the money and that Jim Rutherford's bringing him to the Hurricanes from the Pittsburgh Penguins was a great move. Sidelined for much of last season with a broken leg, Staal sparked the team when he returned, but it was just not consistent. It's time for him to raise his game to an elite level, and lead this team with his brother Eric back to the playoffs. That's a tall order, but this season Staal needs to prove that he is as good as advertised.
SEASON OUTLOOK:
Last season saw another year of missed playoffs and fan frustration in Raleigh. Attendance is down and there is no real buzz in the city about the upcoming season. Peters' second season as head coach will be pivotal. His system and expectations are in place, and the team has the "young guns" in Lindholm, Skinner, Murphy, Faulk and others upon which to build. It's tough to see this team moving from the bottom of the Metropolitan Division to the top or even to a playoff spot, especially with the teams that are ahead of them. Does anyone expect New York Rangers to stink? How about the Washington Capitals, New York Islanders, or Pittsburgh Penguins?
The Hurricanes has 71 points to the Penguins' 98. Where is Carolina going to pick up 28 points? They got two in October last year, so even if they double that at four, it's a long way to the playoffs. The Hurricanes will have a better season than they did last year, but at the end of the day, they are rebuilding. Look for them to finish a couple of places above last year's bottom in the Metropolitan Division.
Mark lives in the Raleigh, NC area and covers the Carolina Hurricanes.