The Carolina Hurricanes finished a busy week by re-signing defenseman Trevor van Riemsdyk. They have arguably been more active in the past couple of weeks than they have in recent memory. The question now that the dust is almost completely settled is, "Will the Hurricanes' moves move them up enough in the Metropolitan Division to make them a serious playoff contender?"
If not, do they have enough to make the playoffs as an Eastern Conference wild-card participant? They had 83 points last season. The Columbus Blue Jackets and New Jersey Devils made it into the playoffs as wild cards with 97 points each. The Philadelphia Flyers made it in as the third-place team in the Metropolitan Division with 98 points. The Hurricanes have to set their sights on at least 95-100 points. Is that realistic?
The story of the 2017-2018 Carolina Hurricanes right here. The Goal represents our playoff chances we had. #SoClose https://t.co/FjSVx4CsT8

— Mark Williams, PGA (@ThePGACaniac) February 28, 2018
Close or not, the fans of the Hurricanes are beyond ready for their team to bring some playoff hockey back to Raleigh, NC. After all, this team has drunk from the same Stanley Cup trophy that Alex Ovechkin is carrying around the world. "Caniacs" want the Cup, or at least a chance to play for it in the postseason. Will the moves the front office has made get them close to 100 points and the playoffs?
The Defense Should Be Stout
For all the talk about the potential of the young blueliners on the Hurricanes' squad, a new reality set in over the past couple of weeks. This good defense improved a great deal—on paper at least. Of course, we will have to see how it plays out, but adding Dougie Hamilton and Calvin de Haan did a lot to bolster this 'D.'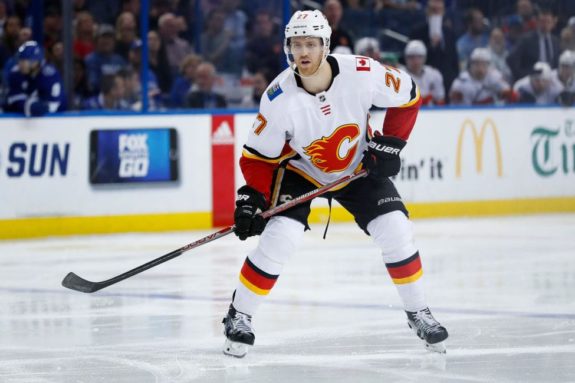 Hamilton brings a scoring threat which the Hurricanes absolutely need, and the plus/minus stats for de Haan show that he is a disciplined defenseman, bringing an upgrade of quality to the corps. Losing Noah Hanifin will carry with it a bit of the requisite pain that goes anytime an All-Star leaves a team, but his youth mitigates that a bit as he still has a way to go in his development.
What to Do With a Three-Time All-Star?
This all brings Justin Faulk into the spotlight only because he has been the subject of so much speculation regarding his possibly being traded. He is one of now four right-handed defensemen of the seven that the Hurricanes have under contract. The wisdom of signing van Riemsdyk is a topic for another day. Suffice it to say that he is very likely to be a part of the third pairing with Haydn Fleury and comes a lot cheaper than Faulk. His $4.6 million over two years is less than Faulk's $4.833 million for one year.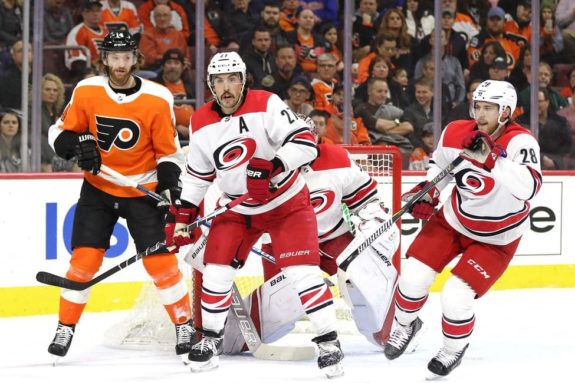 Candidly, Faulk will command more in return than van Riemsdyk would in a trade situation. As a three-time All-Star and current team co-captain, he has an aura of success as a veteran even though the team has disappointed. It's not his fault that the Hurricanes have continuously missed the playoffs. He has proven that he can score, particularly on the power play and will make superb trade bait in the right situation.
Franklin Steele wrote at the Bleacher Report last week, "While the Fourth Period's David Pagnotta says a deal isn't imminent, Justin Faulk should be an intriguing piece for a lot of teams around the league. While he's not the kind of player the Hurricanes want to build around apparently, he's a capable puck mover who has notched at least 30 points in each of the past five seasons."
General manager Don Waddell has made some very positive moves to this point. He knows Faulk's value and hopefully will be able to extract equivalent value from whatever team he winds up partnering with on a trade. A nice return would be getting a proven goal scorer for up top and whatever else Waddell can put together. With the team having made a commitment at least for one year to Petr Mrazek, getting a consistent goaltender is not likely on Waddell's radar.
Offense Could Actually Be Productive
Even though getting a proven veteran, consistent goal-scorer for Faulk would be a positive for the Hurricanes, the offense as it stands looks like it might actually have some potential. As noted previously, Hamilton can find the net as a defenseman. Micheal Ferland, traded to the Hurricanes with Hamilton, is also trending up as a scorer.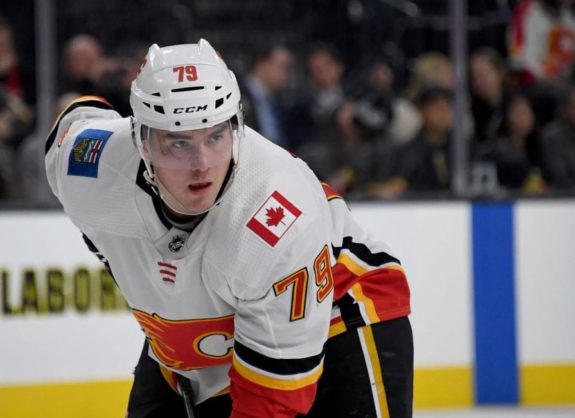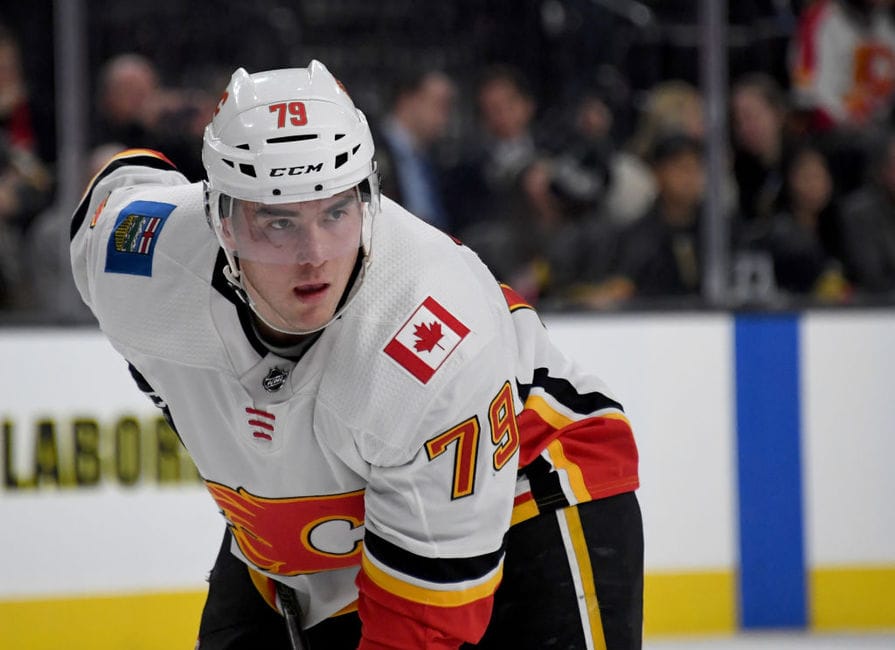 The New Young Guns
If you've read my coverage of the Hurricanes over the past four years, you know I have referred to their talented group as "the young guns." Here is what I had to say about the group in November 2015: "Noah Hanifin at age 18 is already living up to the pre-draft hype and proving he belongs in the NHL. 24-year old Andrej Nestrasil is reliable. Last year's darling Elias Lindholm is in a scoring drought this season, but is still just 21-years old, and has a seemingly unlimited upside. Defenseman Justin Faulk at 23 is already causing the league to take notice."
My account of the "young guns" went on: "Mix in Phillip Di Giuseppe, Michal Jordan, Joakim Nordstrom, Victor Rask, Jaccob Slavin and the proven-stellar Jeff Skinner and the stable of "young guns" is definitely full in Carolina. Ten players age 25 and younger who are all growing quickly as legitimate NHL players mean a bright future for this team."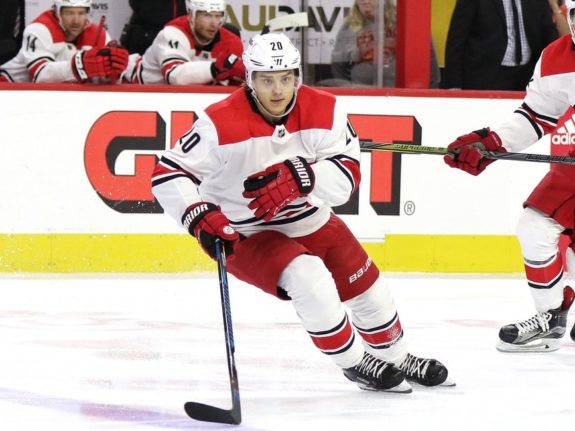 Hanifin, Lindholm, Nestrasil, Jordan, and Nordstrom are gone from the team leaving a group of what were youngsters now older and more experienced. There are some new "young guns" on board, and they are what is lighting the fuse of excitement around the Hurricanes. Sebastian Aho will turn 21 in a couple of weeks. Fleury turned 22 today. Brock McGinn is 24, Martin Necas is 19, and this year's number 2 overall pick in the NHL Entry Draft, Andrei Svechnikov is 18.
Teuvo Teravainen is 24 and Valentin Zykov is 22. Brett Pesce is 23 and Hamilton just turned 25 last month.
Based on current roster projections, the five youngest teams are:

1. Carolina
2. Columbus
3. Colorado
4. NY Rangers
5. Winnipeg

— Roster Resource NHL (@NHLRosters) July 3, 2018
The Hurricanes are the youngest team in the NHL, and they are full of talent. This team is even more worthy of the gloss "young guns" than the 2015 version. The reason is that they represent a ton of potential for scoring if they live up to the talent that each of them brings to the ice. Aho is scary good. He and Teravainen could have monster seasons. Even Skinner, the subject of constant trade speculation this offseason could blow up and score 40 goals for the Hurricanes, should he stay.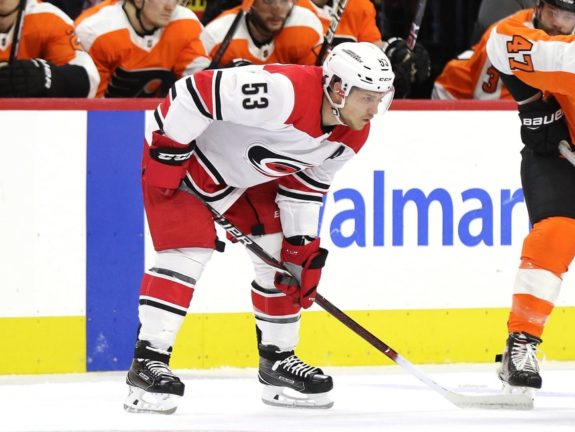 Head coach Rod Brind'Amour has a lot of "good problems" on his plate, namely who to play with who. Chip Alexander of the Raleigh News & Observer wrote last week:
Brind'Amour has spent much time mulling over his potential lines and lineup. Among the questions to be answered is whether to keep Sebastian Aho at center, where to place forward Micheal Ferland and whether to play the two "kids" — teenaged forwards Martin Necas and Andrei Svechnikov — together.
If Brind'Amour can keep this group from the team lethargy of "not starting on time" that plagued the administration of former head coach Bill Peters, and if they play to their talent capabilities, the Hurricanes' scoring potential is amazing. For the first time in a long time, this team has the realistic chance, maybe even the expectation to put points on the scoreboard, and hopefully, that will translate into points in the standings.
And Then There's the Goaltending
The big question mark for the Hurricanes is in between the pipes. It is well-documented that last season was one that Scott Darling, brought in to be the starter for team icon Cam Ward, would rather forget. If it is forgotten, then Darling gets a clean slate and an opportunity to redeem himself with the Hurricanes, to prove he is a starting goaltender in the NHL.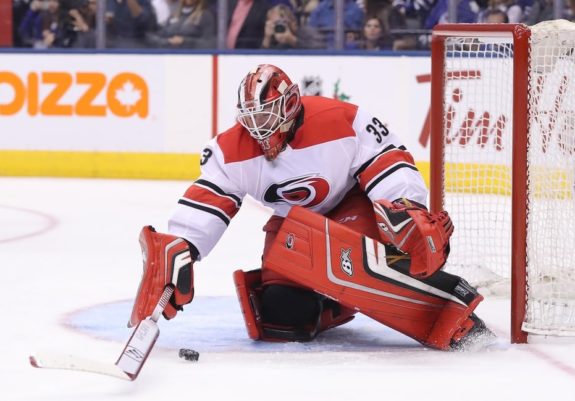 If it is not to be Darling, then perhaps the newly acquired Petr Mrazek can provide some magic in goal for the 'Canes. He has shown signs of brilliance as well as bad play. Can he and Darling be consistently reliable? If the answer is "yes," then pencil the Hurricanes in for one of the Eastern Conference playoff spots. If not, then ink in another frustrating summer for the fans of this playoff-hungry franchise.
The goal of 95-100 points is attainable, but it will take peak performance night in and night out. The moves that Waddell and the team have made might just be enough.