The Carolina Hurricanes are closing in on making a playoff run nearly impossible. Sure, the math will be with them for a while, but for all intents and purposes, if they do not start to string together some victories, they can put a bow on this season. After an offseason that blossomed with hope and high expectations, the team is struggling, and another April – June at home looms large.
Canes absolutely do not know how to win! They seem afraid to offend other teams by winning. They are getting very weary to watch.

— Guy Finger (@yug1) December 9, 2017
Offensive Offense a Defensive Problem?
In an unusual moment of deciding who can be thrown under the bus, head coach Bill Peters pointed at the Hurricanes' defense as part of the problems facing the offense. In a post published Wednesday at www.newsobserver.com Chip Alexander wrote, "Canes coach Bill Peters has downplayed the lack of scoring in recent weeks, noting a greater need for better positional play in the defensive zone." Peters said,
Sort that out and minimize the other team's scoring chances and the rest will take care of itself.
Is it me or did Peters just blame the teams shaky offense on the defense? And, did he really downplay the lack of scoring?
The Hurricanes' offense has been rough. In a word, it has been awful. At times the team has blown up and scored in a manner that reflects the enormous talent on the roster. But, most of the time this season they have struggled getting the puck into the net. It's not even necessary to get into the depths of advanced analytics to see what has been going on this season. A look at goals for and goals against in light of the current standings clearly shows that the Hurricanes are having trouble scoring.
Through 27 games, the Hurricanes have 76 goals for and 85 goals against, a goal differential of minus nine. This ranks them at number 24 out of 31 teams. I've pointed this sort of thing out before over the years, and sadly it just doesn't seems to change. Last February I wrote:
That is an enormous difference and shows with great clarity that the Hurricanes must have more scoring and more points from their offense if they want to compete with the elite teams in the NHL.
Believe it or not, people like me would rather not be able to go back and retrieve something they've written about a team, particularly when it is negative. But, the fact remains, scoring was a challenge last season and still is a challenge this season.
Just Produce on Offense
Yes, there are all sorts of ways to analyze team and player performance. But, the bottom line is very simple. To win, a team has to score and do so more often than their opponents. Looking at at the teams atop the standings illustrates — with small exception — this point.
The New Jersey Devils are leading the Metropolitan Division with a goal differential of plus three. Behind them are the Columbus Blue Jackets with a goal differential of plus 10. In the Atlantic Division, the Tampa Bay Lightning are on top with a goal differential of plus 35, and the Toronto Maple Leafs are in second place sporting a goal differential of plus 16. The Lightning and Leafs have both already notched over 100 goals this season, compared to the Hurricanes 76.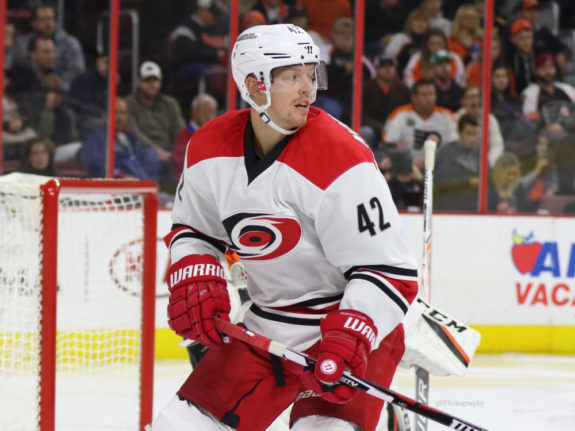 Scoring has been a problem for this team. But, is it simply a function of the defense being out of position? Certainly Peters knows volumes more than I do about hockey and spends hours watching tape and breaking his team down to the most minute level. But, just as was the case with former Hurricanes great, Rod Brind'Amour, Peters has got to find the player on his roster that will bring out an offensive surge. He needs answers to the question, "What is keeping his team from putting up gaudy numbers on offense?"
I think the answer will not simply land on better positional play in the defensive zone. Perhaps the answer is sitting some guys who are in a scoring drought. Peters did it with Victor Rask, and it seems to have gotten his attention. How would Justin Faulk, Joakim Nordstrom or anyone else on the team respond if they were pulled aside and told, "You're just not living up to your talent level. Have a seat for a while and think about that."
There is way too much taken on the Hurricanes' roster for them not to be a league-leader in goals scored. It's time for the guys with that talent to wake up and play some hockey.