The Carolina Hurricanes are sitting in ninth place in the NHL Wild Card standings with 55 points, albeit only six point away from the Toronto Maple Leafs who sit at 61 points. However, there are six teams between the 'Canes and the Leafs, and there is another factor facing them that will make catching anyone a difficult task — the Hurricanes have a bye week as required by the NHL. Five days off that will give the Leafs and the other six teams a chance to widen the distance between themselves and the 'Canes.
Hurricanes in the Playoffs a Daunting Task
As Chip Alexander pointed out today in the Raleigh News & Observer, the task before the Hurricanes is daunting. In fact, as Chip notes, the Hurricanes had 56 points after 53 games last year, one more than they currently have on the board. They played their hearts out and barely missed making the playoffs last year.
Making the playoffs looks even more like a huge uphill climb this season. With the scoring woes that have reared their ugly head recently, and the obvious challenges between the pipes, the Hurricanes have a long way to go. There are three things that they should address if they want to become a serious playoff-contending team, this year or next.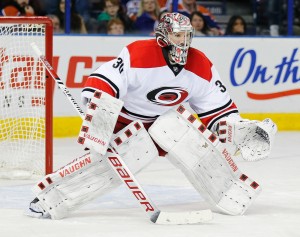 Goaltending
Cam Ward is a veteran goalie who has played his entire career with the Hurricanes. Ever since his improbable rookie run to winning the Stanley Cup in 2006, Ward has been the starting goalie. I have written about Ward and his workhorse status with the 'Canes this season, due in large part to backup goalie Eddie Lack being out with two concussions. In fact, when he recently played in his 600th NHL game, I wrote about head coach Bill Peters saying that Ward had been drinking from the "fountain of youth."
Ward has been the workhorse, but having essentially one goalie will not make a team a playoff-contender throughout a season. With a 2.62 goals-against average and a save percentage of .905, Ward is a serviceable goaltender. But, the team needs a fresh, hot hand in goal and that does not appear to be Ward or Lack.
I like Eddie Lack, but he has not shown me any consistency at being able to be a number one goalie or a reliable backup that does not pose the threat of giving up points when asked to play. If the Hurricanes are going to become a playoff team, then they will have to address their situation sooner rather than later.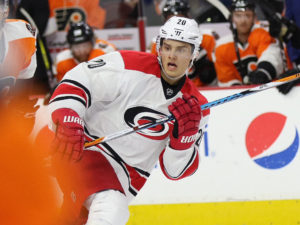 Scoring
The Hurricanes defense is fairly stout, though they have been blown up recently, giving up multiple goals in several games. Most recently they gave up five to the Washington Capitals and five to the Dallas Stars. At one point prior to the All-Star break, they have been outscored 20-5. Apart from these recent
Apart from these recent aberrations, it is accurate to say that the 'Canes are stacking up well on defense overall. Players like Just Faulk, Jacob Slavin and Brett Pesce are legitimate NHL defenseman, as is the growing second-year, Noah Hanifin.
Jeff Skinner leads the team with 18 goals. Sebastian Aho has heated up and is second with 17. Victor Risk has been quiet lately and has 13. More importantly, between the three, they have 101 points.
Compare that with the Metropolitan Division-leading Capitals, whose top three goal-scorers have 155 points, and the Pittsburgh Penguins, second currently in the Metropolitan Division and reigning Stanley Cup Champions with 167 points from their top three.
That is an enormous difference and shows with great clarity that the Hurricanes must have more scoring and more points from their offense if they want to compete with the elite teams in the NHL.
Another Metro loss…the door is closing on the playoffs; even if the #Canes got there they haven't proved they can hang with elite teams.

— Jason Long 🔎 (@longjasonm) January 22, 2017
The bottom line is that, absent some extraordinary run over the next 29 games it does not look like the Hurricanes will make the playoffs this season. The fans will, of course, be steamed. But, until they are either able to see their young players grow into elite point scorers or trade for a couple and they put an elite goalie between the pipes, it is just not going to happen.
With an owner who is trying to sell his team, and who has not been one to spend lavishly, it may be that the fans will have to continue to wait for the younger players to become elite players.