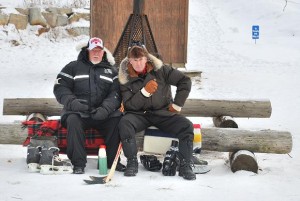 Canadian hockey fans are preparing for the 11th Annual Scotiabank Hockey Day in Canada celebrations, which takes place on February 12, 2011. The thirteen-hour broadcast, which originates from Whitehorse, Yukon, will feature segments and inspiring stories from across Canada, as well as a triple-header of NHL action; the Ottawa Senators visit the Edmonton Oilers, the Montreal Canadiens take on the Toronto Maple Leafs, and the Calgary Flames head to the West coast to play the Vancouver Canucks. The CBC recently hosted a conference call to discuss the various Hockey Day in Canada activities.
"This event has turned into a five day event and we are really excited about being up in Whitehorse this year," Joel Darling, the Director of Production for CBC Sports explained. "This is our 11th edition of Hockey Day and our theme this year is trailblazers. The show will showcase stories about hockey and how hockey fosters leadership, exploration and innovation."
"We go on the air Saturday at noon," Darling continued. "Ron (MacLean) is going to host from an outdoor rink that has been built outside the Canada Games Centre and that's 9 am in Whitehorse, where it's dark until 9:30, so that's a first for us – going on the air when it's dark. Once again the show is going to feature stories from across the country, with remotes from Cole Harbour (Nova Scotia), Oakville (Ontario), Victoria (British Columbia), Quebec City (Quebec), and Regina (Saskatchewan)."
For Ron MacLean, the trip to Whitehorse for Hockey Day in Canada is also a homecoming. MacLean's father was stationed with the Canadian Military in Whitehorse from 1964 until 1968 and it was during this time that he fell in love with the game of hockey.
"That's where I got hooked on hockey," MacLean said. "I was really lucky, a neighbour invited me to go play shinny at the Clement's backyard rink. I don't remember a whole lot about minor hockey, except for how impressed I was with the goalie who played for the Alaska Kodiaks – I was astounded by him. I used to listen to Hockey Night in Canada on Sunday nights too, and I was a big Leafs fan. So, listening to the accounts of Terry Sawchuk and Johnny Bower, I thought this guy from Alaska must be as good as them! For the first years of my playing days, I played both goalie and out. I have fond, fond memories of five years in Whitehorse."
Joining MacLean for the broadcast will be his usual CBC Hockey Night in Canada partner, Canadian legend and star of Coach's Corner every Saturday night – Don Cherry. Several NHL Alumni members will also travel to Whitehorse to be involved in coaching clinics and the Dawson City Nuggets re-match with the Ottawa Senators alumni. With this year's theme of trailblazers and pioneers of hockey in mind, I asked Cherry and MacLean if young hockey players and fans know enough about the history of the game.
"No, I don't think so," Cherry explained. "In fact, Steve Ludzik, who coached the Detroit Vipers, he said that he introduced Ted Lindsay to the young players there and they said, 'There's some old guy outside.' They forget awful fast – we don't seem to promote our older players for some reason. I don't know why. It's not like baseball where they are revered or basketball. I don't know why we don't, but it will be great to get it started."
"I think it's great that we brought Peter Puck back, the segment that runs on Scotiabank Hockey Tonight every week," MacLean added. "It mixes the two ideas – it's a cartoon for the kids but it does usually focus on one of the greats of the game, so that has been a start in the right direction. You know, the world is funny, we've come to the point where we want that insider scoop on trades and the labour situation – it seems to trump the history lessons."
To go along with the three NHL games on Hockey Day in Canada, the Western Hockey League (WHL) is taking part in the festivities for the first time. The Kamloops Blazers and Vancouver Giants will play a regular season game in Whitehorse and the action will provide the backdrop for segments like Coaches Corner during the evening portion of the broadcast.
"The WHL is thrilled to be involved in the Scotiabank Hockey Day in Canada edition in Whitehorse," said Ron Robison, President of the WHL. "We can't wait for this opportunity to put on our first ever regular season game in the Yukon between the Giant and the Blazers. They are archrivals in BC Division of the WHL and they are battling for playoff positions. It should be an important two points and a real good showcase as part of all the activities around Hockey Day in Canada."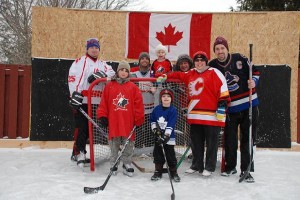 The title sponsor of the event is Canadian banking institution Scotiabank; they are involved with the NHL, the NHL Alumni Association and hockey at all levels across Canada. Doug Janzen, the Branch Manager for Scotiabank in Whitehorse, discussed the importance of promoting hockey with events like Hockey Day in Canada and the support they have received from the Yukon business community.
"The whole community is very excited," Janzen said. "We have had tremendous support from the community level, especially from the local organizing committee. We are very excited to be part of what Scotiabank deems 'Canada's hockey birthday' to give this great sport the type of celebration it deserves in Canada. As Canada's hockey bank, we see firsthand through the community events that we sponsor the passion that Canadian families have for this great game. All in all, when it comes to Canada's favourite game, from coast to coast to coast, Scotiabank is committed to supporting Canada's passion for hockey."
The event has become a weeklong celebration, with coaching clinics, road hockey games and autograph sessions throughout the week, as well as a concert on Thursday evening and a community banquet on Friday. Walter Brennan, President of the Yukon Amateur Hockey Association shared his thoughts about Hockey Day in Canada.
"There certainly is an air of excitement in the Yukon and the local media has been doing a great job of promoting it," said Brennan. "We're looking forward to hosting Scotiabank Hockey Day in Canada in Whitehorse. We have a full week of events starting on Tuesday, February 8th with an event at the McBride Museum, which is going to highlight Yukon hockey history and we are continuing with events every day leading up to the big day on February 12th."
Perhaps the biggest beneficiaries of Hockey Day in Canada are the young boys and girls playing the sport and falling in love with the game throughout Canada, which is something Don Cherry witnesses on a weekly basis throughout the country.
"I go out two or three times a week with the kids, the minor midgets, and then I watch the bantams – that to me is hockey," Cherry said proudly. "Someone will say, 'Why aren't you home watching the Leafs?' and I say no, this is where I get the feel, these kids are giving it 100%, they love hockey, they're not spoiled yet as they say, and I'm sure it's the same way in the Yukon. It's going to be a lot of fun and that to me is hockey. I love watching the kids and seeing their joy in hockey and how they give it 100%."
"I'm looking forward to having a good time in Whitehorse," Cherry said. "I know we are going to really enjoy ourselves!"
For more information on the 11th Annual 'Hockey Day in Canada' and the full schedule of events, visit the official Hockey Day in Canada website.
All of the events on February 12th will also be available at CBC.ca